X+Living's Parkzoo Xiangyuan Hangzhou, a Chinese Hotel Combines Wild and Cosseting Elements
There are many ways to foster and indulge a love of animals. Volunteer at a dog shelter. Bird-watch in the Everglades. Commune with lions on African safari. Paddleboard alongside dolphin pods in the Azores archipelago. Or book a long weekend's stay at Parkzoo Xiangyuan Hangzhou, a hotel in China where it's possible to perch on a giant red hippopotamus, take selfies with a statuesque pink flamingo, and sip a latte while getting mooned by a rainbow coalition of civets.
Threaded throughout Parkzoo's public spaces, such features (all 3-D printed in resin) might seem designed simply for generating Insta-moments. And in fact, X+Living Archi­tec­tural Design Co., which masterminded the hotel's interiors, has developed something of a reputation for fantastical, dreamy environments as photogenic as they are function-intensive, frequently playing with spatial perception and distortion. But chairman and chief designer Li Xiang had a higher purpose in mind by going wild at the 195,000-square-foot property, located in the city's tourist-friendly Gongshu district. "These animals are not just an eye-catching aesthetic device to inject contour and shape into the scheme," the architect begins. "Their use as decoration is also a public interest prompt, a way to draw attention to the plight of en­dangered species." They're also all designed by her and her team at Xiang Casa, Li's furniture company.
The aforementioned wall of cat butts, for instance, is act­ually a Xiang Casa installation called The Production of Civet Coffee—a critique of kopi luwak, the caffeinated Indonesian beverage brewed from beans that have been digested and expelled by the furry felines, whose population has been devastated by illegal poaching. And that hippo near check-in is actually a bench, the seat designed to mimic highway asphalt. "It's a metaphor for the human activities that have hugely damaged animal habitats," Li says.
Property owner Bozhu Hotel Management Group hatched the zoological concept as a way to attract families and young travelers. The company approached X+Living, which had recently designed two other hip hotels in Hangzhou, after a false start with another firm. Li often weaves subtle social messages into her work, and with Parkzoo she thought to elevate the animal theme by threading in elements that visually delight and provoke discussion. "I told the client I wasn't looking to create a space decorated with adorable animal toys or installations," Li recalls, "but to instead incorporate a public-interest theme centered on wild animal protection and environmental conservation." (It's a topic that hits close to home for the animal lover, who has several rescued cats).
The project was completed in about three months, which Li reveals is a typical timeline for Chinese hospitality dest­inations. In reinventing the 22-story edifice, designed in the 1980s and rebuilt in 2007, the biggest challenge, she says, was "to create a property that meets business demands while also performing as a sort of exhibition hall focused on this serious topic." The airy double-height reception area and adjacent fireside lounge and coffee bar received the most gallerylike treatment, furnished with sizeable sculptures and wall installations that stretch from floor to ceiling, while the amenity spaces (including a karaoke hall and a badminton gym) are a bit less conceptually indulgent. Elevator lobbies and interiors were treated as more intimately scaled moments to invite contemplation: An oil painting of a zebra accom­panies guests as they ascend one lift, while another hippo welcomes them to floor 20.
Mammoth mammals aren't the only outsize design moves. In the coffee bar, patrons can dine in chairs with colossal forks for backs. In the neighboring lounge, an omnidirectional seating unit is set aglow by a cluster of lamps, each capped with a different style shade. A sub-theme of multiples unifies other graphic features, not only the wall-mounted artworks—monumental grids of pistols, painted-wood pills, and crushed cans that symbolize various societal ills—but also colored dots that embellish corridors leading to the 286 guest rooms.
Those accommodations, which include family-friendly suites, are distinguished by a restrained black-and-white palette and trompe l'oeil wall covering that conveys the effect of classical plaster moldings. Flanking the bed are asymmetrical ottomans, one tufted, the other striped. "The shapes are unconventional because we wanted them to look wildly formed, to echo the project theme," Li says. As in other parts of the hotel, the rooms' spatial composition offers a coun­terbalance of spare and dense, abstract and representational.
That posture is perhaps best reflected in the lobby, though. Crisp black lines that stretch across the floor and morph into spatial dividers make visitors feel as though they're stepping into a zoo cage. Above, a wireframe pendant fixture encased in an oversize boxy black shade takes the form of a boat, part of an installation dubbed Noah's Ark and the Ladder. "It poses a question to the audience: When the flood comes and the whole world is in danger, will everyone be able to climb the ladder to the ark and be saved from their own guilt?" As for our own answer, we'll have to sleep on it.
Read next: 10 Projects With Animal Design Elements
Keep scrolling to view more images of Parkzoo Xiangyuan Hangzhou >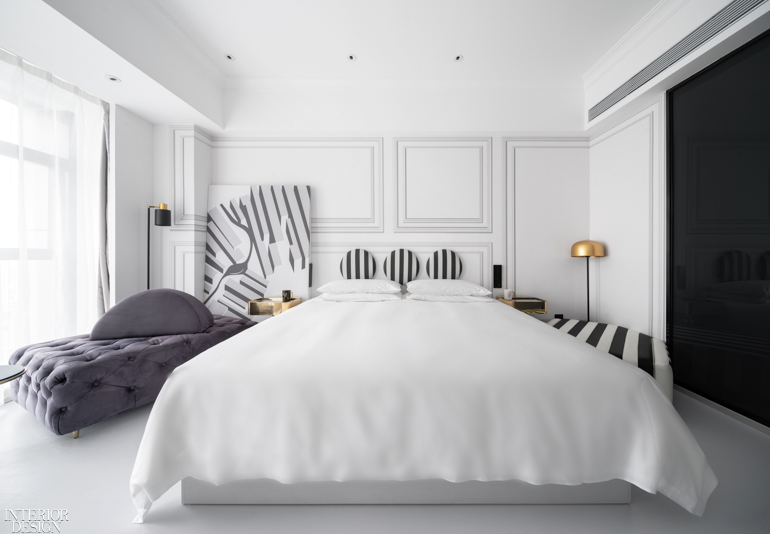 Project Team: Fan Chen: X+Living Architectural Design Co. Justin Chew; Zheng Minping; Yang Huan: Xiang Casa.
Product Sources: Zhulogic: Custom Art Installations, Custom Seating.
Up next: Johnson Favaro, Rodrigo Vargas, and Diane Lam Reinterpret Historic West Coast Architectural Styles at the Costa Mesa Donald Dungan Library