XinMeng Montessori Kindergarten by L&M Design Lab: 2019 Best of Year Winner for Early Education
The Montessori method, a 100-year-old approach to education based on scientific observations of children, is on full display at XinMeng Montessori Kindergarten, a 53,000-square-foot kindergarten in Xiamen Island, China, serving kids ages 2 through 6. L&M Design Lab devised an airy building that prioritizes the little students' freedom and well-being and the idea of learning through discovery.
Sunshine permeates the interior through a three-story atrium carved into the existing structure and crowned with a generous skylight. Down below, the designers created a forest of sorts: Beige columns and beams resemble trees and bridges, patches of grassy green turf spot the floor, and winding staircases lead to "tree houses," aka quiet refuges for reading and drawing.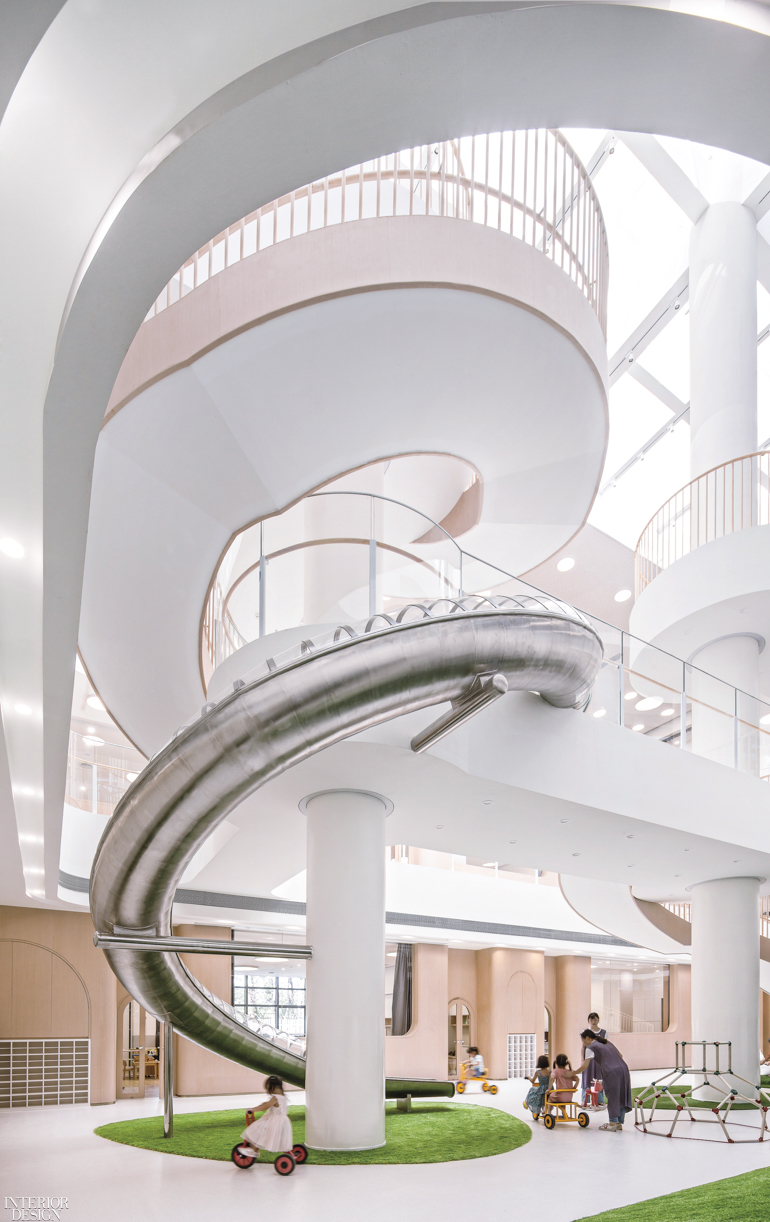 Child safety was among the foremost concerns, so ultra-white safety glass lines each level, and corners and edges are gently curved. When the kids aren't busy learning, there's plenty of designated play space. The third-floor indoor/outdoor activity areas are connected by a plastic track, and a swirling metal slide is a fun alternative to the stairs.
Project Team: Guo Lan; Liu Jinrui; Feng Qiong; Zhu Sijun; Lai Wuyi; Guo Wei; Feng Fei; Ming Xiangyi; Yang Huangwei; Zhang Su; Zhang Haosheng; Zhang Endong; Xie Shunbing; Lin Zehui; Yang Xulun; Liu Chengliang.
> See more from the December/January 2020 issue of Interior Design