Xu Studio Takes Greenhouses as Inspiration for JP Lab Headquarters in Hangzhou, China
The historic Chinese city of Hangzhou brings to mind temples and pagodas rising in the mist against the bucolic setting of West Lake, a UNESCO World Heritage site. In recent years, the scenic beauty is being eclipsed by an encroachment of research and development centers, as the area is home to tech-commerce giants such as Alibaba Group. With this polarity of tradition colliding with modernization, Junping Fang chose the Hangzhou Creative Design Center to set up shop for his skin-care brand JP Lab. Formerly the Hangzhou Xileng Refrigerator Factory, the complex is part of the rehabilitated neighborhood east of the central business district, now occupied by such independent small businesses as silversmiths and florists, where some of the buildings have rooftop soccer pitches to get creative juices flowing.
Architects Yijun Xu and Shijin Xu, who, while unrelated, first met while working together at Steinberg Hart in Shanghai before founding Xu Studio in the same city, previously collaborated with Fang on a JP Lab pop-up in 2018. The project attracted both media attention and consumer popularity, paving the way for Xu Studio to be tapped for JP Lab's 10,000-square-foot, two-story retail and office space. "The center has a cultural atmosphere and is frequently visited by young people," design director Yijun Xu explains. "JP Lab's site used to be the office of an industrial design company. But the building had become outdated, with a large number of solid exterior walls and a fragmented interior layout among the renovation's biggest challenges."
Xu Studio based its concept on the experimental spirit of JP Lab, which pushes the boundaries of skin care yet looks to nature for its sustenance, as well as Fang's love of science and space travel. "We drew inspiration from the brand's features and Junping's own childhood dream of living on Mars," Yijun Xu explains. "He is quite imaginative and was a part of the entire design process."
The firm addressed the first challenge by installing a polycarbonate curtain-wall system that, at night, is lit up like a lantern by LEDs, revealing the structure's clean euclidean lines and alluding to a spaceship against a black sky. Few but oversize windows are strategically placed to either reveal or conceal the interiors. A swath of floor-to-ceiling glazing near the entry allows glimpses into JP Lab's beauty bar and lab. But, nearby, a tall black-concrete slab that hosts signage, also LED-lit, hides the main entry corridor. "We adopted a veiled entrance because this is a by-appointment showroom," principal Shijin Xu explains. "It also creates a more mysterious atmosphere, allowing visitors a chance to discover and explore the space."
The ground floor is JP Lab's public face. Visitors enter via a dark tunnel as if travelling into a wormhole, eventually emerging into a bright, white open space that's akin to landing on a star. A large retail area with a trio of extra-long display counters and a consultation lounge both showcase and facilitate discussions of new product lines. A semicircular bar, faced in perforated stainless steel, allows customers to experiment with products while enjoying a beverage. Suspended above the bar are acrylic containers filled with fruit and flowers, some of the natural ingredients used in JP Lab cosmetics. Customers that require privacy or more extensive discussions can opt for the skin-consultation room, which can be cordoned off by translucent acrylic curtains. Overhead, the entire ceiling is sheathed in silver wall covering, crisscrossed with sleek LED tubes. "The combination of metallic textures and materials, various lighting, and interactive storage drawers yield a purity often associated with futuristic aesthetics," Yijun Xu notes.
Opposite the bar is a staircase that leads to the office space on the second floor. A series of desks, ganged together, form the open work area and are oriented perpendicularly to a wall of windows to maximize natural light for staff. The mostly white, silver, and black palette from downstairs continues here but is interrupted by glass partitions tinted blue. Nearby is a lounge plus meeting and broadcast rooms. "This is where Junping engages in livestreamed sales and discussions," Shijin Xu says, "often recommending new lotions and potions for netizens." The staff pantry and finance office make up the balance of the floor.
The epoxy-covered stairs continue up to the rooftop, which Xu Studio transformed into a useable, and attractive, events space as well as a physical manifestation of JP Lab's mission. After laying down large-format silvery tiles and embedding LEDs between them, the firm devised a trio of simple glass boxes that expand upon the light-box effect of the facade. The largest is a lounge/meeting room. The other two are encased by luminescent film and function as greenhouses. "They hold more than 70 varieties, like bergamot, thyme, mint, sage, and eucalyptus," Yijun Xu says of the volumes. Providing the raw materials for researching which extracts to incorporate into new products, the roof, and the headquarters overall, "is a place," he continues, "to dream about the future."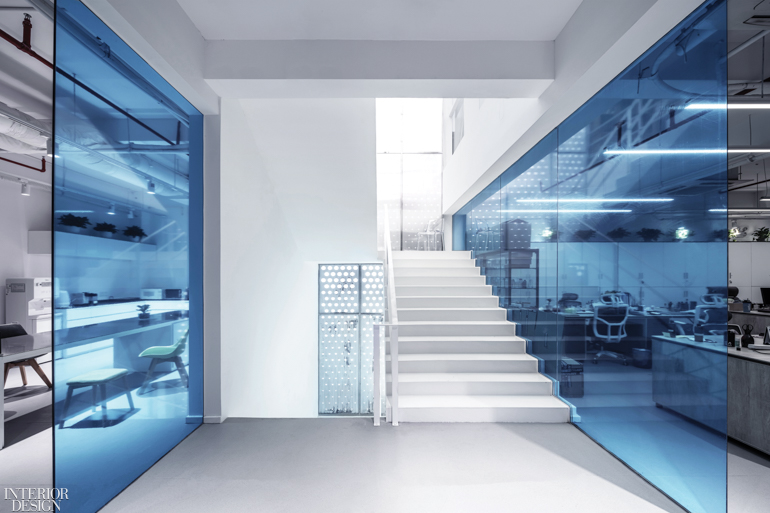 Project Team:
Chengyu Luo; Ling Ding; Yan Jiang; Jiajun Mao; Zhiwei He; Mengyu Cai; Jiahui Dong: Xu Studio. Hangzhou Wenjin Cultural Co.: Landscaping Consultant. Lifor Design: Lighting Consultant. QL Light: Custom Signage. Shanghai Yuanzhu Architectural Dec­or­ation Design Co.: MEP. Suofeiya Home Collection Co.: Woodwork, Furniture Workshop. Boyan Architectural Decoration Engineering Co.: General Contractor.
Product Sources: Cimic: Tile (Roof). Wuxi City Tuoye PMMR Products: Custom Tubes (Bar). Qite: Paneling, Bar Front (Bar), Paneling (Broadcast Area). Shanghai Yaopi Glass Group: Glass Partitions (Retail Area, Office Area), Black Mirror (Entrance). Gensin: Polycarbonate Panels (Facade). Throughout: Artsky: Wall Covering. Suekae&Lighting: Custom Lighting. Shenzhen Wanbang Floor Engineering: Flooring. Nippon Paint: Paint.