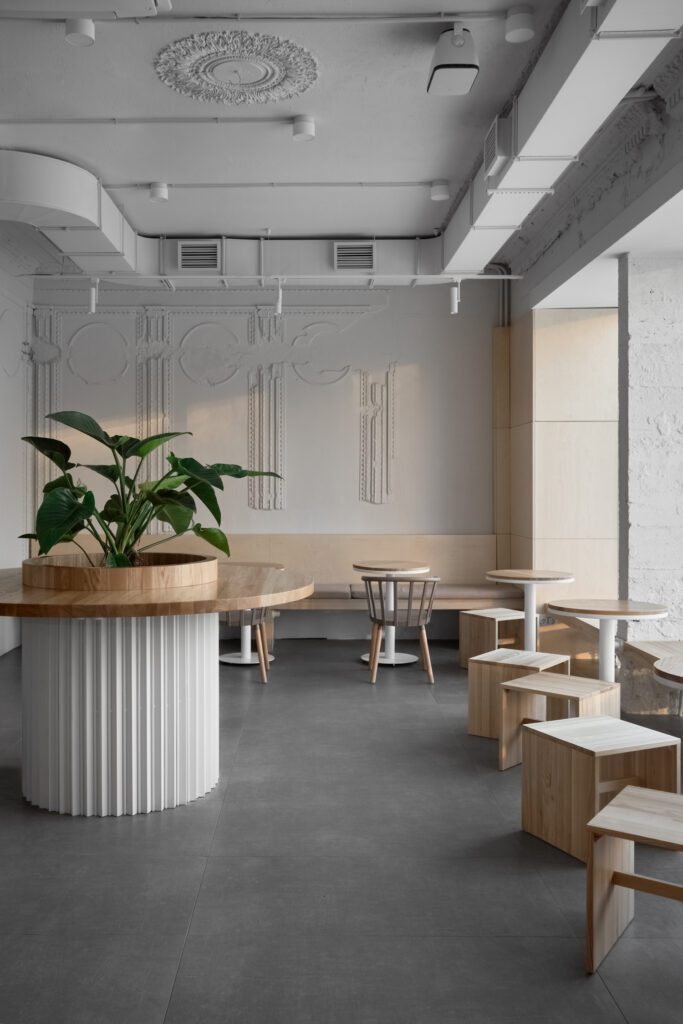 Zavod11 Studios Transforms a Historic Russian Building into French Baker
Established in 1723 and named after Catherine the Great, the city of Yekaterinburg in Russia's Ural District became known in the early part of the 20th Century for its Constructivist buildings. An early example is the First House of the City Council, built in 1927 by the architect Sigismund Dombrovksy. Over the next century, its location determined the main street of the city and sprouted a suite of other Constructivist achievements; the building itself would be renovated into a department store that hid its defining elements behind plaster and display units. Today, it's an enticing blend of old and new, thanks to a thoughtful renovation led by St. Petersburg's Zavod11 Studios founder Irina Potapova on behalf of the new occupant, the appropriately named French Baker.
Peeling back the decade's layers revealed striking stucco molding in the main landing hall, and windows that offered a new way to anchor seating arrangements. "They were a present surprise," Potapova says. "We felt like we were discovering 'treasures' that no one had suspected." French Baker wished to emphasize its own coffee and bread, and so Potapova carved out discrete places for a barista, display cases, and shelving for goodies. "Such logistics make it possible to prepare a drink in 1 ½ minutes," she says.
This allows guests to spend less time waiting for their orders and more time lingering under, say, the large round table under a ceiling rosette, or at a communal table with triangular ribs paying tribute to the Constructivist ethos. The palette is otherwise crisp. "Being in a clean space," Potapova says, "you can catch your eye on the texture of the walls, ceilings, stucco moldings, and bricks of that era, broken by time." And repaired at last.