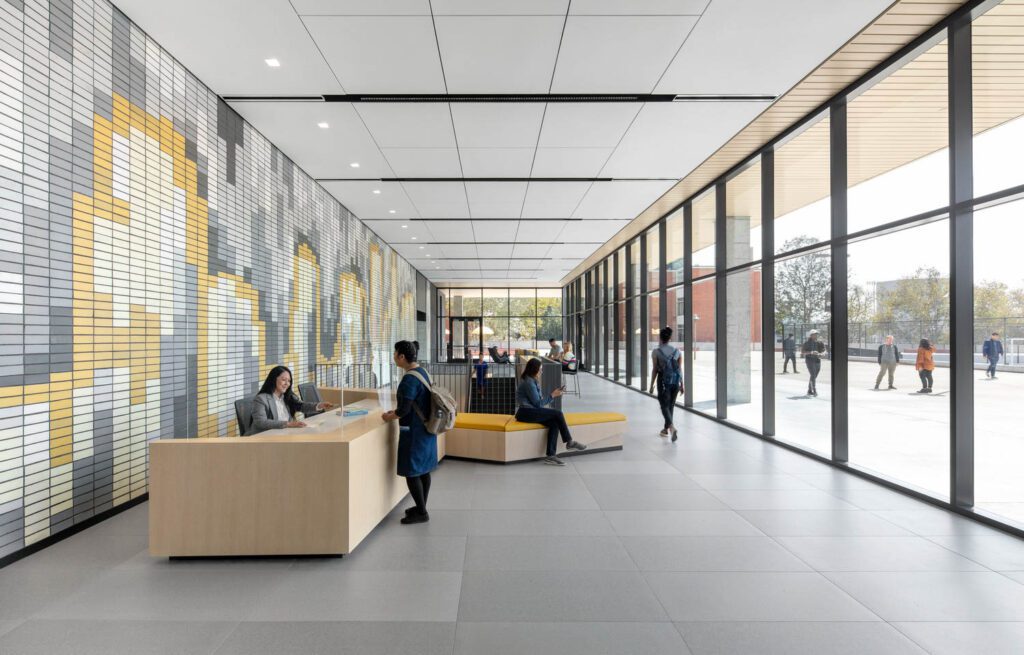 ZGF Architects Adapts a Derelict Campus Building in Los Angeles into an Energy-Efficient Educational Space
It's a universal axiom: The most sustainable building is the one that is not built. ZGF Architects adopted this principle as the plot line in renovating and repurposing a somewhat Brutalist building on the campus of California State University, Los Angeles, just east of Downtown Los Angeles. "It's a riches to rags to riches story," partner James Woolum says of the concrete-wrapped, 8-story structure completed in 1972. Originally designated for physical sciences with research labs and a generous auditorium but no classrooms, the building was damaged in the 1994 Northridge earthquake and deemed seismically unsafe. It also needed abatement for asbestos and lead paint. ZGF was initially commissioned for the upgrades to make the building habitable on a temporary basis for both administrative staff and student services while a replacement was being built. Then came the pivot. "We said it's such a good building with the potential for energy efficiency," Woolum continues. "Wouldn't you rather adapt and re-use and create the new building for something else?" Why not indeed.
Behind the concrete brise-soleil, glass walls were demolished in the 218,000-square-foot building and a new efficient storefront system installed. Inside, demolition took the volume down to columns and slabs with entirely new systems were put in place. "Then, we concentrated on the human experience by creating two eco-systems over two stacked atriums," notes Woolum. The first four floors would be dedicated to students, the upper levels to administration. Each component would have its own connecting stair.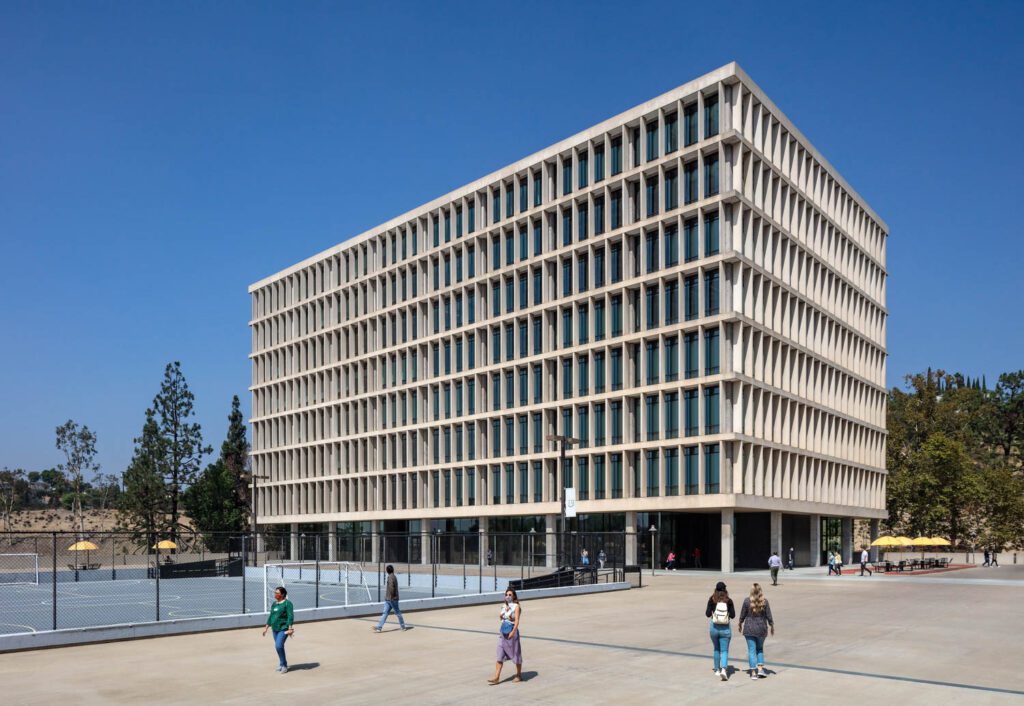 Steeped in academic work as well as healthcare, Woolum took cues from the latter. Just as he aims to avoid having a patient go from space to space for tests and procedures, he wanted to avoid having incoming, often stressed, students, navigate from department to department. Instead, they check in at a ground-floor desk and meet representatives from the various curriculums. "We created a one-stop situation from which students could triage where to go." For ZGF Architects, the student process was as important as the physical space. Regardless, "we still wanted a gorgeous building," Woolum adds. Enhanced through a vibrant environmental graphics program and color story, the building delivers on that front.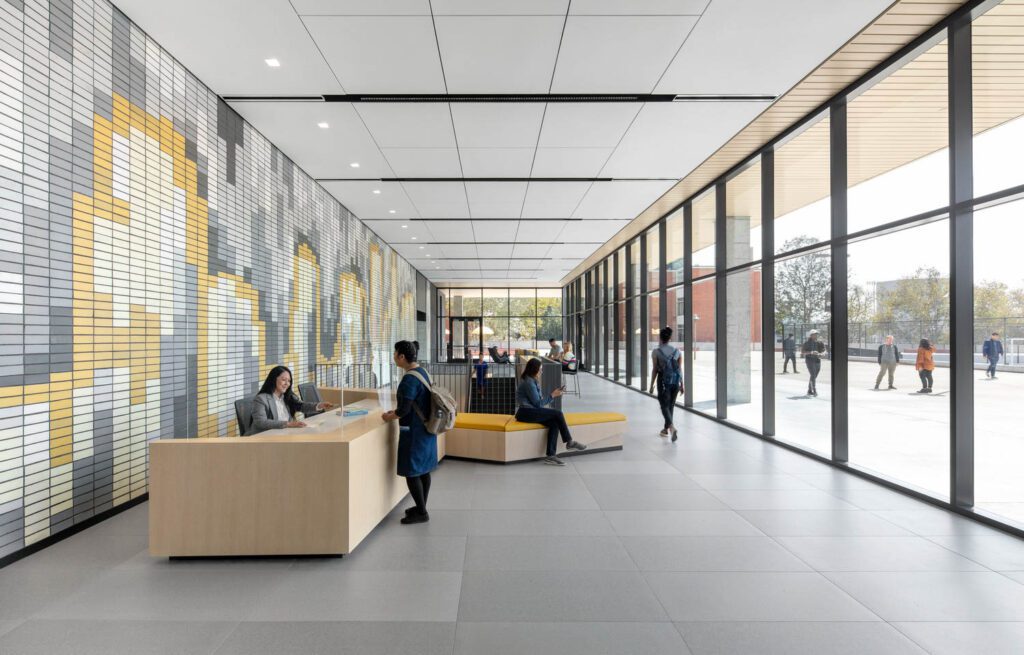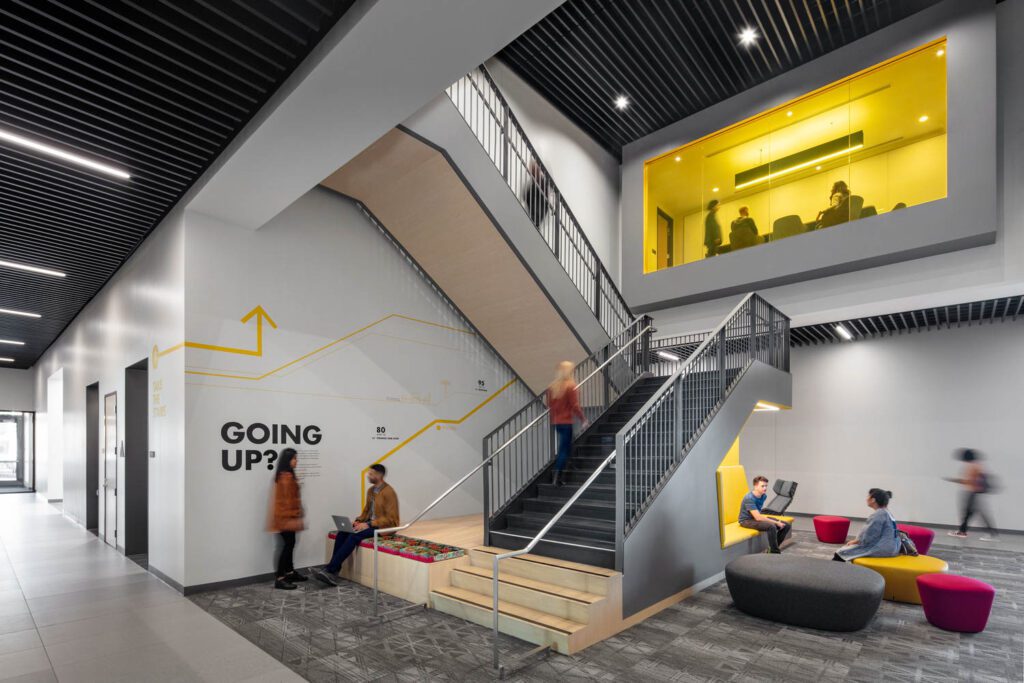 Given the mid-century pedigree, the design team went for a black and gray scheme with bronzed metal throughout. Bursts of yellow in varying tones set off the solemnity as accents while cheeky graphics pepper walls. In some places, they keep count of stairway steps. In others, they note the paces to Los Angeles landmarks—the Santa Monica Pier, for example. Sprinkled throughout, hot pinks and pale shades of avocado green derive from a vintage Osborne & Little textile Woolum had discovered in the ZGF Architects library. Decidedly off the architect's beaten path, it now covers benches in the student hang-out zone. Reception would be an apt term, too. That's due to the hospitality vibe from check-in desk and its back wall, which features a mural of glazed brick, it's an abstraction of the Los Angeles skyline. Meanwhile, administrative folks on the upper levels get rooms of their own with expansive, light-filled views. Completed in 2020, the project is LEED gold with potential for platinum, giving the term 'back to school' a sustainable reboot.