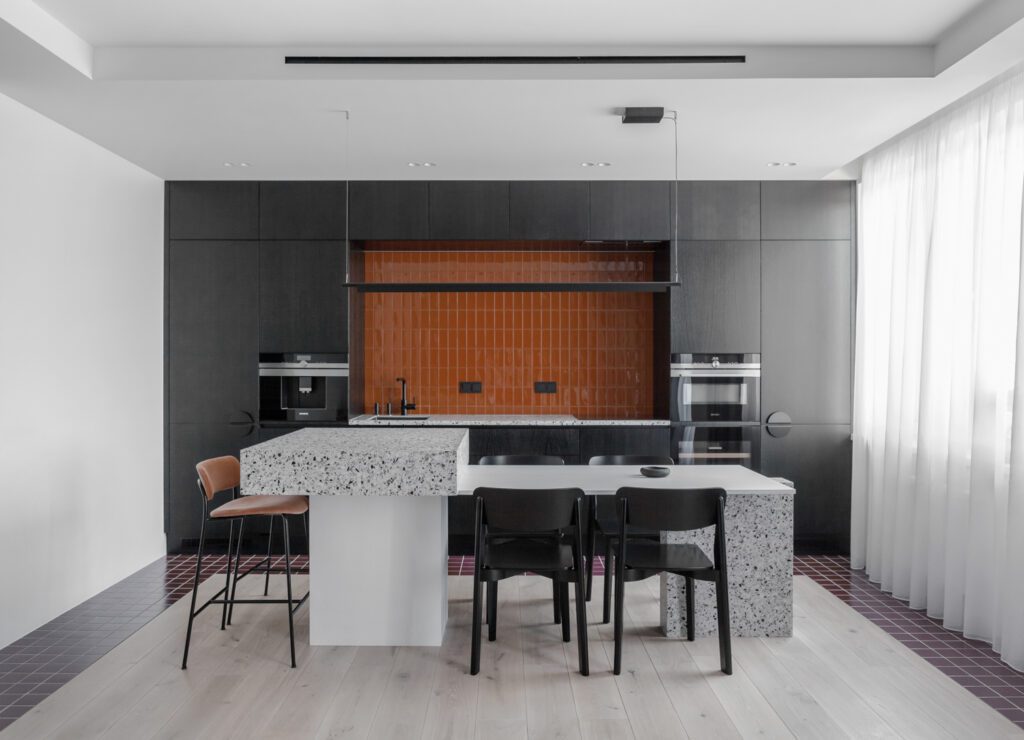 Zrobim Architects Creates a Statement-Making Apartment Near Minsk
For a family near Minsk, Belarus, with young children and a dog, the team at Zrobim Architects set out to create a lively and functional apartment with durable finishes. Textured leather upholstery and bright tiles of various sizes and colors come together to create a warm and inviting interior that's easy to maintain. "The small tile format and wide joints were chosen so that the material is not uniform and brings even more geometry to the interior," note Yulia Baryliuk and Andrus Bezdar, project leads. "Also, the use of tiles is an interesting architectural technique that allows us to get away from the baseboard and make this area more aesthetically pleasing." But color posed a challenge—that is, until the designers found the perfect shade of wine with Portugal-based manufacturer Aleluia Cerâmicas. "We immediately fell in love," they share.
The kitchen, which features an island made of porcelain terrazzo with hints of black, gray, and red hues, sets the tone for the rest of the home. "When creating the layout for the kitchen and living room, we were guided by the principle of symmetry and linear repetition of space," the designers add. In this way, the kitchen reflects the layout of the living room—the glazed terracotta tiles that fill the space between the bold, black cabinets also surround the TV in the living area, creating an inversion that adds visual interest while uniting the spaces. And to maintain the illusion of height in the home, floor-to-ceiling doors were installed, drawing the eye upward and away from a horizontal plane while offering moments of surprise around every corner.