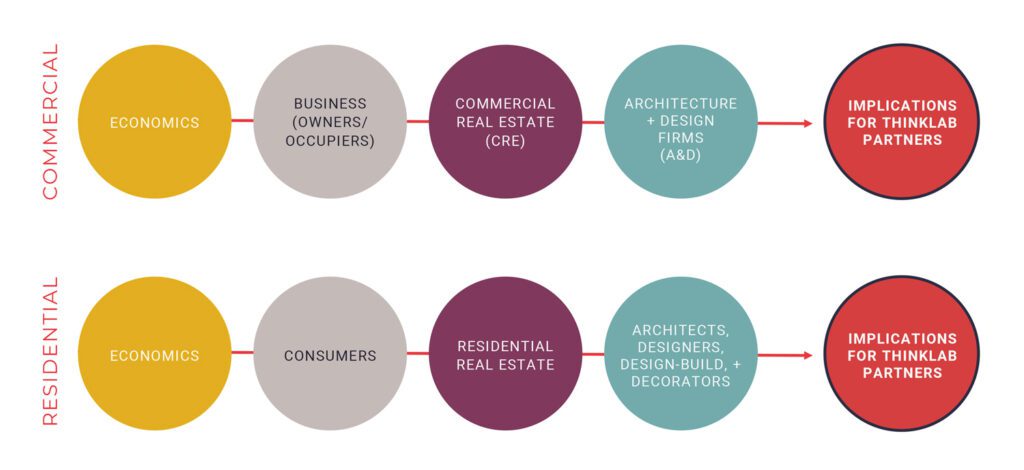 10 Bold Predictions for the Interiors Industry in 2022
"The future isn't radically different; it's just radically closer," said Jeff Stebar, principal at Perkins&Will, during our roundtable discussion with Interior Design Giants of Design. When you are planning a vacation several months away, the best way to predict weather is by looking back at historical weather trends. But when you're preparing for a trip a few weeks away, you check the 10-day forecast. In the same way, ThinkLab's 10 bold predictions are looking right on the horizon, at the near-term future, over the next 1–3 years.
So how do we come up with this stuff?
Signals are everywhere in the world around us. But not every signal is necessarily a trend (or relevant to the interiors industry). However, when these signals lead to patterns, that's when things get interesting. As Greg Dunlop of The TJX Companies has said about trends forecasting on the consumer side: "Patterns are a string of observations, and you are watching to see how a similar theme evolves in different places and formats."
ThinkLab's research on the interiors industry falls into three buckets: qualitative (interviews and focus groups), quantitative (surveys and secondary research), and generative (brainstorming and mapping). And in the past year, the patterns we've tracked have formed into trends. But the magic of predicting what comes next doesn't happen from simply identifying trends. Recognizing their implications is what matters most. Because without context for your business, these predictions are about as meaningful as the weather forecast for several months from now. So, for each prediction, we provide your team with brainstorming prompts to think through what this means for you, specifically.
How do these trends impact your business?
The interiors industry is a delicate ecosystem: Economics drives real estate demand, which affects construction spending, impacts A&D forecasts, and ultimately fuels manufacturer strategy.
And while we won't go through all 10 predictions in this article (join us later in January when we unpack the full list), here are the three main areas we touch on:
How and where designers work:
ThinkLab data suggests that roughly 75% of designers believe their firms will adopt a policy on the remote-work spectrum. So the way manufacturers connect with A&D must naturally evolve as well. Which regions have the greatest designer employment rates has shifted dramatically over the last (nearly) two years, and uneven recovery has created hot spot microeconomies (especially in the South). The result is a hybrid butterfly effect that is setting new expectations for relationships within the ecosystem of design, commercial real estate, and manufacturers.
Shifts in the ecosystem of design and commercial real estate:
A broader palette of design services is emerging. Commercial real estate giants like JLL and CBRE are adding design services to their offerings, creating a more systematized option for design. And the traditional "bespoke" design process is evolving as well. The expertise that designers must possess, on matters like strategy and neurodiversity needs, is shifting even at the student level, becoming as important as traditional technical and professional skills. This will demand higher levels of testing, reframing, and curiosity from our own businesses as we all work together to create a better "next normal."
Greater transparency, especially around sustainability and product availability:
What was once incredibly complicated to execute will finally be made possible because of a convergence of two forces. One, designers and clients are demanding it, and two, we've finally reached the moment where technology can enable the platforms necessary. We're seeing a slew of new business models emerge to support specifying from circular sources, transparency around lead times, and the ability to validate and measure product choices through carbon footprint calculations.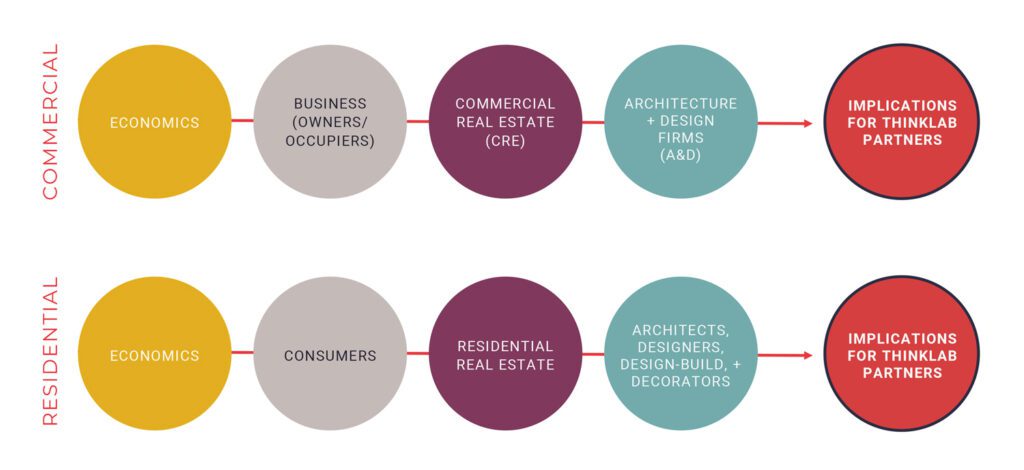 What's next?
As Jeremy Gutsche, CEO of Trend Hunter, put it: "The Renaissance period emerged from the bubonic plague. The Roaring Twenties emerged from the Spanish Flu. And now, as we emerge from a new crisis, the Roaring Twenties are coming back." We at ThinkLab can't help but get excited about the innovations that will emerge in the interiors industry in 2022. After all, necessity is the mother of invention.
To hear the full rundown of our 10 bold predictions, join us for our first complimentary digital seminar of 2022 on Friday, January 28th, at 11:30 a.m. EST. Register here. You can also join in the conversation on Clubhouse, in the club Design + Data w/ThinkLab, where we meet the first three Fridays of the month at 9 a.m. EST. The first Friday of the month will be devoted to each of the 10 bold predictions, in a deeper dive with experts in and outside the industry.
Meredith Campbell is a member of the Research & Content Development team for ThinkLab, the research division of SANDOW Design Group. At ThinkLab, we combine SANDOW Media's incredible reach to the architecture and design community through brands like Interior Design Media, Metropolis, Luxe, and Material Bank with proven market research techniques to uncover relevant trends and opportunities for the design industry. Join in to explore what's next at thinklab.design/join-in.