10 Qs with… Steph Katch and Pamela Katch

Interior Design Interviews Luxury Interior Designers Pamela and Steph Katch of Katch I.D.
Steph Katch faced the dawn of the current millennium with a freshly minted degree from Parsons The New School for Design and a license from the National Council of Interior Design Qualification to practice interior design. Stints at Naomi Leff & Associates and Pembrooke and Ives furthered her education to the point at which she hung out the shingle for Katch I.D. in 2005. Sole proprietorship, however, can be a lonely business, and in 2007 her sister Pamela Katch joined the firm after working as the creative director for Mediaworks. In the ensuing six years, the firm has completed a slew of luxury residential projects in New York, including a unit at 41 Bond Street. The sisters launched Katch Design Co., a products offshoot of their interiors work, with the Lucky Beam collection of tables. Their most recent introduction, the Waifs, are coasters inspired by Necco Wafers that will continue to delight the design-minded.
Interior Design: Do you have a particular philosophy regarding design itself or how to approach specific clients?

Steph Katch & Pamela Katch: Of course everybody is their own snowflake, but we all have things in common that resonate, no matter the nature of the project. For us, it always comes back to high order and authenticity. It's a little formula that works out like so:
High Order = Clarity + Ease + Balance.
Authenticity = Honesty + Self Expression + Comfort.
ID: What do you love about residential work?

SK & PK: Nothing feels better than walking into a space that makes people feel relaxed and at home in their world. It is always gratifying to see our clients' vision of their homes evolve over time as we work together—to see them get excited about the shifts of their own habits and lifestyles as a result of the refinement of their space. An interiors project is often a kind of liberation for the client to set up a new phase of life.
ID: What is the next type of project you'd like to tackle?

SK & PK: We would love to do a boutique hotel—maybe in the desert or our native San Francisco. It's been a dream to bring our sense of a pristine home and a fun inspired life to travelers. It would be exciting to have the opportunity to create an entire experience for guests—perfectly laundered linens on the beds and works by emerging artists on the walls. And of course a Lucky Beam in every room.
ID: Your furniture and accessories are locally produced and have green roots. There's buzz in the industry that sustainability is no longer something clients have to be convinced to support. Do you find this to be the case?

SK & PK: From our perspective, the greenest furniture is high quality so that its patina increases its appeal, and well designed so it's appearance stands the test of time. Our clients gravitate towards high quality pieces, especially when made in the United States. Or better yet, locally.
ID: What is the easiest green practice for any designer doing any project?

SK & PK: Specify locally made, high quality products. Use low VOC paint, such as Benjamin Moore & Co.'s Aura.
ID: What drove your decision to launch products?

SK & PK: We always obsess over materials, color, proportion, and the inevitable context. Our schedule lightened up at the end of 2008, so we had the luxury of time to delve into some of our furniture ideas. From there we sprouted Katch Design Co., a furniture and home accessories brand we've been nurturing along. We've been very fortunate to receive the support of many architects and interior designers as the brand begins to take root.
ID: Does green practice affect the availability of your furniture line?

SK & PK: No, but green practices are more time consuming and do affect the cost of our products. We think it's worth it.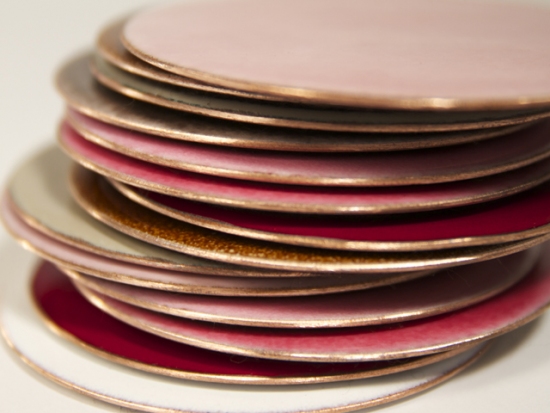 ID: Does furniture inspire accessories? Vice versa or both?

SK & PK: Yes, the materials and their potential roll back and forth. Lately, enamel, copper, and wool are on our minds.
ID: Your cool coasters, The Waifs, were inspired by Necco Wafers. Do you often draw inspiration from nostalgia?

SK & PK: Sometimes inspiration hits, and there is a nostalgic association. But inspiration really seems to come out of nowhere. The most compelling thing about Neccos is their flat simplicity, powdery colors, and that they are embossed! Pretty amazing for a candy. Not to mention the glassine wrapper.
ID: Do you still eat them?

SK & PK: We prefer to look at them.