10 Qs with… Suzanne Rheinstein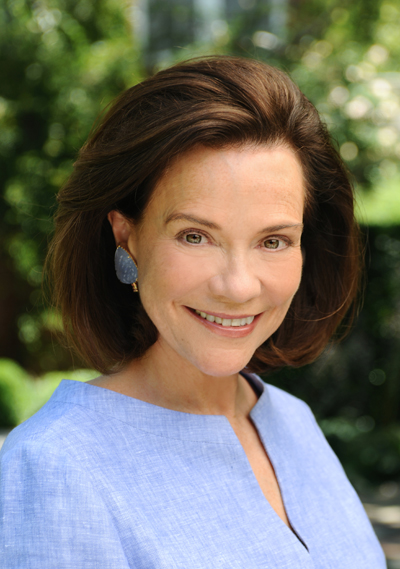 With her irresistible Southern charm, impeccable taste and reverence for the past, interior designer Suzanne Rheinstein's furnishings and home accessories store, Hollyhock, is a mecca for Los Angeles-based designers. Her first book, At Home: A Style For Today with Things From the Past, is a bestseller, a second tome is in the works, and her fabric collection for Lee Jofa has been a huge hit. Is there anything the intrepid designer can't do? Here, Rheinstein offers her take on pleasing the new guard, designing the California way, and the secret to keeping design relevant for the long haul.
A Chat with Hollyhock's Suzanne Rheinstein
Interior Design: What are some of the big design projects currently on your plate?

Suzanne Rheinstein: I have two new projects for favorite clients—one in Wyoming in the middle of nowhere, and one in the heart of Manhattan, on the Upper East Side.
ID: How do creative ideas come about within your team?

SR: We have a profound respect for history and being familiar with what has been excellent through the ages. When we begin a project, the ideas are certainly influenced by what we have seen and studied and how that will relate to a successful project.
ID: What kind of rapport do you like to encourage with clients, and what kind of clients are the most satisfying?

SR: We get to know our clients very well—what they like and how they want to live… and how they actually live. Then we may gently entice them in new directions! The very best clients are those who can contemplate new ideas, think about them, and then make a timely "yes" or "no" decision.
ID: How have Hollyhock and its customers evolved over the past two decades?

SR: Well, they get younger and younger! It's gratifying for me to see the younger designers appreciating the antiques and one-of-a-kind things we sell. I've designed and had quite a few fill-in pieces made—in Los Angeles—that can go with more modern furniture or antiques. That helps make it attractive to the younger designers, and more approachable.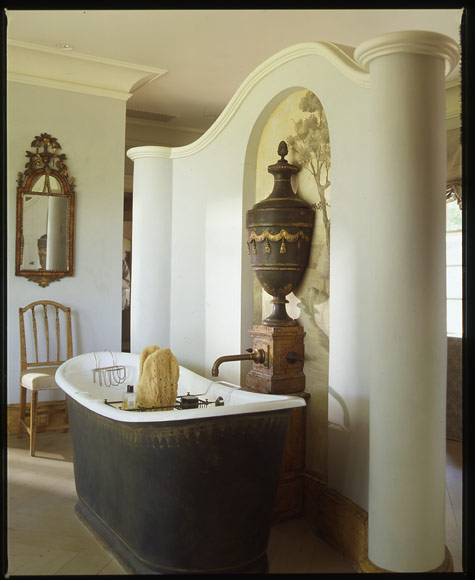 ID: Why is LA a great town for architecture and design?

SR: It's big and there are lots of buildings!
ID: But would you say there's a "Californian" attitude toward design and architecture?

SR: Aren't there many? Only taking Southern California, there's an easy-breezy attitude in the beach communities and a cooler, more pulled-together one in the Hollywood Hills, and yet another one in the large family houses in Hancock Park. All, I think, would involve a big commitment to the marvelous indoor-outdoor life we are so fortunate to have.
ID: What's your take on sustainability—not just with materials, but in actual design? How do you keep a project relevant for a long time?

SR: I'm working on my second book for Rizzoli and I just saw a photograph of my work that appeared about ten years ago in Elle Décor. It still looks relevant today… I used many classic pieces but in a spare way, with lots of room to breathe and a collection of photographs and fragments and old engravings. Of course, antiques are a fantastic "green" way to go!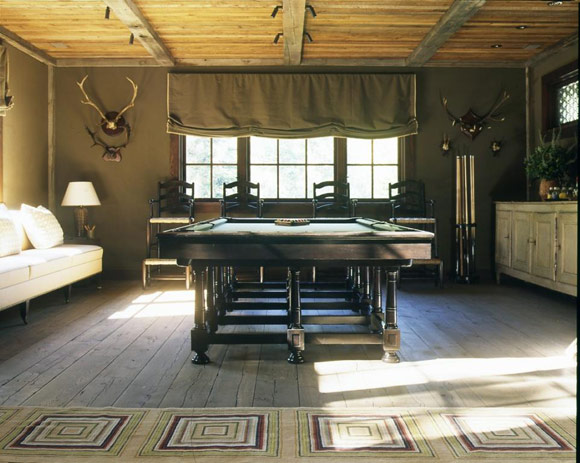 ID: What's the most satisfying part of designing your fabric collections with Lee Jofa?

SR: Working with the remarkable people in their studio. Stephen Elrod runs it and has a marvelous eye. The inspiration comes from all over, especially my travels. In my last collection, one fabric was inspired by a very old painted and dyed hanging I bought in India, and another from an 18th-century piece of hand-woven ikat linen from France.
ID: Are there any structures or locales that have endured for you as a source of inspiration?

SR: Oh yes! I do love anything that is Greek Revival, from the most humble little southern clapboard church to grand Italian and English examples. I love the Parthenon, the Pantheon, but also the Red Fort in India, the stupas in Bagan, and the shotgun cottages in New Orleans.
ID: What are some of the earliest instances when you found yourself engaged by good design?

SR: I loved Jackson Square and the building of the French Quarter in New Orleans where I was reared. I was surrounded by adults as a child, so I was quiet and looked at everything.