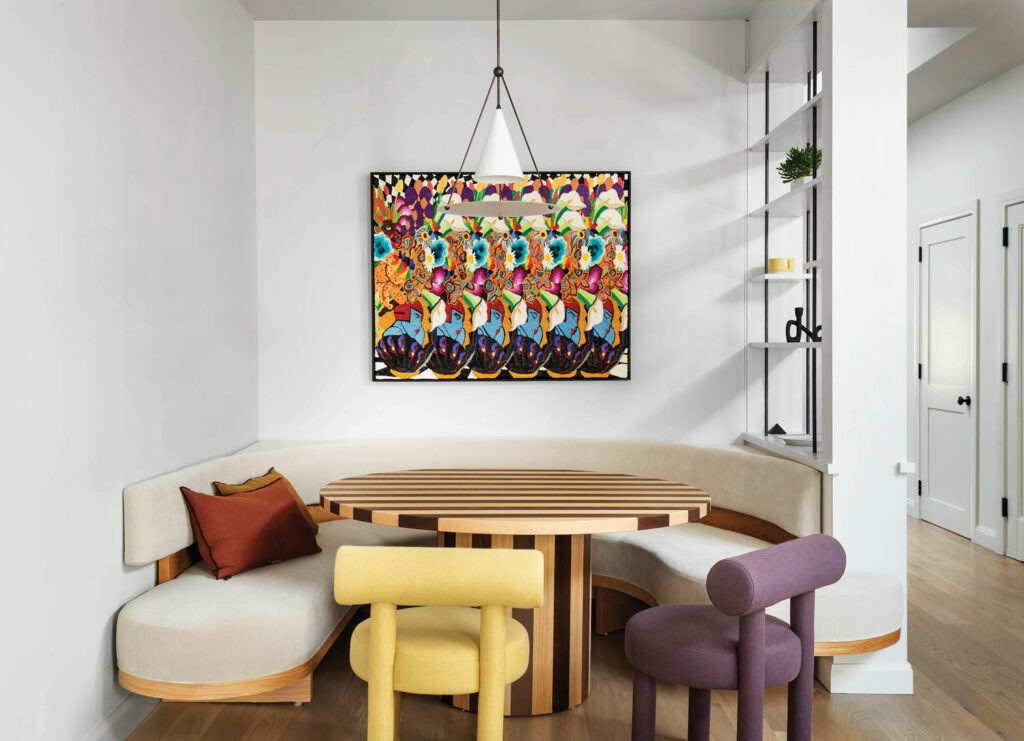 Studio DB Enlivens the Top Floors of a Greek Revival House in the East Village
Designer Britt Zunino was born in Albuquerque, New Mexico, her architect husband Damian in the West Village. But they're now both bona fide New Yorkers with four kids, a Union Square loft, and a Flatiron District–based firm, Studio DB, founded in 2007. The pandemic notwithstanding, the practice is plenty robust. On the boards are some 20 projects including ones in Florida and Italy. Newly completed and closer to home are the top two floors of a circa 1900 Greek Revival house for another young Manhattan couple. In the East Village, the residence is near where the clients had been living but miles away in scope. From a tiny apartment, they came to this spacious condo comprising 3,200 square feet. "The property was bigger than anything they had ever owned," Britt Zunino begins. But it needed work.
The site was "was full of dark and heavy millwork, and they didn't want to do a lot of construction," Damian Zunino adds. Fortunately, all four shared a singular vision: airy and contemporary with limited pops of color. Studio DB's initial approach entailed applying coats of light paint, refinishing the oak flooring, and adding "targeted gestures," in the form of unexpected wallpaper and knockout furnishings imparting individuality to each room.
Entry is on the lower level, which is the private zone. Newly serene, the primary bedroom has whitewashed woodwork and a pleated cotton pendant fixture overlooking a bedframe and ribbed wool rug, both in creamy colorways. Also here is a guest bedroom, an office, and a music room. The winding stair, its spindles and handrail freshly painted ebony for contrast, leads to the upstairs public zone composed of a living room and a library, separated by pocket doors, and a contiguous family room, dining area, and kitchen-cum-sunroom leading to a terrace.
The surprising wow is the library. "I've been wanting to use that wallpaper for a while," Britt Zunino says of the peony pattern, which "is modern and fresh but appropriate for a town house, even if the palette is pleasingly off." Subtler but still happily surprising is the powder room's paper, its figures cavorting on a blush ground. The clients nixed a formal dining room, Studio DB instead installing a banquette that curves around a striking two-tone oak table and supplementing it with a pair of identical chairs, one upholstered in plum velvet, the other in mustard.
Other spaces read more subdued. In the living room, the Zuninos scaled up the fireplace mantel with marble and paired it with a generous ivory sectional. Nearby, they transformed an alcove into a beckoning reading spot, removing existing desks and inserting a built-in daybed. Another daybed, provocatively called Cleopatra and designed by Dick Cordemeijer in the 1950's, resides in the family room.
The renovation took place mid-pandemic, with all its logistical and supply-chain challenges. "So, we sourced vintage and local products where we could," notes Britt Zunino, sounding like a true resourceful New Yorker.