10 Questions With… Guillaume Coutheillas of frenchCALIFORNIA
Paris-born Guillaume Coutheillas started his interior design and branding firm frenchCALIFORNIA nearly a decade ago. But his roots go much further back than that, to New York City's crucial DDG Partners development firm. Since its formation, his business has expanded into the luxury real estate, hospitality, fine art, and beauty sectors. Here, Coutheillas talks with Interior Design about his diplomatic studies, love for tweaking colors, and why paying only in exposure isn't enough.
Editor's note: This conversation that has been edited and condensed for clarity.
Guillaume Coutheillas Blends Parisian Aesthetic with California Cool
Interior Design: What was the first time you noticed the environment around you was intentionally designed?
Guillaume Coutheillas: I was pretty lucky to have parents and family who are really into design. My dad is an engineer, so he likes clean lines. And my mom is from the south of France, so she was always trying to build a house with antiques. There would be a mix of trunks from my great-grandmother, and a [Charles and Ray] Eames or [Warren] Platner chair. It was just stuff they kept from their travels. My grandfather worked in an insurance-related business where they would salvage and recuperate furniture after fires and floods, and every now and then we would inherit one of those pieces, too.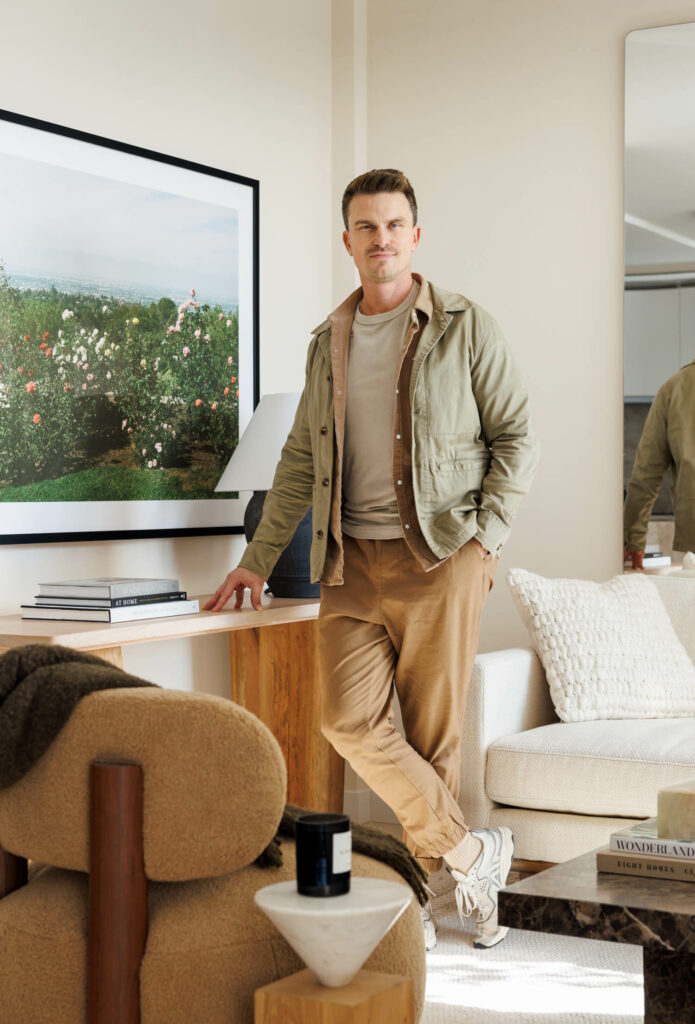 ID: Do you think that informed your sensibility?
GC: FrenchCALIFORNIA is a little bit of buttoned-up Parisian aesthetic with some California casual—and also New York, it's about multiple cultures and layers of old and new. The way those pieces my dad had were intended, I mean, some ended up being more expensive because their prices have now gone up. But I'm a real advocate of no fancy dinner service, everything should be used. Guests should be able to help themselves to the fridge. You can have nice pieces, you just need to not be, I think, so precious about them.
ID: How did you first get into the design industry?
GC: I began studying political science and diplomacy at school in Paris, and then came as an exchange student to the School of Arts and Science at Columbia. But my first true experience in design was from the development side, working for DDG Partners. I was working on the model apartments and the buildings, cooperating with designers. We collaborated with The Future Perfect, and it was a true concrete jump into design. That's how it really started, absorbing all of that. And few years later, I started my own company. Working in development, I developed this idea of knowing how people are going to respond when they see a place, and how it's going to photograph. But it also gave me the time and platform to do insane collaborations, and I've been able to push that. We did one with JR, the famous French artist. We've worked with very famous lighting and furniture designers. The most interesting part of my job is bringing on amazing partners, whether in tech or artists, to mix all of the senses.
ID: When did you launch frenchCALIFORNIA?
GC: I had the full support of Joe McMillan, the CEO of DDG Partners. He told me: 'I love what you do, you have great taste, I think you could do amazing work and fully support you starting your own company.' So I did. Coming from the developer world gave me a huge advantage because I speak their language. If I'm in a room with terrible flow, I can understand their perspective; if we're helping them style the amenities, I know what they need to accomplish. It's not an ego trip for me, I need to help [the developers] by making people want to be in the building. And in collaborations with artists, I try to show their work in a positive way and integrate them into our design. I want to give credit where credit is due. People need to be compensated, whether it's a commission fee, or rental, everyone, especially young artists, need to compensated for what they do. Some just compensate them with exposure. I think that's not enough.
ID: Let's talk about your projects. How did the 450 Washington project in Manhattan happen?
GC: It's a family home in Tribeca, on the water. So our design was really impacted by the river views and trees. But what's interesting is the connection between design and technology. I always feel like it's mixed in a very sort of clunky way, you never see them fully integrated. Here, there are a lot of antique pieces with contemporary art and modern furniture—but there are a lot of technology elements. People don't want their apartment to look state of the art in terms of screens everywhere. I used hardware that disappears, so you just press a button and simulate the sunrise. People have a misconception of smart lighting meaning very poor lighting, but that's completely changed.
ID: Contemporary art really defines the Hyve condo project in Nashville, was that the idea from the start?
GC: Nashville is a booming market because a lot of tech has moved there, a lot of financial services. It's not just the music industry. The real estate market is really exploding. We did 20 turnkey homes with about a hundred bedrooms to be marketed fully furnished. There's a base layer of modern furniture, and then I bought thousands of pieces of vintage ceramics and shelves and things like that. In every apartment, the art is exclusively from female artists, with limited edition and original prints. The buyers are getting a beautifully furnished apartment, and also getting to support these artists, who all get compensated. We worked with the Tappan Collective, which is a female-run company with which I have a longstanding relationship. I've been really impressed with the artists I've been able to find through them.
ID: And you've just finished a residence for the Four Seasons in San Francisco?
GC: It's on Mission Street, so obviously it's very different than the New York aesthetic. It's about plush fabrics, layered pieces, intelligent art, and light and bright design. When you work in branded residences, it's interesting because the hotel infuses a little of the brand into it. But these are not hotel rooms, they're private residences. So you think about the kind of people who are going to live there: What do they look like? What do they do? Will there be a dog bed in the kitchen, or a vanity in the primary bathroom, things like that. We also used custom paint that we have.
ID: Yes, and that's about to be commercially available?
GC: Burcu [Garnier], the cofounder of Color Atelier, is a friend of mine, and I've been using her products for years. However you apply it, it always has a magical effect. They already have, like, 250 colors in their catalog, but I was always tweaking them a little bit. We decided to create the six colors I use all the time. Depending on how you apply it, it can give a plaster effect or fairly flat. It has a sort of old European feel. I've really been going back to a traditional way of painting a room. People want modern amenities but they also want their apartment to feel a little lived in and storied, even if it was just built or renovated last year. Which is interesting. For me, it's going back to my roots, how all the Parisian apartments were painted.
ID: Which is also sort of how your One Wall Street apartment feels, no?
GC: Yes, at the end of the day. The client asked if I had heard of the Kith. Its Paris location is in a building designed by Andrée Putman, and they wanted me to take a look for inspiration. He was very involved, sending me art he bought on the road and I was buying things for him too. We did a lot of customization, down to the sconces, and we were able to go pretty far with contemporary photography and paintings.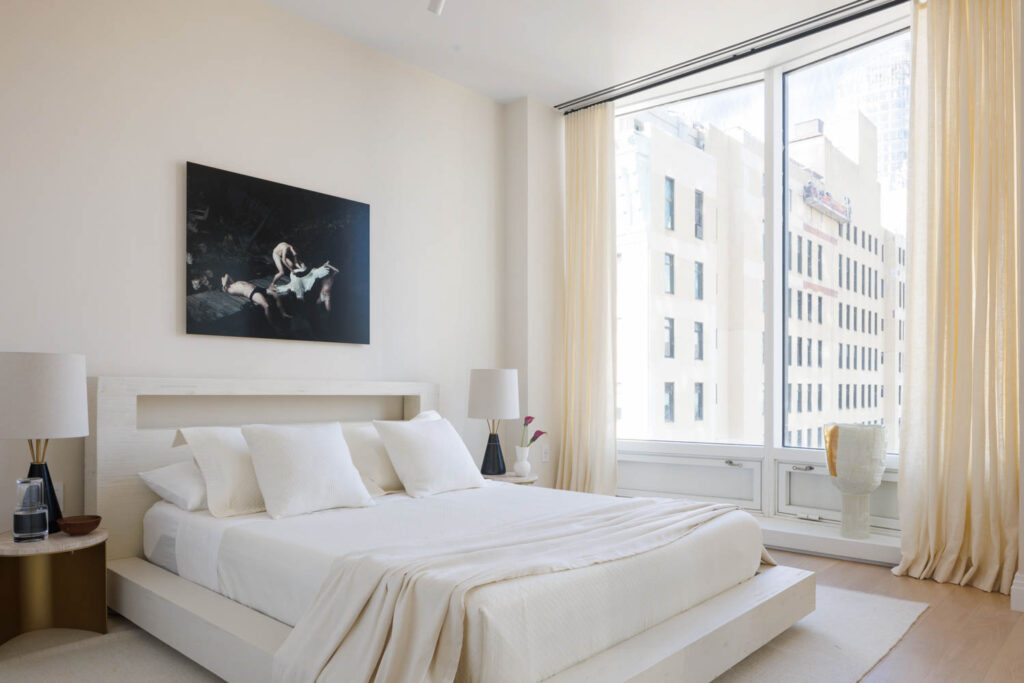 ID: And what's next for you?
GC: We have big projects in Nashville, New York, California. There's a long collaboration with a museum. We're getting a lot more residential design requests, which I'm flattered by. We're still considered a young studio, even though we've been around for awhile. So I'm very grateful. Right now I'm in Bellport [New York], with is such an accepting and diverse community. It's been so inspiring from a creative perspective. We've made friends in their 80s and friends much younger. Being around talented and creative people, no matter what they do, is such a gift.