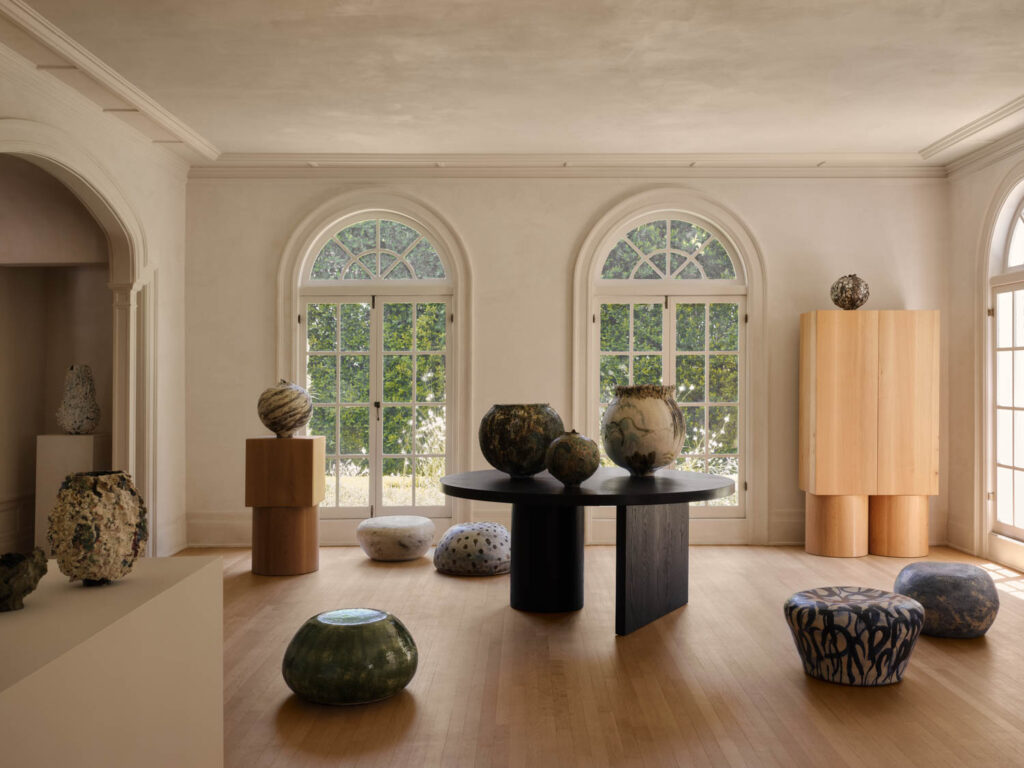 10 Questions With… Ceramicist Jane Yang D'Haene
2023 is turning out to be the best year yet for ceramicist Jane Yang D'Haene. Having been picked up by The Future Perfect last spring, the Korean-born, Brooklyn-based artist has quickly emerged as one of the platform's most successful talents. After numerous showcases in the gallery's West Village townhouse in New York, The Future Perfect mounted Yang D'Haene's first solo show at its Los Angeles Goldwyn House earlier this summer. Occupying various rooms of the sprawling Hollywood Hills mansion, the "Remembrance" exhibition comprises over a dozen one-off works that demonstrate the latest feats in her ongoing exploration and translation of the ancient Moon jar typology.
Yang D'Haene's recent success has also come from partnerships and projects developed in addition to this fruitful collaboration. A September 2022 group show at Galerie Kitsuné Brooklyn, in partnership with fresh-faced Los Angeles purveyor Stroll Garden, led to Yang D'Haene's curatorial debut. Presented simultaneously with yet another solo show—this time at Hauser & Wirth's Southampton outpost—"Where Land Meets Sea," on view till September 4th, is a thematic showcase highlighting six young Korean artists exploring many of the same preoccupations that have come to define her practice thus far. Staged with Stroll Garden at the studio of late abstract expressionist Adolph Gottlieb in nearby East Hampton, the exhibition centers on the common thread of interpretation; finding different ways to treat the well entrenched heritage of Korean artistry through a contemporary lens. If that weren't enough, there are showcases of her work in Paris and elsewhere planned for later this fall.
The highly sought after ceramicist only began foraying into the medium six or so years ago. She began her professional life climbing the ladder at a major architecture firm and designing corporate offices among other projects. As she shares with Interior Design, her story is proof that advantageous career shifts are possible at any stage of the game. Yang D'Haene also talks about her idiosyncratic process and the thinking behind the three format-defying collections she debuted with The Future Perfect in June.
Jane Yang D'Haene Shares Insights Into Her Craft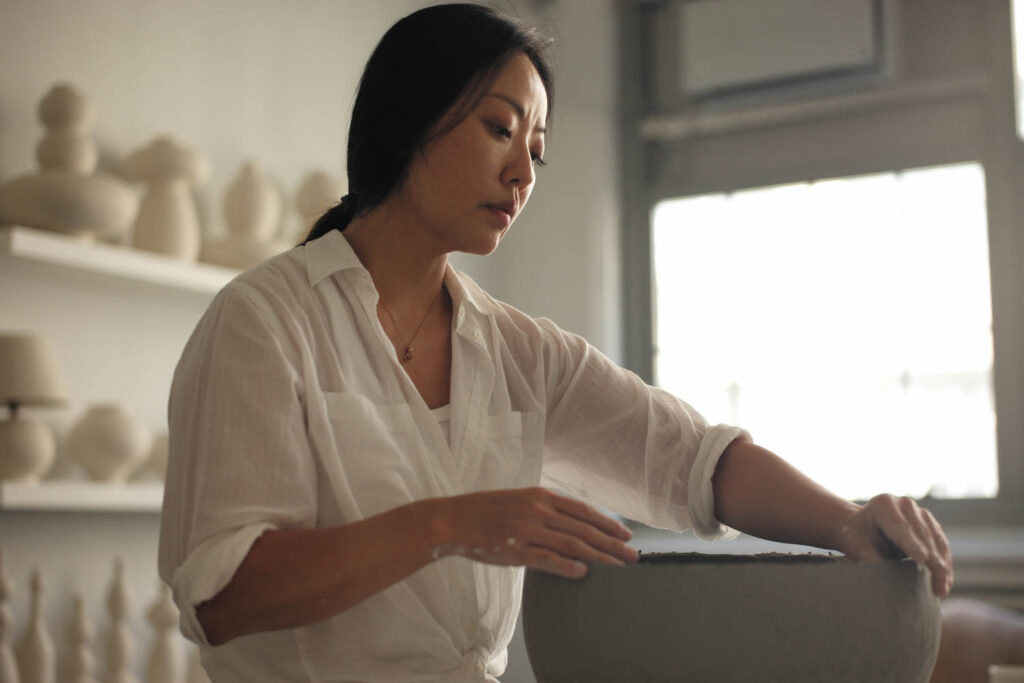 Interior Design: What first brought you in contact with art and design?
Jane Yang D'Haene: I was raised with art all around me. My father is a painter and my grandfather composed music. I grew up watching my mother, who was always making something—sewing clothes for the kids, knitting sweaters for the family; she was also known for her singing.
ID: What led you to the world of interior architecture and design?
JYD: I came to New York when I was 16 years old. My high school art teacher thought my work was good enough to apply to art school but sadly, my father was very against the idea. That's how I embraced architecture school. He just wanted me to have a more steady job.
I ended up studying at Cooper Union, which, to be honest, was extremely difficult due mainly to my language barrier. I was taught by world-famous architects but understood very little of what they were trying to convey. I couldn't explain all my thoughts but I discovered drawing and model making as the best way to express myself. I always thought 'If I could only explain everything through my drawings or models, I would be happy.' I still think this way. I don't need to explain my work so much and believe that it speaks for itself.
I worked at TPG Architecture; starting as a junior designer and moving up to design director by the time I left. Most of the projects I helped develop were offices for hedge funds, law firms, and advertising agencies. The latter was my favorite type of project to work on—I especially loved the process of designing the Double Click workspace. It was the Dot-Com era.
ID: How did you begin working with ceramics?
JYD: Ceramics came to me by recommendation from a friend in around 2016. I was going through a depression at the time and she pushed me to take a class at a community studio as a way of getting my mind off of things. At first, I really disliked the material—It was messy and as an extremely organized person, It was hard to get into it. After the third class, I noticed that everyone around me was progressing faster than me, so I took it as a challenge to work harder. Before I knew it, I was going to the studio every day. Eventually, the exploration of clay felt like something I could do forever—there was so much I could discover within it. My absorption into the medium proved to be therapeutic.
ID: What inspired you to focus primarily on this discipline and establish your own studio?
JYD: I opened my Industry City, Brooklyn studio in 2018. I wanted to have the freedom of experimentation with all materials. Early on, pieces were constantly exploding in my kiln, which was a process I could never go through in a shared workshop due to limited time and space. My pieces still explode from time to time as I constantly look to push clay further. It's what makes me want to go further and learn more about this magical material. Though ceramics quickly became my main focus, I was able hold onto the inherent sense of construction I honed when working as an interior designer. I understand what can go well together in a space and always imagine my vessels as objects existing in a particular setting.
ID: How has your personal practice and studio evolved over time?
JYD: It seems my work is getting more complicated but looser. I'm using increasingly varied glazing and firing techniques. My internal emotions are expressed much more than in my earlier work but my desire to explore the potential of this material is continuous. In that too, I noticed I am less scared of making mistakes and have even begun to celebrate imperfections.
ID: How has the exploration of making Moon Jars and other historically-significant object typologies allowed you to reconnect with your roots?
JYD: In a way, working with clay brought back a feeling that seemed to be stored in my hands; which made me rethink my personal and cultural history. Over the past six or seven years, I've made so many different types of forms but over time, I noticed that I was drawn to moon jars. I wanted to bring my heritage through form and shapes while using the glazing process as an opportunity for expression.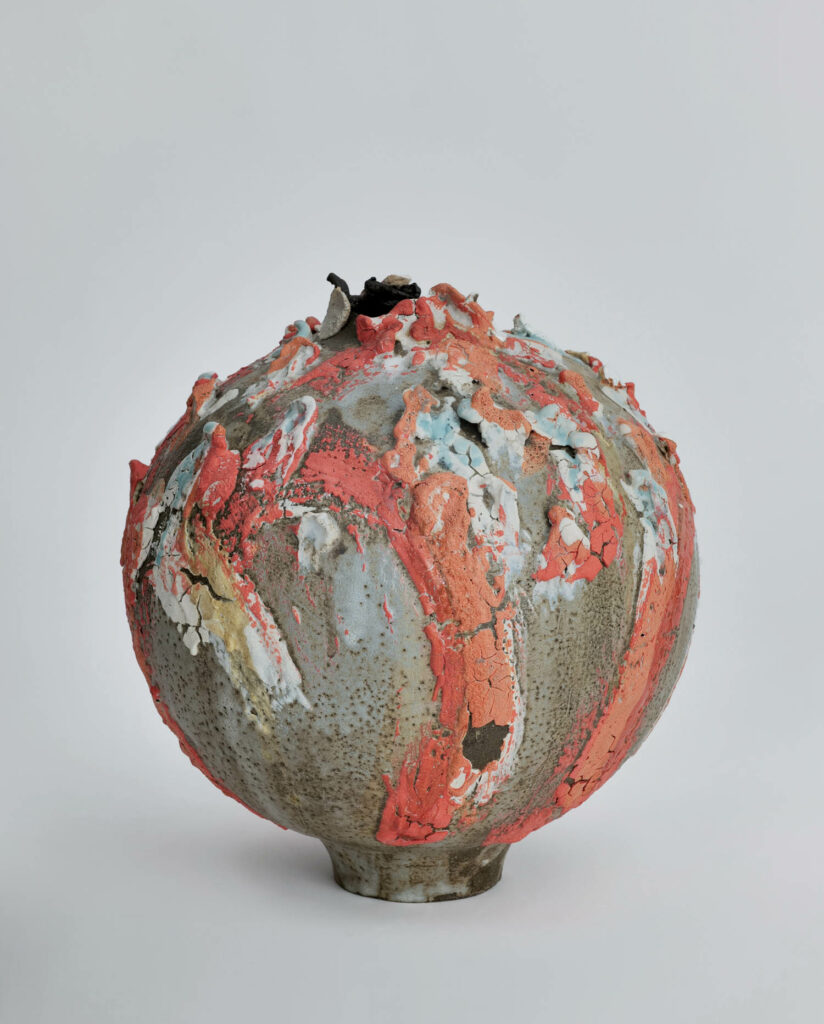 ID: In what ways does your practice challenge yet honor these traditions, and bring in sense of contemporaneity?
JYD: An evocation of heritage exists in my work, not so much as a stringent following of traditional methods, but more as a representation of memory; the elements that left a deep impression on me as child simply by virtue of being ubiquitous; the things you don't consciously register but recall with deep fondness when you are no longer surrounded by them. In a way, the work that I do relates to the traditions of my culture, in the way that drawing something from memory relates to the veracity of detail—it might not be entirely correct, but, when successful, captures the vital essence of a thing. My designs serve as canvas that depict these recollections. A contemporary comes with love for and application of experimentation.
ID: Could you share more about how trial and error informs your process?
JYD: My forms are quite simple; I make my own versions of Korean ceramic shapes. Most are handbuilt using a classic coil technique, which is a slow process but one I enjoy. The experimentational factor is always at play, in the material itself, starting with mixing different bodies of clay to achieve an unexpected finish on the surface. I then play with layers and glazes. Dome pieces involve multiple firings and that's most exciting because I get to be a painter and a mad scientist all at once. It's always a surprise when I open my kiln. I never get the same result twice and that's what I find most attractive about ceramics.
ID: What's the significance of the recent Remembrance exhibition with The Future Perfect?
JYD: I created three new bodies of work for the exhibition, which included my first exploration of ceramic furniture: a series of stools. It felt like a robust moment in my artistic career, one in which I felt the emotional impulse behind these works come through with an intentionality I've been working towards for years now. This was also my first time showing in Los Angeles, which was also quite exciting.
ID: How do the new Frill, Minhwa-inspired, and ceramic stool collections demonstrate the next step in your career?
JYD: I think they're a step forward in a more expressly articulated connection between the visual qualities of the work and its emotional content. While the scaled-up Frill vessels are inspired by giwa—wave-pattern roof tiles found throughout Korean—the Minhwa collection alludes to the tradition of anonymous painting. The furniture pieces carry a sense of weight and gravity that seems particularly uncommon for ceramics.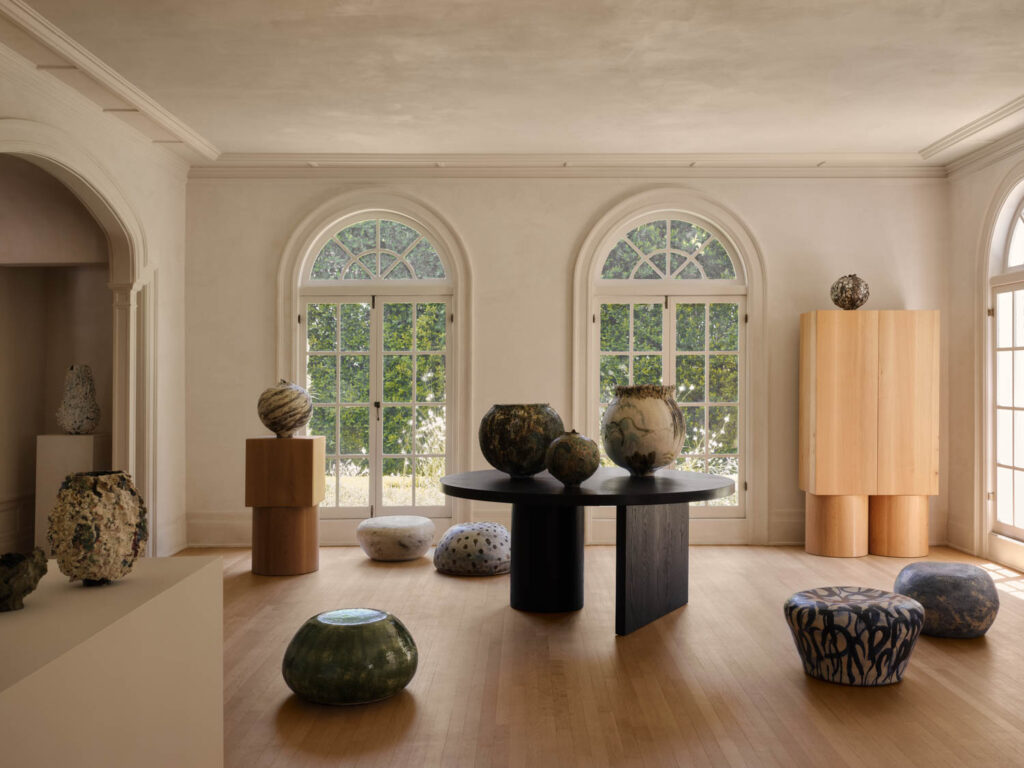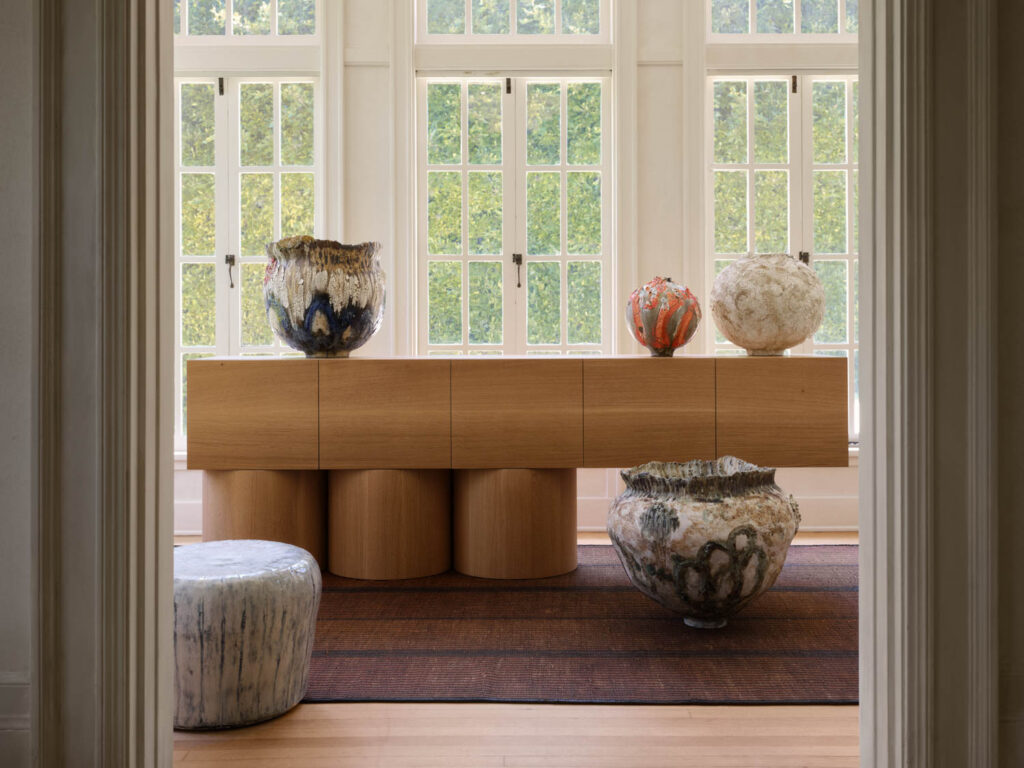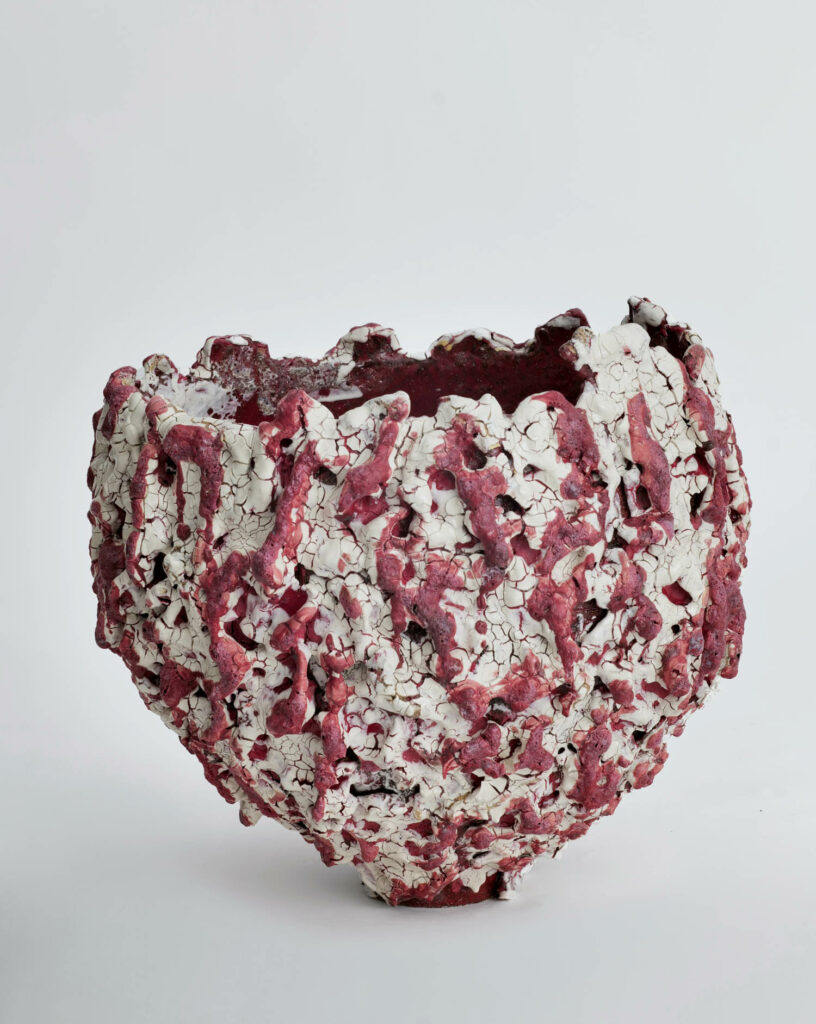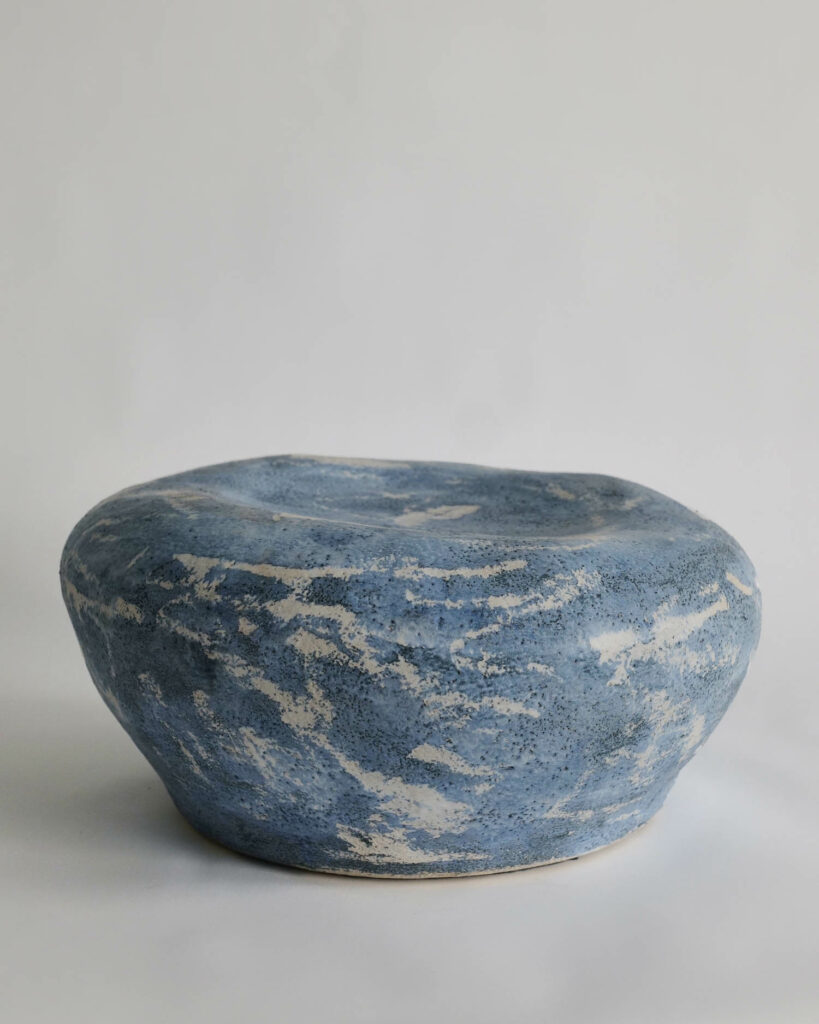 read more
DesignWire

10 Questions With… Jan Ernst

Jan Ernst talks with Interior Design about how trees are architectural spaces for dreams, why he's moving into plaster, and more.

DesignWire

10 Questions With… Kim Mupangilaï

Kim Mupangilaï's functional artworks—limber armoires, amorphous tables, and puzzle-piece loungers—are a personal exploration of cross-cultural identity.