10 Questions with… Amy Burkett
With significant expertise in corporate projects (health care, law, and civic), planning, and mixed-use housing, Amy Burkett (President and Owner, Burkett Design) has delivered boundary-pushing architecture and interiors for more than 25 years. Based in Denver, Colorado, with a satellite office in Dubai and another soon to open in Saudi Arabia,

Burkett Design

is recognized the world over for its sleek, solution-oriented work. Case in point: the firm recently won the

ASID Elevate Award for Best Office/Corporate Design

for the law office of

Holland & Hart

in Salt Lake City, Utah. Here, Burkett reveals some secrets to her success, her take on design's new rules, and her approach to designing on the other side of the world.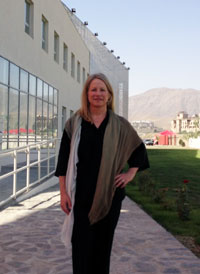 Interior Design: Your firm is extremely busy here in the US and throughout the world. What's the key to continually pushing things forward?


Amy Burkett: Diversity is a big part of our practice. If we were only doing one type of project, we wouldn't be as fresh and creative as we are. I definitely think that diversity keeps a dynamic attitude in the office. I love our very technical, in-depth projects with labs, as is the case with health care, and yet we also have tremendous law firm expertise.

ID: What are the new needs of a modern law office?


AB: The practice of law has changed, and firms are now catching up. There are definite generational differences—the lawyers with the most experience tend to want to practice in a traditional fashion and have their assistants doing a lot of work for them, and they remain the biggest generators of revenue. Meanwhile, the young associates are incredibly collaborative and don't necessarily want to go into an office. The challenge is to create an environment that works for both approaches.

ID: How have you seen the demands of the health-care industry change?


AB: We do a lot of work internationally, particularly in the Middle East, and they practice medicine very differently than the US. We've had to adjust our designs to work for them and their culture. They're just now doing many things—such as accessibility for disabled people—that we would consider fundamental. So much is being built from a cultural standpoint. I think about when women have babies—so many hospitals have a labor area with twenty beds set up. Also, 20 family members will typically show up for the birth. These are factors we have to consider and work with.

ID: You have concluded that religion has a strong impact on design in the Middle East. How have you come to cultivate your approach to work in the region?


AB: When we design, it's required that we have separate male and female waiting areas; that we integrate prayer rooms; that amenities be available so that people can come in and take their shoes off, put them in a bin, wash their feet and hands and face, etc. Often I'll be in a meeting and people will get up and come back in five minutes, having said their prayers. There is a sequencing requirement tied to the history of the region, and people are very proud of where they've been and where they're going. There's an impetus to integrate details of Islamic architecture—which has been around for thousands of years—with modern, forward-thinking design.

ID: You have found great success with your Dubai office, and have an office in Saudi Arabia coming soon. What's the most satisfying element of your work in the Middle East?


AB: The biggest draw of working in the Middle East for me is that it's so different from where I live. I love the people. The Saudis are so warm and gracious and happy I'm there. They're so thrilled that I don't have "Islamic phobia" and want to talk to me about religion and politics. It's great fun to be there. Of course, Saudi Arabia is very different from the UAE, which is comprised of 85 percent expats. I find working there very stimulating, progressive, and forward-thinking.

ID: Given your years of professional experience and worldly perspective, what would you say the word "luxury" means in today's design landscape?


AB: I'd say that spaces that are about luxury in the hospitality world right now are more modern in their design, and yet have an organic aspect. I think of the "six senses" resorts—places with an almost spiritual quality to them. There tends to be a simple integration of indoors and outdoors; absolutely luxurious but not about marble and granite. The most beautiful spaces are often about open space.

ID: How do you start the conversation of long-term design relevance when taking on a well-trafficked public space—be it a hospitality project or a busy historic space?


AB: I'm a modernist, so simplicity is something that I feel will maintain its design relevance more than something that's trying to be of the past. The fundamental aspects of great design—proportion and ration and balance—are truisms that, if incorporated, will yield a space that has wonderful longevity and life to it. People will always respond to beautiful things—simplistic or ornate—if those aspects of proportion and ratio are accomplished. Also, we've become so needy of natural light, and spaces that incorporate more natural light will always be a more sustaining type of design.

ID: What are the most rewarding kinds of exchanges with clients?


AB: They're always different. I find lawyers are often very educated on good design, as are CEOs. They tend to speak quite articulately about design and architecture because more often than not they're smart, interested, and creative. I love working with those kinds of clients—people I can engage in theoretical discussions and they'll get it. It means something when someone like that puts their trust in you. It's very exciting to hear, "This is exactly what I was thinking, only better."

ID: What is the creative process like among your team?


AB: It varies. There are seven principals in the office, and we work intensely with each other. Lots of ideas exchanged and "what do you think about this" going on. I'm not a computer drawer, so I often stand over people's backs and draw over their shoulders, pointing and saying, "What about that?" It's probably very cumbersome for them. I suppose it's a generational gap. I still sketch, as do they all.

ID: What's your perspective on the new rules of the industry, following the economic downturn of the late 2000s?


AB: Now that people have seen their friends get laid off, or they've been laid off themselves, they have begun to understand the importance and value of everything we do—time, purchases, new technology. Every one of us worked more hours than we should have. Frankly, I was terrified to hire more people, because I never want to lay anyone off again. Every new person that came on board was the result of a breaking point—a moment when we simply had to invest in new people and technology. I do believe that it made us all more efficient, in every industry.
All the while, there remains a lot of excess in other parts of the world. Dubai learned that lesson and has had to scale back tremendously—but other parts of the world are still looking to do "bigger." This isn't about being demonstrative, necessarily… In Saudi Arabia, something like 50 percent of the population is under 20 years old. They've waited so long for infrastructure and their facilities are so awful, so they have a lot of catching up to do. There's a lot of youth and a lot of growth, which is why it's so much fun to be there. It's going to be so exciting to watch them watch over the next ten years.

ID: Are there any moments from your past that served as early career inspiration?


AB: I actually figured this out a few years ago. I went to Expo 67 in Montreal, where the geodesic dome was. I remember being completely captivated by the pavilions and the dome, and I was seven years old. I was eight when I decided I wanted to be in design and have never veered from it since. That was the turning point for me.