10 Questions With… Blink Design Group



A rendering of the future Regent Istanbul hotel by Blink Design Group.





Blink Design Group

, at only seven years old, boasts a team of creatives with hospitality experience spanning decades. The firm has completed distinctly different work in global locations as far flung as China, Indonesia, India, Maldives, Singapore, South Korea, Taiwan, Thailand, Turkey, Vietnam and even Kenya. In from Singapore last week, founder and senior creative director Clint Nagata and director Christopher Chua visited

Interior Design

's New York offices the day following the 33rd annual Gold Key Awards for Excellence in Hospitality Design. We spoke with them about that indefinable "Blink factor", why they deny claims to any "signature style", and what it's like working for legends of luxury like Conrad, Hilton, Regent, Jumeriah, Langham Place, Le Méridien, Marriott, Sheraton and Westin.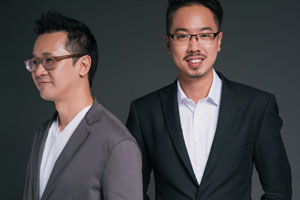 Interior Design:  How have things changed for Blink since the firm launched in 2006?


Clint Nagata: When I started the firm seven years ago, it was with the intent of creating a brand and then growing it. I was with WATG for 14 years, so I was very much traditionally trained for resorts. Plus, I grew up in Hawaii, so my lifestyle was always very close to resorts and so forth. At the start of Blink, we were 20 people and we grew to about 40. That was only one office. Now we have four studios, about 85 to 90 staff, and we've also added a lot of depth to our team, with Chris joining us. We've added Zia Hansen, who was formerly of

Wimberley Interiors

, as our director of interiors, plus Pietro Campanella who is formerly of

DENNISTON International

.


ID: What do you look for in a new hire?


Christopher Chua: I think it's the Blink factor. We find people that are very rooted in the classical and the traditional but want to do something different. We feel that if you have something so rooted in the basis of design, then you can look forward and create something very different. If you look at our projects in general, they still have a very strict sense of design and proportion and colors—and then we try to push it one level above that. There's so much talent out there. Every company is trying to do its best and we look for that in someone who joins Blink.


ID: How do your clients define luxury?


CN: The interpretation of luxury has to do with where a country is economically. So if you go back to the history of the U.S., to when it first started, wealth was demonstrated in very visual ways. For the Chinese, 10 years ago they were all into Gucci and Louis Vuitton with big monogram symbols, but now they've switched towards more subtle brands. . .and they appreciate Hermes. And that shift in the perception of luxury goods has transcended across to hotels and resorts. Five years ago, we were doing five-star hotels with over 500 keys. But now we're doing five-star hotels that are about 200 keys or 150 keys. With two outlets instead of five restaurants, so the scale has come down because they understand that part of luxury is to have exclusivity. So instead of having a 500-room luxury hotel, you have a much smaller property with bigger rooms.


ID: When a new project comes in, what are your first steps?


CC: Everybody adds to the project. When Clint set up this company, he didn't put his name on it. There was a very conscious effort to not have a certain person heading the entire office or setting a brand. When we start a project, we do a roundtable for sketches and ideas. Usually we just feed off each other. Where we come in after that is to make sure the idea continues or develops, rather than we come in and say I don't like the style because it's not my style. That's not the way we want to do things. I think why clients generally like Blink is because every project in our portfolio is very different. It starts from zero. That's why clients like us because they know that if they get us, they're going to get something different.

CN: Which has got us into trouble a few times because we don't have a style. We can be invited to the project, and the client will hire us based on the fact that he likes our work but he can't really tell us what he specifically likes. As opposed to hiring someone like Tony Chi, when you kind of know what you're signing up for. When you hire us, we don't have a signature style.


ID: What's your ideal relationship with a client?


CN: It's interesting because in Asia we have clients that are much younger than us. They're like early 20s, mid-20s, late 20s at the oldest. Their families sort of made all this money doing something else, and they want to build a hotel. So it becomes really a personal statement for them. And they don't want to just compete with the guy next door. They want to compete on the international level. So they're willing to go out there and look at what's happening. We like working with clients like that because the hotel has to embody some kind of spirit, and sometimes we center it on what the client's tastes are. In some sense, we do prefer clients that have some input as long as it matches our taste, I guess.


ID: Do you feel like your clients have changed a lot in the past six years? Are they more educated about design than they used to be?


CC: A lot of clients now like to reference projects that they've been to and even take trips out to… we recommend they look at some projects that we like. So that's a part of the client education, and they're very open to taking a week off just to go around and see what we're trying to tell them because clients are also very hungry for wanting the best and they don't know what the best is, so we send them off. They're more open to seeing out there, rather than just looking at pictures. You need to experience it. And also with some of these ideals, we need to tell them that it's not only just about design. Yeah, as designers we always want the best design but the entire hotel/resort experience also comes from other things like service and food.

CN: One of our clients is a group out of Beijing called Wanda Hotels and Resorts. They're an interesting case in themselves. They came to Thailand last year. They went to the three main resort areas with the purpose to study the best resorts because we're doing Wanda Rain, their new six-star resort brand. But their intention is to be the best not only in China, but around the world. This is a brand that they're planning to launch throughout Europe and the U.S. So it's an interesting process. It's gone from "Let's just copy things in neighboring Thailand and bring it to China" to be the best in China to now let's see what's around the region and the world to beat hotels on a global scale. The whole scale of the business has changed.


ID: How do you differentiate between branding and design?


CN: I think for me the best hotels are the ones that don't look like what you assume to be the brand. We receive these branding manuals, which I think actually do the brand more disfavor than favor because too often they limit creativity. And you only get a different product when it's driven from the client, who wants something very specific. For example, around the world, all the Ritz-Carltons look like Ritz-Carltons, but not in a good way. We had a roundtable in Hong Kong at the

HICAP conference

last month, and we invited Taj, Wynn, Dixon, and Rosewood, and this came up in discussion. And they all agreed that they're probably too restrictive with designers.

CC: With some of the brands, like the Marriott and Renaissance, they don't really have a really strong standard. That's a fun hotel brand to do because they want something different every time. We like that. Doubletree is still trying to figure out their grounding. That brand is, I would say, in a bit of a flux in terms of what they're trying to push out internationally. But that's OK, that's where Blink comes in because we have quite a lot of experience from the branding side to the architectural master planning side all the way to interiors. It's almost a full service thing where we have enough experience within the team to guide a client to get the best product. So it doesn't matter if he doesn't have a brand at this point. We can guide him to get a brand.


ID: What work is currently keeping you challenged and engaged?


CN: We're doing a resort in Istanbul, Regent Istanbul, which is fascinating because it's where Asia and Europe meet. And the challenge has been to give the design a local appeal, a local sense. I say that because we have not spent enough time there yet. That's one of our latest challenges, interior-wise. And the second would be a 100-key Hilton in Goa, India, which is slated for completion in the middle of 2014. And that's a challenge. We're doing architecture and interiors on that project. By all standards, it's a very different Hilton.

CC: It doesn't feel like a Hilton. It's not designed like a Hilton. It's up in the hills. It's very organic as it goes down the site itself, so it's not a block with rooms and keys. Elevations and interiors are very local, very vernacular. Very special, every single corner is designed differently. This project is fun because the client wants something special, and so does Hilton. So it was a perfect kind of relationship where Hilton has said, "we don't need to really have the brand standards fulfilled or that look." So we're collaborating with a fashion designer,

Tarun Tahiliani

, who designs Bollywood-style clothes.

We try to understand the context of a place but also the reason why people would hire us is because we're not, let's say, Turkish, and they want something that's different from the local. So I think there's a careful balance between being too vernacular versus being too international.


ID: Where do you think are the current opportunities for good design?


CN: Well, the other project we just started is in Nairobi, Kenya, and it's called The Grove Development. I think that the African market will be extremely hot in the next three to five years. Because there's almost nothing there. We visited the

Kempinski Palace

. The outside is pink. The inside looks like it's a mini palace from Europe. It just has no connection to Africa. But there are a lot of possibilities in Africa. And they have such a rich arts scene that we were using that in our project as a source of inspiration. But there's so much potential there. I prefer that over India at this point.

CC: It's interesting because if you read the markets, it does say that Kenya—or Africa at least—is a booming market. But I think for the past few years, a lot of people have been trying to go in but the market is so new and young, that it's a little messy. Projects are on hold. It doesn't move as quickly, but there's definitely a lot of potential and a lot of money, that people want to start doing things there. We hope to get more work in Africa.


ID: Can you foresee any future trends or challenges for hospitality?


CN: One of the things we see is the scale of luxury getting smaller. The hotel in Istanbul is 60 keys. Everything is getting more bespoke, smaller, and definitely much more locale specific. You look at Rosewood, which is now owned by a Hong Kong company, but all their hotels are very different. I think the brands have had to further distinguish themselves from each other. So it's no longer just having a name out front like Four Seasons that would necessarily mean you'd sell the project well. In fact, Four Seasons itself has changed their look and has gone much younger, because I think the age of the spenders is changing.

CC: People are also becoming very particular about the small things rather than the big things now. If a room doesn't have something, that's going to go on TripAdvisor. News spreads very fast on Facebook. So in this age of social media, everything has to be very well thought through down to the stitch points. So everyone is upping their game. Even the pace of development is moving much faster. I think us as a group, we need to change to suit that as well. We're lucky at this point in time that we're still very young. We can move with the trends and the tides, and it's much easier to maneuver than some of these older established firms. We'll change as the hospitality industry changes. In fact, one of the key words for Blink Design Group is to be preeminent. Always ahead, always different. That's how you can become successful.



A rendering of the future Regent Istanbul hotel by Blink Design Group.