10 Questions With… Charles Phu

Taiwanese architect Charles Phu is at the helm of the

Office for Architectural Culture

(OAC) in London. This far-reaching, multidisciplinary design innovator brings his vision to the International Oceanic Fishing Cultural Center Development & Museums in Tanmen, China; the Famen Temple Zen Meditation Center Master Plan Development & Museums in Shaanxi, China; and the headquarters and office tower for the "gateway" to the city at Taipiei City Airport. A long-lauded structural engineer, he maintains his strong link to the performing arts world (he grew up as a dancer) as a sought-after opera and ballet set designer for the

English National Opera

and

Teatro dell'Opera di Roma

. He and UK architect Roger Whiteman established OAC in early 2011 to execute dynamic architectural, urban design, master planning, and interiors.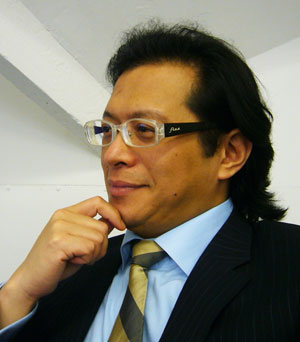 Interior Design: Charles, in what spirit did you and Roger Whiteman create the Office for Architectural Culture, and in what way does it satisfy a need within the design world?


Charles Phu: The clue is in the name. We take a deep interest in culture—the arts themselves as well as the history and design inheritance of the place in which we are working… In our minds, a building—just like a living person—has to have its own spirit and exert its influence upon everyone who uses it. Once, great buildings offered distinct messages. This has dimmed over the last 100 years; the architectural movements of the 20th century became so powerful and fashion and style came to dominate. How people engage with and use buildings became lost. At OAC, we are driven to identify and express the unique spirit of our buildings, whatever their function and style.


ID: What are some of the projects currently on your plate, and how are they challenging you or adding to your repertoire?


CP: Each project carries a heritage or political significance above its contextual meaning. We find that what we learn from our large, international projects can be usefully carried through to our smaller projects. For example, we recently won a competition to design the Ching-kuo Chi-hai Presidential Memorial Cultural Park, Library and Museum in Taipei. Named after Chiang Ching-Kuo, former president of the Republic of China, and considered globally by the Chinese to be the founder of modern Chinese democracy, the 40,000-square-mile site will be the first presidential memorial library and museum in East Asia.

We're also working on the master plan and design of the Famen Temple Zen Meditation Center in China. The client is the largest state-owned cultural developer in China, who is also undertaking the redevelopment of the Terracotta Warriors site in Xi'an. Our project will be developed around the 1,800-year-old Famen Buddhist Temple, the only Buddhist temple in the world that owns and preserves a genuine bone relic of Buddha and is, therefore, a supremely holy place for Buddhists across the globe. The site area is 1,240,000 square miles and will include a number of meditation lodges, several museums, and two hotels in addition to the World Meditation Center and a forest.

By contrast, we're designing a private residence and grounds in Surrey's green belt, with a particular focus on the creation of spaces for well-being.


ID: You're behind iconic structures throughout the globe—Okhta Center is just one extraordinary example—and it's fitting that a large part of OAC is Urban Design. How does an architect responsibly approach the task of creating an iconic structure?


CP: The urban context has, of course, to be considered. But really this is the bare minimum. The most important issue is the social context—how the building should influence people in their thinking and behavior, when they are working or at leisure, in a group or by themselves. Tall buildings may well have a part to play in the urban realm but I'm afraid they are often primarily the product of the owner's or architect's ego. We should always ask ourselves, "Is a super tall building really needed?"


ID: How should our industry approach the challenges of a world that is on track to become significantly more populated?


CP: Ironically, as cities swell and become more dense, people are becoming more and more isolated. I feel strongly about the potential for architecture to change this. At the beginning of a project I always tell the OAC team to take the elements which are needed—accommodation for a certain number of people, a business hub, hotel, a school, a park, and so on—and then explode the plan. I believe in breaking down the scale and the spaces, in removing barriers to create more opportunities for people to experience a variety of stimulations and interactions with one another. Although we design towers at OAC, you are as likely to find clusters of low-rise buildings in our work rather as a single skyscraper.


ID: You're obviously a man who has translated his personal passions into professional success—I'm particularly thinking of your ballet and opera set design. Would you say that following your passion is what brought you success?


CP: I'm somebody who simply can't think inside a box. It's true that I am greatly interested in opera, ballet, and theatre, but I would say that my core passion is about the design process, whether I am creating an office building or a stage set. For me this process is about the intensity of the learning and thinking each time to get inside the individual personality of what we are creating—rather like an actor who needs to live a new character with each play.


ID: Does your ability for culturally sensitive spaces find its roots in how you were raised? How do you approach these opportunities when they come to you today?


CP: As far as I can remember, I have always loved exploring histories and great cultures. As I've grown older, this has morphed into unravelling the myths that so many histories propagate. For me, living in different parts of the world has been a great bonus. It has taught me about the differences and similarities of so many cultures and this is always my starting point on a project.


ID: How vital is it to you, as an expressive person, to maintain a connection to the performing arts world?


CP: On a personal level, the connection is very important because I love opera, ballet, and music and like to associate with people who have the same interests. Not only do I have friends who work in the industry but I have to admit that if it's a choice between a potential employee who isn't interested in the performing arts and one who is, the latter will get the job every time. However, that does not mean that I relish the opportunity to design a stage set more than an office building. What is vital to me is expression through the design process.


ID: What are the traits you're looking for in employees, and how do you engage the staff in creative dialogue?


CP: We are by choice a very multi-cultural office and I am always trying to encourage our team to look outside the confines of their immediate world. I often say to them: "Please don't just hang out with other architects. That way you won't experience all the many thought-provoking influences that are out there."


ID: What are the new needs of your clients, which may or may not differ from five or ten years ago?


CP: I think we are living in an exciting time for architecture and design, if we can but grasp it. There is more cross fertilization from one sector to another—architects designing shoes and jewellery, hotel designers working on residential developments, retail designers designing hotels, and so on. And, there is more focus on designing for the lifestyles of the individuals who will use a building. Hotels have seen a quite remarkable transformation in this regard over the past decade, from imposing an assumption onto guests as to what they should expect and how they should behave to daring to break down such barriers. Diversity is now the signature of the hotel sector. Retail has perhaps been less successful in this evolution. It will be interesting to see how the sector reforms itself as it faces the immediate challenge of online shopping together with the longer term trend away from consuming things in favour of the experiential.


ID: What would you say are the great opportunities and responsibilities of people entering the field of architecture and design?


CP: The greatest opportunity for architects and designers is to make a difference. Their greatest responsibility is to remember that when they draw a line, that line will affect people. Of course, we also have to create stylish buildings, but our responsibility is much deeper than that. The good news, I have discovered, is that the more we think through our responsibilities, the more opportunities we find for great design.