10 Questions With… Daniel Boddam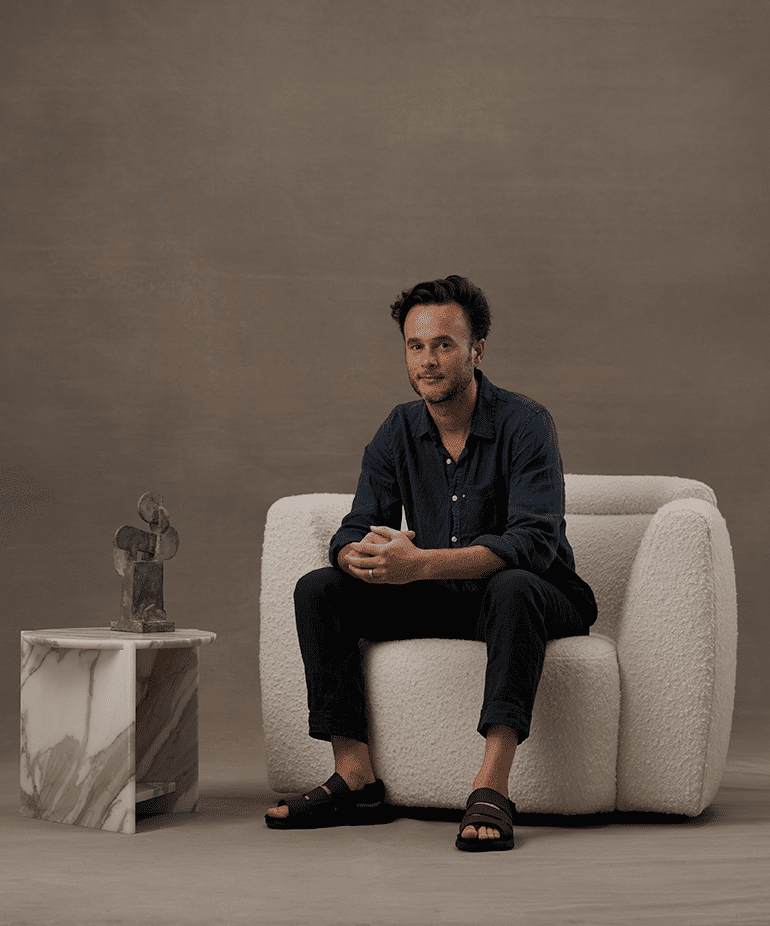 Driven by the pursuit of simplicity and the belief that a sense of calm and wellbeing can be achieved through design, Daniel Boddam—at the helm of his eponymous studio based in Sydney, which he created after working in London—seeks to inspire human engagement and a connection with nature while celebrating the artisanal through architecture, interiors, and furniture design. "Applying a modern lens to materials, colors and textures inspired by the raw landscape of home, I like to think we articulate a uniquely Australian voice with global resonance," he says.
Interior Design: What is the overall aesthetic of your new furniture collection?
Daniel Boddam: The aesthetic for this new collection was inspired by the raw Australian environment. The Wave sofa and chair duo are characterized by the undulating rhythm of rolling waves. The shape and form are organic, if quietly lyrical, yet remain true to our pursuit of simplicity. The Portsea side tables celebrates elemental forms and quality craftsmanship; Calacatta marble and Travertine give tactile dimension to the tables' circular and triangulated forms, with fine stone detailing maintaining the purity of the design, articulated in a single material.
ID: What type of materials and colors did you use in this collection and why?
DB: There are a number of pieces within my Coast, Geo and Monument collections—ranging from seating, to side, coffee and dining tables as well as lighting fixtures. Each collection strives for enduring elegance whilst celebrating the marriage of luxurious materials, revered artisanship and timeless design.
I used an organic material and color palette including, timber, travertine, stone and marble, paired with neutral tones, sand, grey and white—a nod to the natural elements that inspire each piece, which is made to order.
My design process always begins with hand sketches, which are then translated into 3D working models and placed into my architectural projects. I find this helps visualize how they relate and work within a desired space.
ID: Can you describe two recent interiors projects?
DB: For Carthona House, I was driven by the ambition to create a breathable, light-filled and well-crafted addition to the existing Federation home. My curiosity in the dualities of form inspired a 'complement by contrast' approach between old and new. The traditional qualities of Federation-style frontage are boldly counterbalanced by the striking blackened silhouette of the extension. I also sought to balance indoor/outdoor living with a sense of privacy and retreat.
Lindfield House is a calm, refined atmosphere that celebrates the clients' personalities. A considered simplicity with mid-century influences were the driving force behind the design. A luxurious and minimal interior has been created through layered materials and textures.
ID: What is your first memory of design?
DB: Born to both parents also of the architecture profession, one of my earliest memories is of playing 'hide-and-seek' inside the Willow Chair by Charles Rennie Mackintosh—its workmanship casting a visceral impression, even in the darkness.
ID: What made you want to become a designer?
DB: From the earliest age, I've been surrounded by architecture and design. I was learning by osmosis until I undertook my architecture studies at the University of Sydney. My sense of curiosity, however, has always been there.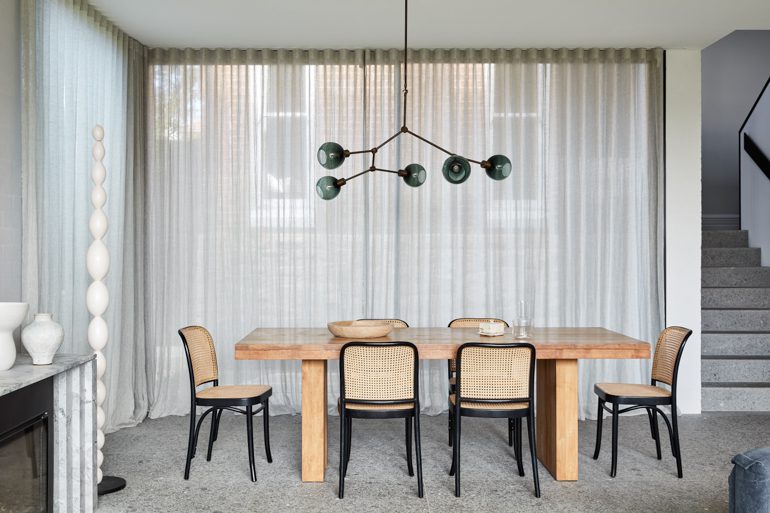 ID: Can you name some people in the industry who inspire you?
DB: I'm inspired by the simplicity and elegance of Christian Liaigre, Vincent Van Duysen, and Joseph Dirand. I admire the craftsmanship and timelessness of their work.
ID: In what kind of home do you live?
DB: My prime residence is in Byron Bay, a small coastal town on the east coast of Australia. I do, however, find myself splitting my time between our apartment in Bondi, Sydney.
My Byron home was built in a quiet cul-de-sac in the late 90s. The house backs onto a natural reserve (also a haven for koalas). Our desire was to create a barefoot sanctuary where we could reconnect with nature and leave feeling relaxed and inspired. Not wanting to follow design styles from elsewhere, the ambition was to respond to the spirit of place. Recognizing the local landscape and lifestyle is unique, the design explores an elevated expression of coastal living.
ID: When you feel that you need to find inspiration, what do you do?
DB: I often look to nature for inspiration. Going for walks and looking at the coastline to clear my mind is always a good starting point. I find I'm most creative in the mornings and as a daily ritual I start my day by sketching concepts. I treat each design as a research project where I build a narrative around a concept I'm trying to convey.
ID: What are some of your upcoming interiors projects for 2021?
DB: I'm looking forward to sharing a recently completed Sydney harborside project with the world. It is a holistic, contemporary interpretation of the Californian bungalow with an incredible collection of art. I am also designing a few new furniture pieces, and continuing to experiment with quality Australian materials, colors and textures inspired by the raw landscape of home.
ID: What is your dream project?
DB: Working with like-minded clients in inspiring locations, with an emphasis on quality craftsmanship whilst celebrating the artisanal. A dream project would be to design a stand-alone home in North America and a one-off eco-friendly villa.