10 Questions With… Emily Forgot
Playful graphics in bold colors cross disciplines to become striking art and custom furniture pieces by Emily Alston. "I really like the idea of functional art—which is basically furniture," laughs the British designer, who draws from a background in graphic design and illustration. With the unforgettable moniker of Emily Forgot, also the name of her design studio, she has collected a diverse roster of clients since graduating from the Liverpool School of Art & Design in 2004. Notable among them: prestigious London cultural institutions the Victoria & Albert Museum and Somerset House, hotel chains Mondrian Suites and CitizenM, retailer Selfridges, and furniture manufacturer Herman Miller.
This fall, at The Interior Design Show (IDS) in Vancouver, running September 26-29, Forgot will debut "A Sense of Place," an installation based on the shapes and architecture of Canadian Modernism. In parallel, 13 of her pieces will be for sale with 50 percent of proceeds benefiting education program Out in Schools. Interior Design sat down with Forgot to learn more about her boldly colored wooden relief pieces, the favorite pastime she indulges all around the world, and why little has changed in some areas of her life since the age of six.
Interior Design: We understand you recently wrapped up a residency program.
Emily Forgot: That's right, with de Bijenkorf, a department store chain in the Netherlands. I created a series of furniture and domestic objects inspired by the de Bijenkorf stores and the Bauhaus movement—so a table, chair, rug based on a Marcel Breuer staircase, and a set of three mobiles. The program, called Room on the Roof, is organized to coincide with the centennial of the Bauhaus movement and to celebrate the 50th anniversary of the Eindhoven de Bijenkorf store, designed by Italian architect Gio Ponti. The pieces will be used in window displays.
ID: Can you share a little more about the IDS installation and what else is upcoming for you?
EF: For IDS, I'm making some colorful wooden relief pieces for "A Sense of Place," an installation and entrance hall feature. Similar to others I have made, these reliefs will be based on architectural or interior spaces that I like, with relevancy to location. Therefore, I've been researching a lot of Canadian architects and architecture and visiting some Vancouver-based spaces. I then reinterpret and abstract them for the relief pieces.
I am also working on a maze for the hotel chain CitizenM that will be open to the public during the London Design Festival, also in September, and a series of assemblage pieces and prints which will be exclusively for the Victoria & Albert Museum shop.
ID: What gets your creative mind energized?
EF: Travel is really important. As an example, this past February I did a project for Stay One Degree, a vetted-member-only holiday home rental website. They sent me out to the Canary Islands in Spain, to Tenerife, to be inspired by one of the villas they have there and then also by Tenerife itself. For them, I also created a unique series of colorful wooden pieces. A film was made to document the trip and the making of the pieces It was a really nice project and made me think a little bit differently about my work, which always has inspiration coming from a sense of place. Travel doesn't have to be about getting on a plane and going somewhere, it's also about going to the library and picking up some old archive magazines.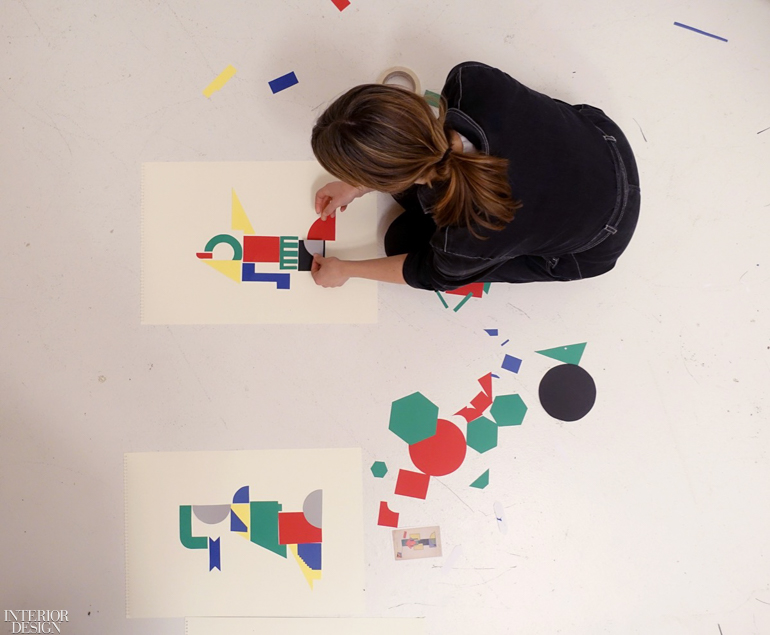 ID: How do you believe the British design culture helps enable your vision?
EF: With social media and the internet being so much a part of our creative lives, things feel a lot broader. You can uncover an amazing restaurant in Australia or a new kind of furniture brand in New York. I gain inspiration from all around the world and don't think my work necessarily has a particularly British feel. But then again, I do really like a lot of British design; it's quite playful and there is a little bit of humor.
ID: In what kind of home do you live?
EF: I've recently moved with my partner into a 1960s home with quite a lot of original features. It's near the sea, about an hour outside London, and is a huge ongoing project. My partner, Von, is an illustrator and artist as well, and we have a studio in the house that we share. Although some people just think that's crazy, it works well for us. I don't have any of my own furniture in the house at the moment, but I have plans to make quite a lot, such as a headboard for the bedroom. It will come together over a long period of time.
ID: Is there a person in the industry that you particularly admire?
EF: Perhaps because I am a woman, or because these are people that made great work in a quite a male-dominated world, I gravitate towards women in design. In my house, I have a Les Arcs chair, which French designer Charlotte Perriand did in the 1960s for the Les Arcs ski resort in Savoie, France. It is brown leather and a little bit bondage-y. She's really an icon.
ID: How do you think your childhood influenced your design thinking?
EF: I had a really creative upbringing because my father was a curator at the time, in a gallery in the north of England, in Sheffield. I used to draw buildings, play with colors, and collect a lot of things, like post cards and badges. Actually, the things I enjoyed then I enjoy now. I am quite similar to how I was when I was six!
ID: How do you believe your graphic understanding has developed or changed over the years?
EF: I now feel I can be a lot more playful. When I was in college, I felt quite intimidated by graphic design because I felt everything had to be serious and set in Helvetica. There was also a lot of Swiss design that didn't really resonate with me. Now I feel a lot more confident, and probably through working in the industry as long as I have, I've come to realize graphic design can be just as playful as illustration or other aspects of design.
ID: Do you have a secret you can share?
EF: There's a website called Iconic Houses that shows houses around the world that are open to the public or available for rent. Snooping around other people's houses is a favorite pastime.
ID: Your moniker seems a great way to never forget again!
EF: I definitely got much better at not forgetting things. I set that up when I was in university because I wanted a domain name that was less boring than just my name—and then I realized it was a lot of pressure! I can't forget anything now, because otherwise people say I am living up to my name. However, that worked in my favor.
Keep scrolling for more work by Emily Forgot >
Read more: 10 Questions With… Bethan Gray