10 Questions With… Gert Wingårdh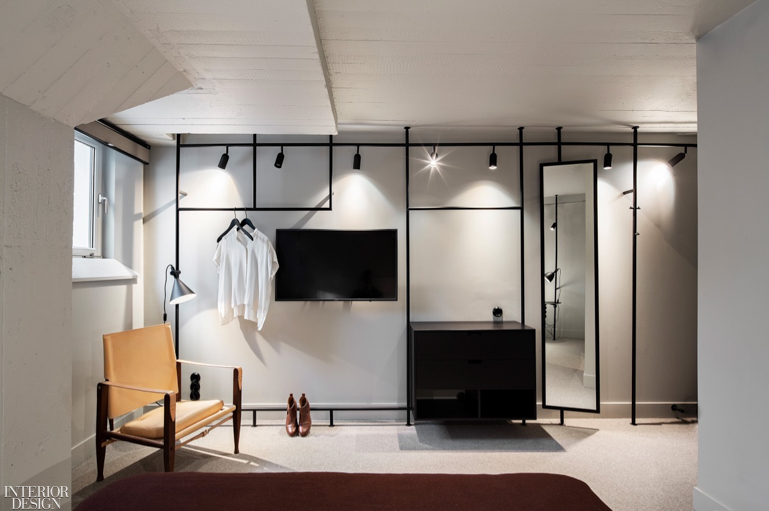 Authenticity is what drives him, says Gert Wingårdh. One of the most recognized Swedish architects of the modern day, Wingårdh studied art history in the 1970s, before receiving a Masters in Architecture. After a short stint at architecture firm Olivegrens Arkitektkontor, he decided to follow his own vision, founding Wingårdhs in 1977. In the 1980s, a golf course propelled him to fame, with a rooftop tee-off among the more clever touches that earned him his first Kasper Salin Prize—a prestigious Swedish honor.
Today, Wingårdhs has three offices in Sweden, situated in Malmö,
Gothenburg, and Stockholm—where the firm recently wrapped up two
hotels. Unveiled this spring, Blique by Nobis's extensive
hospitality rollout included two restaurants, flexible spaces for
meetings and events, a courtyard, and a rooftop bar. Last year, the
city's historic waterfront Strand Hotel, which first opened in 1912,
saw the final touches by Wingårdhs on a careful renovation. With 170 rooms, the Radisson Collection Strand Hotel, Stockholm now
features a striking enclosed interior courtyard sprinkled with pendant
lights—part of the hotel's restaurant.
Wingårdh sat down with
Interior Design to share more on his recent projects, what
book he calls his manifesto, and why he sometimes puts a glass of
water on his head.
Interior Design: We understand you just celebrated the opening of a
new hotel in Stockholm.
Gert Wingårdh: Yes, Blique by Nobis is located on Gävlegatan, a street
in central Stockholm, and occupies two buildings from different
decades—a concrete warehouse designed by Swedish architect Sigurd
Lewerentz in the 1930s and a newer office building designed by
Alenius-Silverhielm-Åhlund in the 1990s. Together they have been
transformed into an urban hotel. The concept is based on smaller, but
still well-made hotel rooms and larger public areas for meetings—both planned and more informal ones. Our overall approach was to keep
the roughness of the original buildings and combine it with refined
interior additions, such as both stand-alone and built-in furniture.
ID: What was your overall design goal for your renovation of Strand Stockholm?
GW: The Strand reminded us of the glamour of the movie stars that
lived and partied there in the first part of the 20th century. We
wanted to peel off the layers that had been added over the years and
bring back some of that sparkling glamour.
ID: What else have you completed recently?
GW: The renovation of the Swedish National Museum in Stockholm is a five-year-long
commission that we are super proud of. The museum was re-opened to the
public last fall. Nobis Hotel Copenhagen is another project
finished last year. This is Nobis' first hotel abroad—located in the
center of Copenhagen in a Neoclassical building that used to be an
academy for music. It consists of two old buildings that have been
bravely but carefully transformed, giving them new life and meaning.
ID: How has the hospitality market changed over the past 10 years?
GW: There's a movement towards creating unique standalone brands—even if you are a large corporate hotel chain—to create diversity
rather than conformity. That follows the established change that a
hotel is now more than a place to stay overnight, it is also a meeting
place and a work space.
ID: Is there a project in your history that you feel is particularly significant?
GW: A golf club right outside Gothenburg: Öijared Golfklubb at the Öijared Resort. I got my first Kasper Salin Prize for it [Sweden's
most prestigious architectural award] and in different ways it led to he commission of the new master plan for the headquarters of the
pharmaceutical company Astra AB (AstraZeneca today) in Mölndal, Sweden. This project
made my office grow and become strong despite the hard 1990s.
ID: In what kind of home do you live?
GW: I live in an old red cottage on the west coast of Sweden with my
wife Karin. Every inch of this place is holy and truly valuable to me.
My favorite place in our house is the room that we call the loggia. It's a room that is partly connected to the main
building, with two glazed walls and one open. In the center of the
room there is a 23-foot-long wood plank dining table that Karin
designed. This table will last for hundreds of years and is the center
of our everyday life.
ID: What influenced your design thinking during your formative years?
GW: Young people need a manifesto, and I found mine in Robert
Venturi's "Complexity and Contradiction in Architecture." For that I am happy, as I quickly learned from this book what I wanted
to do and how I wanted to do it. To quote Venturi: "I prefer
'both-and' to 'either-or,' black and white, and sometimes grey, to
black and white…More is not less."
Also I feel I should mention that my mother always wanted me to become
a doctor, which naturally meant that I wanted anything but. There's a
story in there somewhere.
ID: Is there a person in the industry that you particularly admire?
GW: Carlo Scarpa is the
most under-appreciated architect of the 20th century and a true role
model.
Read more: 10 Questions With…Lyndon Neri and Rossana Hu
ID: Is there a book you recommend?
GW: In addition to Robert Venturi's "Complexity and Contradiction in
Architecture," one of my bibles that I already mentioned, a favorite book that is almost
torn to pieces from use is "The Decisive Battles of the Western World
and Their Influence Upon History" by J. F. C. Fuller and John Terraine.
ID: Do you have a secret you can share?
GW: I have a party trick that I use when I want to demonstrate what
architecture is all about—namely keeping the water out. I put a cup
of water above my head and encourage everyone else to do the same.
Then I flip it over, and within a glimpse of an eye, the water enters
the most unexpected places. Water always finds a way—that is the
lesson.
Keep scrolling for more images of Gert Wingårdh's projects >
Read more: 10 Questions With…Andreas Engesvik