10 Questions With… Jasper Morrison
"From a very young age, I understood that I had a kind of over-sensitivity to atmospheres," admits Jasper Morrison. In his desire to influence them, the British designer has become one of the most successful industrial designers of the modern day. Emeco, Flos, Vitra, and Mattiazzi are among his high-profile clients, while the Cooper Hewitt Smithsonian Design Museum and the Museum of Modern Art in New York are just two of the prominent museums around the world highlighting his work.
In Morrison's latest collection, a limited-edition cork furniture series launching during NYCxDESIGN this week, faulty wine bottle corks rejected during the production process find new life. To present the collection, Morrison turned to gallery Kasmin in New York—a union which also celebrates a lifelong friendship. In 1970s England, the Chelsea gallery's owner, Paul Kasmin, was a schoolmate. On view May 9 through June 29, "Corks" unveils Morrison's first complete series in the material, with a chaise longue, chairs, stools, bookshelves, and a fireplace. Interior Design sat down with Morrison to hear more about the new cork collection, recent Milan launches, and what London restaurant personifies his design mentality with celeriac and a boiled egg.
Interior Design: Why cork?
Jasper Morrison: I have done a few things in cork before and came to understand what a great material it is, both to the touch and in terms of what it does for the atmosphere of a room. It is difficult to do anything big industrially with it, because the material cost is quite high, the machining cost higher, and it needs to be hand-finished—so it really only works for limited production.
ID: What's the design concept behind the cork pieces?
JM: The process is rather sculptural as the pieces have to be machined out of large blocks of cork. It's very different from designing things for mass production, which tends to be more about structure than volume. The concept is really just about finding good shapes to make each piece of furniture work well. The material suggests its own formal language, but you need to make sure there's the right balance of softness and tension in the forms.
The repurposed corks come from a producer in Portugal. The primary product produced by cork is still the wine bottle stopper, and they grind these up and form them into blocks under pressure with a glue. I've known about this material for many years and have used it for a few smaller pieces, which were economic enough to be made in quantities.
Read more: 10 Questions With… Bethan Gray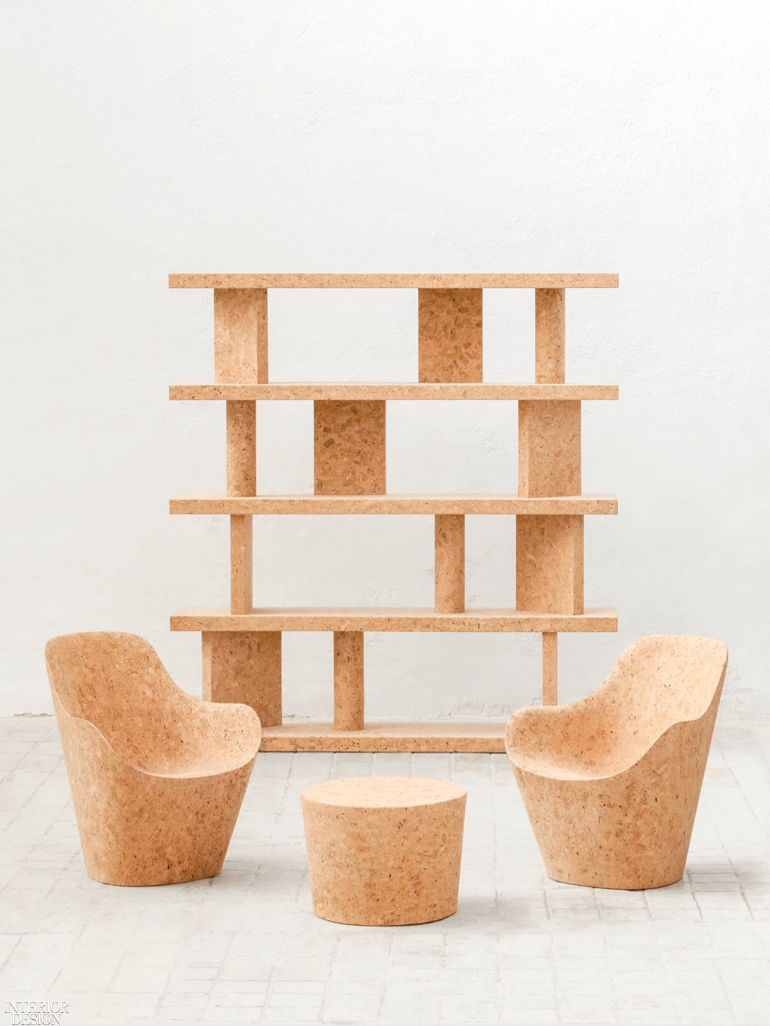 ID: What else have you completed recently?
JM: Some new chairs as usual—at any one time I'm always working on at least four or five chairs. At Salone del Mobile this year, I presented a slightly sculptural solid wood chair called Fugu for the Japanese brand Maruni.
For Emeco, a company I have been working with very closely for the last five years or so, I did a cleaning-up job of a few of their heritage pieces—a chair, armchair, and swivel chairs from 1948 known as the Navy Officers collection. When I first saw them, I nicknamed them the ugly sisters. We really had to rework and fine-tune them to make them more appealing for today's market. From the proportions and thicknesses of structure to upholstery detailing, they really came from another era, when things were done in a very different way. I guess they were made to last, but they were a bit over-the-top in terms of structure.
We also just completed a big collection of tableware called Raami for the Finnish brand Iittala.
ID: What's upcoming for you?
JM: For Vitra, I have been working on a long-term project that is a quite technologically advanced chair. We hope to launch it in Milan 2020. We are also working on adding to the tableware collection we just finished for Iittala and on another chair for Emeco.
Read more: 15 Young Design Talents to Watch from Salone del Mobile
ID: How did your childhood influence your design thinking?
JM: When I was growing up in London in the early 1960s, the standard interior was very claustrophobic and quite gloomy, with a lot of curtains, upholstery, and sofas—everything was heavy and upholstered.
Then, at maybe four or five years old, I discovered this room my grandfather had made for himself. It was in England—but, while working for a Danish company, he had discovered the Scandinavian way of making interiors. I think he had quite a good eye, and the room was well-lit with lots of daylight, wooden floors, and just a few rugs. There was less upholstery and more lightweight seating, a record player by Dieter Rams from the German company Braun, and an open fire. Suddenly I just felt way better in that space, and realizing that there were some places that made me feel good and others that didn't had a huge effect on me. I'm pretty sure I became a designer to have some influence on my surroundings and to generally improve atmospheres for others as well.
ID: In what kind of home do you live?
JM: I live in a few different homes, but mostly on the south coast of England with my wife and three children. These places are all furnished either with my own designs (for testing purposes) or with other designs I admire. I have a lot of Danish furniture, especially Børge Mogensen and Mogens Koch, but also pieces by Enzo Mari and Achille Castiglioni. There's a Charlotte Perriand armchair which I got recently which I love. Right now, my Alfi chairs for Emeco are around my dining table. It's an important learning process to live with things and assess how successful they are or not!
ID: Is there a person in the industry that you particularly admire?
JM: When Ronan and Erwan Bouroullec hit the scene, I remember describing their design language as like a new color—something you haven't seen before, something you didn't expect. They made a big impression on me and today they are still probably the designers I respect the most. Their vision is very individual and they have great design.
ID: Could you name an Instagram account you follow?
JM: There's a funny little account that actually hardly anyone follows. It's called @terencepoe and is by architect Terence Poe of Poe + Poe. I share an eye with him somehow and he actually posts a lot of my stuff as well. But that's not why I'm following him! He posts things that are quite obscure but interesting, which I really like, which I may know and also think are great.
ID: What are you reading?
JM: "Hokusai: A Life in Drawing," which is an illustrated introduction by Henri-Alexis Baatsch to the work of Japanese artist Katsushika Hokusai, who is somebody I've been interested in for a long time. He did a lot of woodblock prints but he also did a lot of drawings, which I like as they're very human. He just drew these kind of normal things, everyday stuff, and I admire that because that could not have been easy at that time. He was supposed to toe the line and do beautiful drawings of actors and actresses and set pieces, but he just did his own thing. They're incredibly great drawings and there's nothing old about them, they're still very contemporary.
ID: Do you have a secret you can share?
JM: The St. John restaurant Smithfield Supper on St. John Street in Smithfield, London is hardly a secret, but I think they do with food exactly what I do with things. As an example, a French friend of mine went there for dinner and ordered a dish called Celeriac and Boiled Egg. When the plate arrived, it was just a plate of celeriac with a boiled egg on top—with its shell still on. My friend was outraged she had to do all the work, but for me that's a fantastic example of what they do best. It's really straightforward: What you order is what you get. That really matches my design philosophy.
Keep scrolling to see more of Jasper Morrison's work >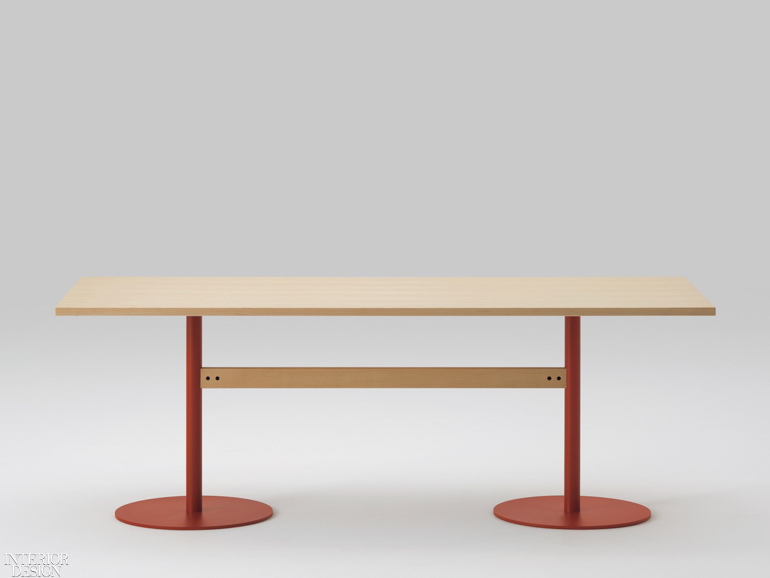 Read more: 10 Questions With… Philippe Starck