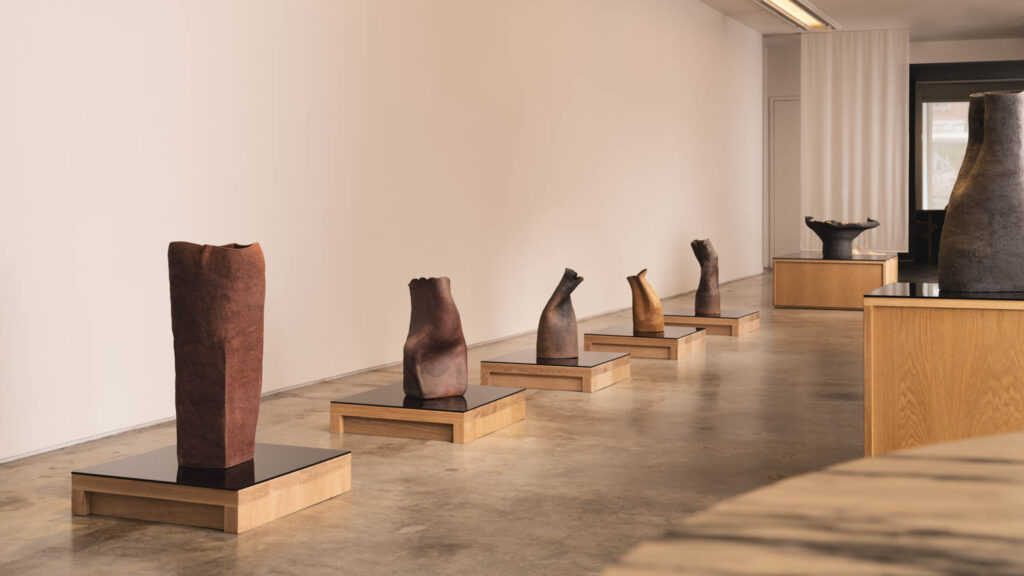 10 Questions With… Ceramicist Ludmilla Balkis
Ludmilla Balkis's sanded stoneware vessels made their New York debut in Guild Gallery's recent solo exhibition for the French ceramicist, titled "Stasis." Loosely constructed, like cloth deliriously flapping in the wind, the medium-scale sculptures contain mystery and process with their allusive yet energetic formations and textured surfaces that brim with traits of oxidization. Voluminous bodies throughout the show's 26 pieces are not coincidental for Balkis who left a career in fashion behind for sculpting with clay. After working as a fashion designer for Céline in London with Phoebe Philo, she decided to pursue her interest in textures and forms through the promise of the pottery wheel. "The history of clay is so ancient—it made me aware of living in connection with the environment and human history," Balkis tells Interior Design. "It gave me the opportunity to manifest the homogeneity between nature and human beings."
Becoming a mother and moving to the Basque Country in Spain prompted her to completely veer her direction. She explains her decision as a response to "the desire to reconnect with a certain essential part of my being and use my hands to reconnect with this ancient practice; making objects that have a history and lasts is so poetic." The move to the Northern Spanish community allowed her to make larger sculptures and directly connect with nature, so much that her daily strolls around her studio influence the silhouettes of her work. One way to balance hollow ends and textured surfaces is to "pay homage to nature's chaos with subtlety," she says. Through nearly unfinished surfaces and uneven hollows, Balkis examines sculpture "as a medium intricate in its philosophical sensibility yet void of artifice, with sculptures that blur the boundaries of the manmade and natural worlds." For her, "harmony is embracing nature's imperfection and relating to it—nature is contrast and yet everything works perfectly."
"I tend to collect stones, branches, tree bark, sticks, and even discarded wool from sheep," Balkis adds. She selects her findings for various reasons, whether due to "their special shapes or because I want to use them in a way that is not expected—I would use a piece of tree bark to press down on the sculpture, to almost make it collapse so it creates a movement, or for its texture." Raw yet corporal, the show's sculptures are both dramatic and calm, radiating vivacity and demureness through Balkis's painterly finishes and voluptuous forms. After initially working from home, her current studio is a dream come true, converted from an old animal stable with stone walls and wooden structures. She is still in the process of adding more windows to let more natural light in, "but the essence of it is really what I have always been drawn to."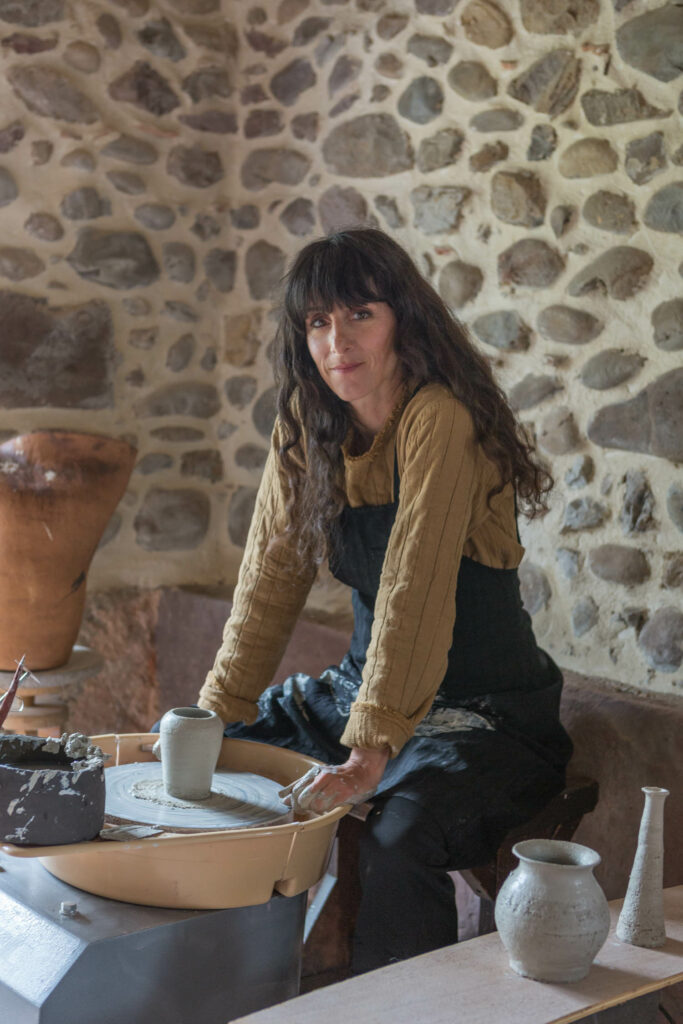 Here, Balkis shares insights into her creative process as well as her works featured at Guild Gallery and those in "A Summer Arrangement: Object & Thing at Long House," an exhibition in East Hampton, New York ongoing through September 3, 2023.
Interior Design: Folds are an important part your aesthetic. Could you talk about the resonance of folds?
Ludmilla Balkis: I've always been so attracted and intrigued by folds, ever since I discovered them in paintings from the Renaissance era through to the 18th century. The static compositions with these almost moving fabrics were really fascinating to me and was an ode to the virtuosity of the painter.
Isadora Duncan is a woman who really changed the perspective of wearing garments while dancing, representing a route to alternative practices that encouraged physical and personal freedom. That was a tipping point for me, where folds appropriate a deeper meaning and which could be imbued into the clay: freedom and movement. Two essential elements folds offer the sculpture.
ID: What is your relationship with clay? As a sculptor and someone who comes from fashion where sculpting is a crucial part of the process, how do you appropriate its softness?
LB: My relationship with clay while it is soft makes me want to create a relationship with space. Space as an emptiness is a notion we tend not to pay attention to, but clay allowed me to understand it in a very pragmatic way. Space became as physical as the clay when I started with this new material. In a manner of speaking, sculptors sculpt the space around them and dig in the empty space that finally becomes physical. I feel that everything is possible when the clay is soft, as long as I respect its drying time and mailability. It gives me multiple ways to expand the relationship with emptiness.
As a fashion designer, the body was always the central piece and of course the space around the body became a second protagonist before the fabric. In both instances the intention is the will to freedom, freedom of movement.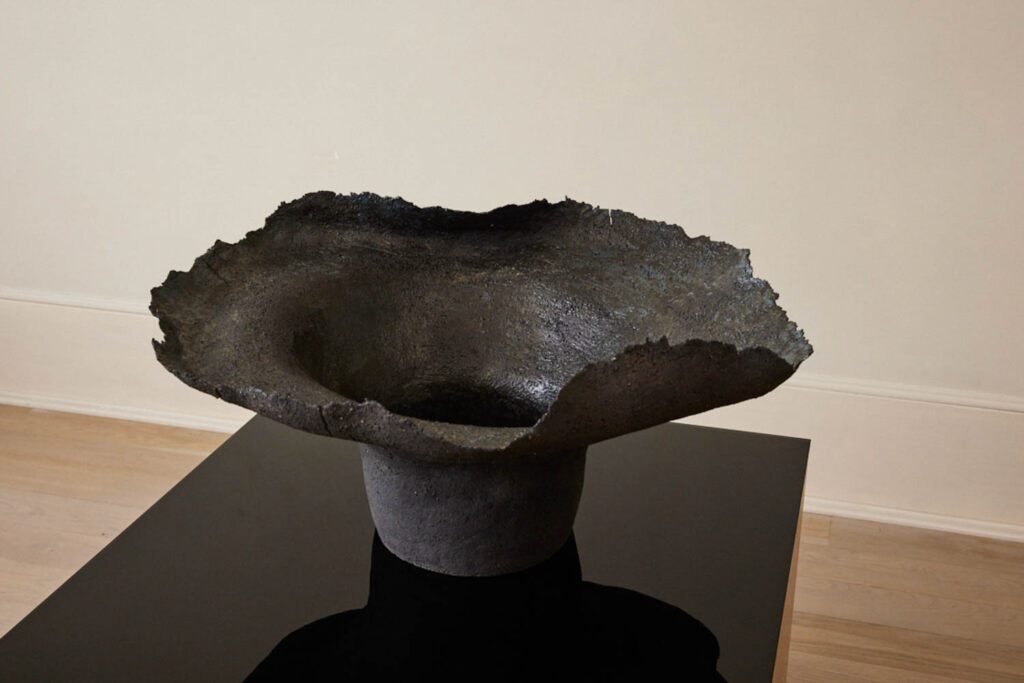 ID: In this direction, unlike fabrics, clay resonates with firmness. How was your process of adjusting to the irreversible and stubborn nature of clay once it dries?
LB: The relationship with clay had to become neutral at first and no comparison was to be made if I wanted to understand its process. So, I had to make many mistakes in the beginning and the biggest one was to be constantly trying to anticipate the outcome, but I quickly understood it was necessary to start understanding that clay was a way of interacting with the earth to which we will all return. It was a cathartic moment for me to understand I needed to be in contact with my inner self in order to manipulate the most primordial material and not fight with it, but dance around it with my hands. As a neophyte I was stubborn, but the clay quickly taught me to be humble and my approach developed into highlighting the natural roughness of the clay, to invoke this deeper meaning.
ID: Stoneware is the shared material in all pieces, but some sculptures also include iron stain, wood ash slip, iron oxide and other materials. This makes me think of painting, too. How was your approach to each sculpture as a blank canvas?
LB: I tend to let the clay guide the volumes and once the sculpture is finished, I go with my instinct and would either blow oxides on the dry piece and observe to see if it needs another layer of wood ash or any slip. Each clay has a different way of responding to a certain approach. But I generally focus on the spaces around the individual pieces and their mutual interaction which helps me think of an overall idea. My palette stays really simple and earthy as I like to obtain a result that makes the piece invisible in nature, as if it belongs to it. I started to observe the shape of things in my everyday life as I moved closer to nature and by mimicking some shapes or textures. I would tend to dig into all the references I've accumulated over the years, like we all do as observers. In other words, I never feel that the canvas is blank. I feel like the canvas is actually full of references and one needs to be quiet the mind in order to allow the shape to guide.
ID: There is a desire to turn to natural materials and colors in industrial design and fashion today. Do you see a parallel between two sectors in terms of this desire?
LB: I believe the essence of our species now is to survive in a natural world that we have been severed from. This desire to use natural materials, I hope, is a universal one that might signify our desire to reconcile with nature, albeit subconsciously. To use natural materials is not something new but getting back at it is certainly a way to start this reconciliation process.
ID: The hollows render the sculptures somewhat biomorphic, giving them energy and character. Could you talk about your crafting each piece as figures with personalities in a way?
LB: The dialogue I install with each piece is very much induced with my meditative state. The meaning of biomorphic comes from combining the Greek words 'bios', meaning life, and 'morphe', meaning form. By giving life to an abstract form, my intention is to collaborate until its final shape and I tend to give each sculpture the importance it deserves. Attention to detail and using a certain tool will evoke a certain personality trait. Dancing around them while shaping them is a great way for me to allow the movement to take place; a piece will look like it's been shaped by the wind. For each piece, I tend to work towards the same goal: demonstrating that humanity and nature are one.
ID: How did you reach the decision to quit the fashion industry to pursue object-making? Could you talk about the moment when you realized this shift is indeed possible?
LB: I realized I wanted to slow things down and take time to process my surroundings and felt the urge to be in sync with nature. My health got bad, and getting pregnant forced me to reconsider the fast-paced life I was living—a frenetic preoccupation that kept me from facing what was important to me at the time. So, this mindset led me to the desire to avoid making merely obsolete objects, but rather to get to the core of making things, creation.
Like a primordial instinct that kicked in, the process made me connect more profoundly to not only myself, but also our ancestors.
ID: What does the word heritage mean in your process? 
LB: Heritage is what transformed my approach to making sculptures. It is what really helps me understand the universal subconscious mind but on a personal level in order to unravel a certain trans-generational pain that we all endure and to transform it in avoidance of repetition. That's also why nature has an influence in my transformation and my approach. It is a pretext for a confrontation and a poetic shift with our reality.
ID: Did you create the pieces specifically for New York? If so, did this knowledge inspire them in any way?
LB: Yes, I made all these sculptures specifically for the show "Stasis." Even though New York is the complete antithesis of my country home, it was a contradiction that I embraced. The perpetual movement in my work and their call for calm is a way to invite the viewer to experience a meditative state, which is even more pronounced in a city where the concept of time is almost taken out of its essence.
ID: How did moving to Basque Country influence your creativity? Do you think you'd be making the same work if you lived in Paris?
LB: That's interesting as I started in London and moved back to Paris where my work continued to evolve. I must admit moving to the Basque Country allowed me to make bigger sculptures as I physically have more space to work. It's also due to the image of grandiose nature that this place offers me every day. The mountains and rivers and the ocean are so wild and rough here. It's atomizing yet it allows me to express myself on a deeper level. I don't think I would have been able to create the same work in Paris as I feel more pressured there and also distracted by museums and galleries. Moving to the Basque Country and learning about a new culture that is so ancient and rich gave me other dimensions to explore, new ways of thinking and creating.