10 Questions With… Lyndon Neri and Rossana Hu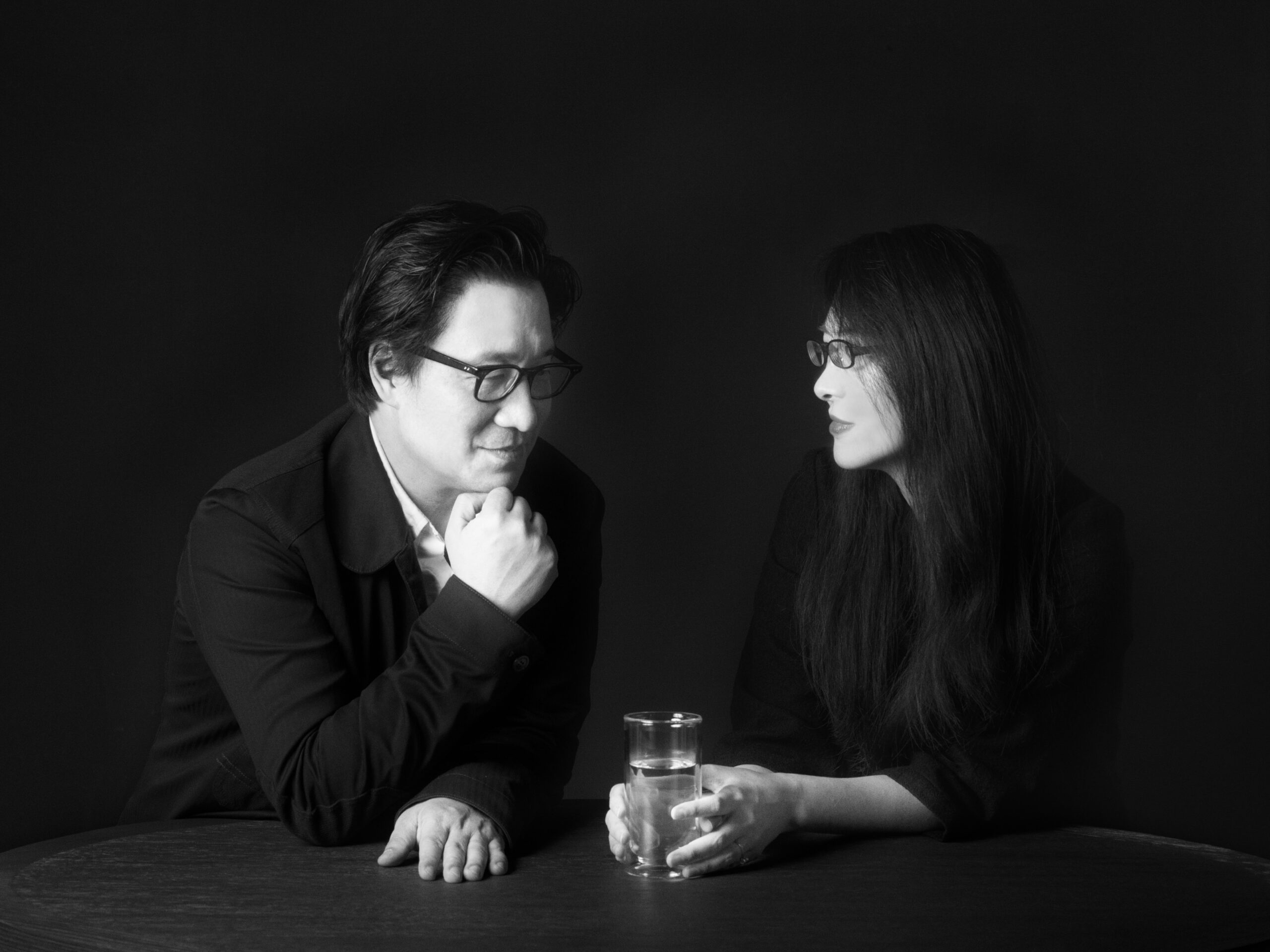 It's been a busy year for Interior Design Hall of Fame members Lyndon Neri and Rosanna Hu of Neri & Hu. Fresh from a successful showcase at Milan Design Week 2019, where they collaborated with brands that included Artemide, Poltrona Frau, Agape, and Stellar Works to extend existing collections and established associations with Molteni& C, Paola C, and Riva 1920 to create new products. They are also already knee-deep in a long list of on-going projects that include hotels in London, Taipei, Ibiza, and Doha; resorts in Thailand and Moganshan, China; and a contemporary Art museum in Kuala Lumpur. In addition, they recently gave up their 10-year-old space for a larger office that's strategically located in the center of Shanghai, adding on a gallery space, cafe, wood workshop, and many more communal spaces for the expanding team.
In the 15 years since they established their design practice, the husband-and-wife team have grown both as an inter-disciplinary architectural design practice, as well as leaders fronting a new era of design in China. But at the heart of it, their core values have remained the same. "The role is simply to represent the culture 'as is' in an authentic way, not to pretend to be someone else, or from another time, or try to be something we are not," says Neri. Adds Hu: "There's a big desire in us to tell the world China does a little more than just 'copy.'" Here, the designers share their thoughts with Interior Designon the driving forces behind their design practice, the importance of investing in research, and the secret to a successful partnership—both inside and outside the office.
Interior Design: How do the collections that you recently exhibited in Milan tie into your current practice?
Lyndon Neri and Rosanna Hu: The new collections allowed us to do two things—extend our existing collection with brands we have worked with before and allow us to do typologies that we have not really worked on before, like a foyer bench and bed for Molteni&C, tabletop accessories in glass with Paola C, and simple shelving for Riva 1920.
ID: How do you strike the balance between building a new Chinese design identity and having a global approach to your practice?
LN: The traditional Western architectural practices form the basis of our education, but culturally we are very much Chinese and there are influences, particularly in our work that's located in China.
RH: Our multi-cultural experience gives us a keen insight on identity and issues of cultural representation, so that works into our design thinking. We see a lot of signs and symbols in everything in our environment. We like to play with those notions, either in form or experience, to create meaning in design.
ID: What has been the biggest driving force behind the design practice?
LN: We believe in architecture and design as a powerful cultural force. The functional aspects are less interesting for us, although as professionals that's the prerequisite—your design must work on a very realistic level.
RH: We believe in the subtext over the obvious and the poetic over the utilitarian.
ID: What is the importance of research in your design DNA?
LN: We think that designers and architects often get so caught up with designing so fast and so intuitively that it's almost borderline acceptable for us to not spend a lot of time thinking. We need to have some time to think about what we're drawing, because we could be extremely facile and be very good at what we do and what we draw—to a point where it could be quite beautiful, and seductive, and very convincing—but is it enough?
RH: We have a responsibility in everything we design. We have to ask ourselves, what is the meaning behind the things we do? Research, in this case, becomes very important because it tells us certain things that help us rethink the whole process of design.
Read more: 10 Questions With…Truly Truly
ID: What made you choose design as a career path?
LN: I have a typical Asian upbringing, so there was absolutely no way you could even consider art. I loved to paint since I was young, and I thought everyone could draw, like in a way everyone can walk and everyone can see. So naturally, when I learned realistic drawing I thought everyone else could do it. When I went to the United States at age 15, I had this aspiration to be an artist. I could not tell my father—whose only goal was for me to either be a lawyer or an engineer—so I lied to him. My first two years in college I studied Fine Arts. I was literally just drawing and painting. Then one day my father called and said, "I think I might move to America to be closer to you," and that's when I panicked because I realized I had been lying to him all this time. Being a Fine Arts major, I thought about how I could transfer to engineering, which was almost impossible. So, architecture turned out to be a happy medium, wherein my father could understand and relate and thought of architecture as real-estate. This was in the '80s when real-estate was booming in America, and my dad thought, "Oh wow, he is going to make a lot of money." Little did he know that my kind of architecture was far from what he imagined it was going to be. It's been an amazing ride and he has accepted the fact that I lied to him but that I've found my passion.
RH: For Lyndon, I think he was born to be an architect. For me, I really struggled during my teenage years not knowing what I wanted to do. Very early on I knew I loved the creative field, however, I am also quite realistic and I come from a Chinese family where you are always questioned by your parents, "How are you going to pay the bills?" I was also very academically driven so I had considered maybe going to law school, engineering school, and sort of by chance I entered undergraduate as an architecture major. Since the very first studio, I just loved it— and I have been involved in architecture since.
ID: How did your childhood impact your design philosophy?
LN: When we were younger it was extremely important to address the identity issue of design in everything we worked on. Our design process was not affected too much by our cultural identity, but rather we see it as a natural outcome of who we are, where we come from, and our background inevitably will surface in everything we do.
RH: Now that we are older, we find that the Chinese-ness part of the design is less important to us than it is to the critics. We are who we are, and we can only think as ourselves and design as ourselves. I can only be passionate about things I'm passionate about, while some of the social and political concerns come from education and influences. Together they make up who we are as individuals. It is more that the critics, especially foreign critics, like to explore the question of identity. This is interesting as a topic of discussion, as it helps us to define who we are in terms of placing us within a context, but at the end, this is an after-thought, not a premise of our design work.
ID: What are your favorite materials to work with?
LN: We believes that materials should relate to the human condition, they are not there only for visual pleasure, but for a tactile connection to the spaces. Artificial materials —their machined precision, excessive shine, outlandish colors—tend to create distance with the user. On the other hand, the warmth of natural walnut, the glowing sheen of bronze, the stippled texture of stone, the unique pattern of each hand-glazed tile makes these materials draw you into a space, where your senses react to them in a primitive and instinctual way.
RH: It's the philology of the material. We could choose to show the best finish, which is pure and natural—why show anything else? But we don't like to cover materials with anything that hides its true self. It's about respect and honesty, which in turn is beauty.
ID: What books are you each currently reading?
LN: Child of God by Cormac McCarthy
RH: Nausea by Jean-Paul Sartre
ID: How do you complement each other as a team?
LN: We work very well together as a team. Of course, there are also other strengths that come into play when we work on a project together. Generally, most things are shared, and we work very organically depending on time, availability, and interest. We have different strengths and make up for each other's weaknesses. I'm better at the concept stage, and very good with drawings, while Rossana is better at the development stage, and works well with words and thoughts rather than drawings. Our aesthetic sensibilities are quite similar, and we share the same big picture for the projects.
RH: A lot of architectural practices are shared by husband-and-wife teams, maybe the demands of work make it only possible that we work together to stay married. Anyhow, it's also fun and interesting to share life and work together, so that even when we travel we are looking at things that relate to our work. It's a constant dialogue about design and work is quite inseparable from our life.
ID: What is the most recent thing you experienced that has deeply inspired you?
LN & RH: We are very much inspired by the everyday, the mundane, and the ordinary. The very fabric of Shanghai as a city and the everyday activities in and around the city is very much an inspiration.
ID: What is your biggest design pet peeve?
LN & RH: Time constraint is the biggest problem. All projects need to be finished yesterday, which leaves little room or time to think about design in a comprehensive way.
Keep scrolling for more images of Neri & Hu designs >
Read more: 10 Questions With… CetraRuddy