10 Questions With… Marie Kondo
In the popular Netflix series, "Tidying Up with Marie Kondo," the organizing queen moves about each home intuitively, as if she already has a sense of where every misplaced sock belongs. But it's not the end result that garners the most attention—it's her process. "Does it spark joy?" This is the question she asks the families she works with as well as those of us watching from the couch, the idea being that anything that no longer sparks joy should be released, let go of, to make space for the new.
Kondo began developing her signature approach, trademarked The KonMari Method, at 19 as a university student in Tokyo, offering an easy-to-follow roadmap for quickly and effectively organizing any space. For designers and architects, Kondo says the mindfulness practices behind the method can impact specification decisions, ensuring that the objects and furnishings in built environments truly resonate with clients to ensure their longevity. Here, Kondo shares insights on the evolution of her craft, the influence of her grandmother, Noriko, and her go-to source of inspiration.
Editor's note: Marie Kondo submitted her responses to this interview by email in translation from Japanese to English.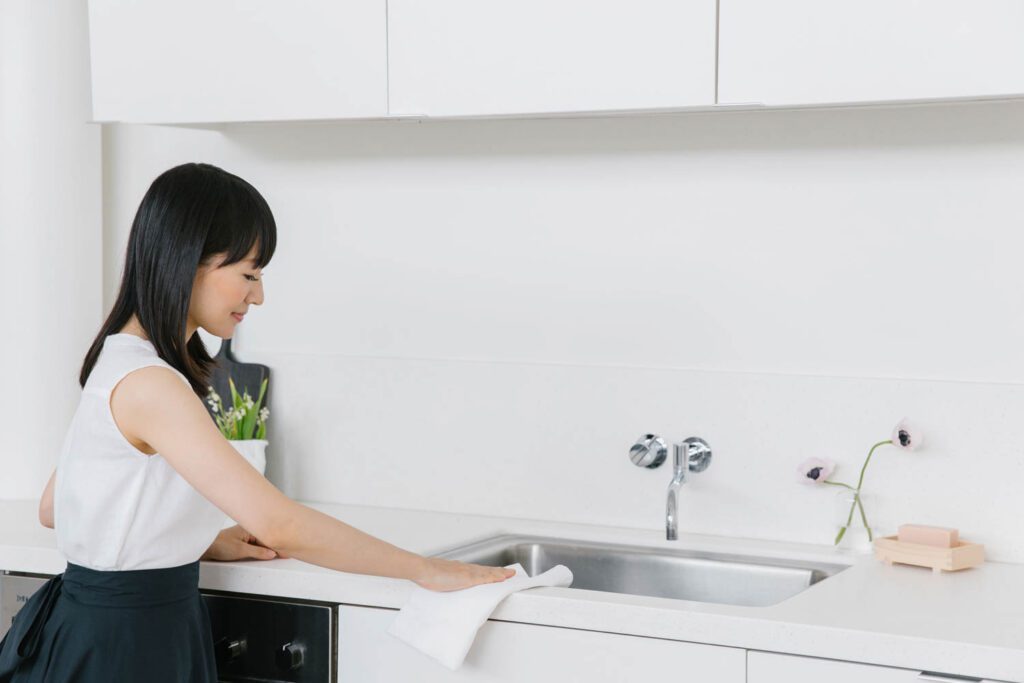 Interior Design: What does design mean to you?
Marie Kondo: Design is something that helps people express what brings them joy. For me that means spaces that are designed purely with items that spark joy—and match the future I envision for myself and my family. I design my home evaluating the things that bring me joy in the present and lend themselves to the future, and let go of the things from the past that no longer have a purpose for the life I envision moving forward.
ID: How do objects, products, and furnishings shape the energy of a space?
MK: The KonMari Method centers on the philosophy that people surround themselves with objects that bring them joy. Joy is very personal, which is what makes our homes all so unique.
For some people that may mean living with the bare essentials, and for others it means living in a space filled with collections and family heirlooms—it's about choosing what sparks joy for you and what fits within the vision of your ideal lifestyle. The important thing is that the objects, products and furnishings are selected with your personal sense of joy at heart, not someone else's. This will give you and your space positive energy
ID: What are some of your earliest memories of design?
MK: I had a very close relationship with my grandmother, Noriko. Even as a child, I studied and admired her approach to tidying as well as her personal sense of style. Growing up, I always felt that others in my Japanese culture would go a little overboard with decor, but not Noriko! She knew how to convey sophistication using texture, clean lines and simple, thoughtful details. This meant everything from the proper use of Shoji screens in her home to the perfectly placed handkerchief peeking out of her handbag. She would make slight adjustments to her accessories and palettes during seasonal moments like sakura or cherry blossom season. Those subtle changes were so personal to her design style.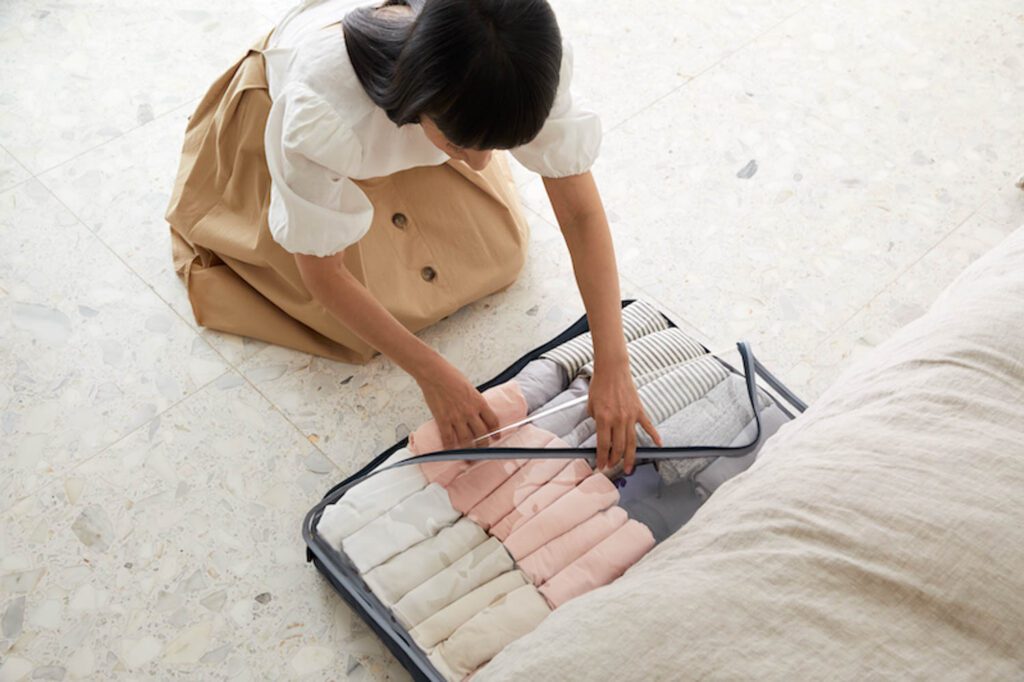 ID: What led you to develop your now renowned system of organizing?
MK: A lot of organizing methods focus on a room-by-room approach, which inevitably leads to piles of items that shift from room to room and from one closet to another. I believe that tidying should be more transformative than that. The KonMari Method encourages tidying by category—not location—beginning with clothes, then moving on to books, papers, komono (miscellaneous items), and, finally, sentimental items.
The Method encourages more mindfulness and introspection when tidying, which not only improves your physical spaces, but also helps you develop a clearer vision of the life you want to be living. The tidying process is intended to steer your focus toward the things that bring you joy.
ID: In what ways can designers and architects apply these principles to their projects?
MK: Great question! I encourage designers to also talk to their clients about the function of their space—not just for how they live today, but how they envision life a few years from now. This will improve the longevity of the final space, especially when you consider big life changes like getting married, welcoming a child, becoming empty nesters or aging in place. Challenging your clients to look inward at how their space will serve them long term will make them more appreciative of your design for many years to come. It is also valuable to encourage clients to go through the tidying process using the KonMari Method before your project begins so together, you can create spaces filled with only the things that bring your clients joy.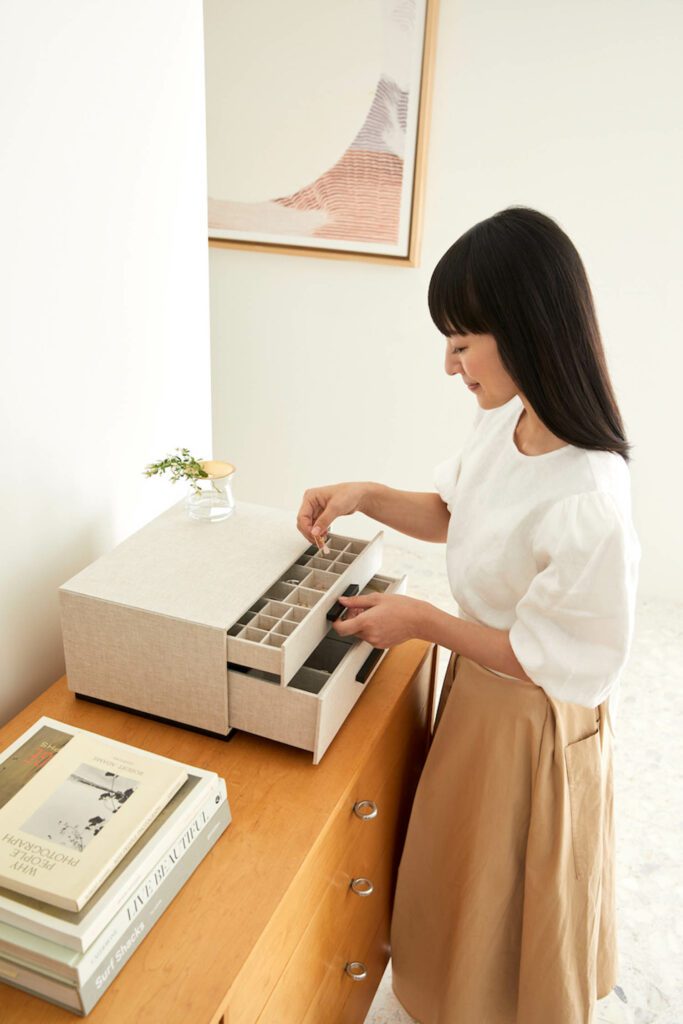 ID: Coming out of a global pandemic, many people are making significant changes in their lives and living spaces. Where is the best place to start if you want to reorganize in a big way?
MK: This is the perfect time to do what I call a true tidying festival. This festival is meant to be a once-in-a-lifetime process that is more intensive and has longer staying power than simply cleaning out a closet here or drawer there. I would encourage anyone embarking on this journey to read my book, "The Life-Changing Magic of Tidying Up: The Japanese Art of Decluttering and Organizing," which can help you develop an understanding of why tidying is so much more impactful than simply organizing.
I know the idea of going through all of your belongings during the tidying festival can be overwhelming, so to ease the stress I created an 8-week challenge, broken out into smaller bite-size tasks. This will help make tidying less intimidating and will heighten your relationship with your physical spaces.
ID: What inspires you? Where do you turn to revive creativity?
MK: I love nature—specifically my garden—and turn to it when I am looking for renewed inspiration and creativity. Working in the garden, or even just enjoying time sitting in it, provides an almost meditative environment for me. I feel focused and calm after spending time among plants and nature, and that allows me to return to my work with a restored lens.
ID: Who do you consider a mentor or teacher and how has their perspective shaped your work?
MK: My grandmother Noriko, who I mentioned before, not only had a personal style that was built around things that brought her joy, but she was also a big believer in teaching others how to tidy and find joy in their lives. The type of mentorship that she showed me has remained a priority for me professionally.
As the popularity of the KonMari Method grew, I realized that I realistically couldn't go into the homes of everyone in the world who wanted to tidy. This is where the importance of mentoring came in, so I started a program to train certified KonMari consultants. I'm proud to say that there are now more than 850 professional KonMari consultants across six continents who are helping people around the world apply the KonMari Method. While some of the consultants do this full-time, others provide KonMari consulting as an additional service offering for their design clients.
ID: What sparks joy in your home?
MK: In addition to my family (they are always my number one source of joy!) and my plants, the objects that spark joy in my home are those that relate to my regular rituals for bathing, like salt bath soaks and incense, and meditation, where I use a tuning fork and crystals.
ID: And in life?
MK: Bringing joy to others through tidying sparks tremendous joy for me. To keep that joy alive, I am always working on new projects that will allow the KonMari Method™ to reach and help more people. Recently, I completed a new book, "Kurashi at Home: How to Organize Your Space and Achieve Your Ideal Life," which is available for presale now and will be released in November. The book teaches people how to find joy in all parts of their day, from their morning meditations to their nighttime rituals. Another thing sparking joy for me is creating collaborations with like-minded brands like the Container Store, where we recently introduced a new collection of organization and storage products. These projects give us the opportunity to help others welcome joy into their lives, which is something I will always be grateful for.