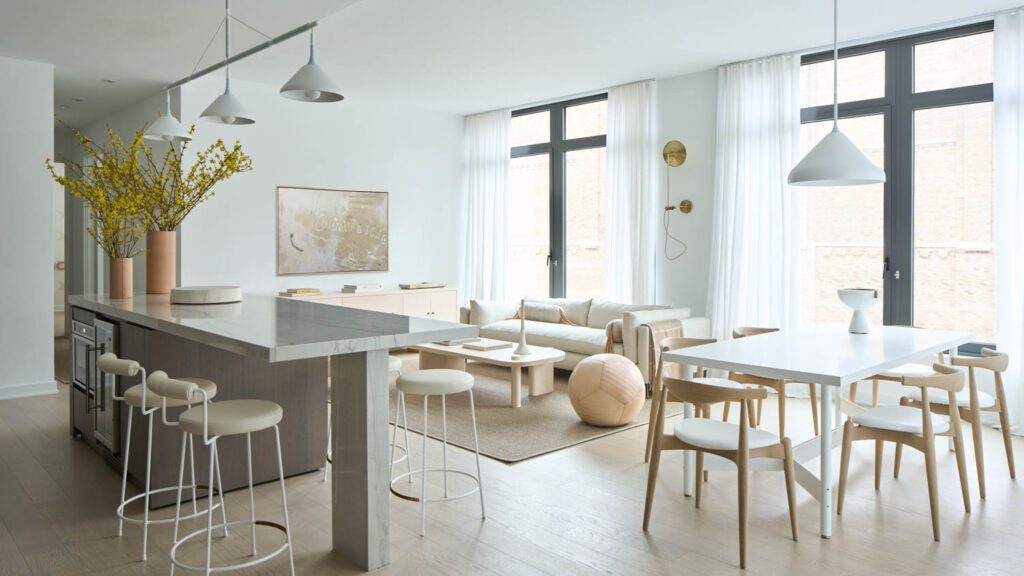 Soothing Neutrals and Organic Textures Define This West Village Home
The team of SISSY+MARLEY Interiors—led by Chelsea Reale and Diana Rice—transformed this 1,700-square-foot, three-bedroom apartment into a calming refuge for a young family who wanted to escape from the hustle and bustle of New York City without leaving town.
"The client approached us, inspired by our past projects and attracted to our aesthetic and nonuse of color in welcoming spaces," remember Reale and Rice. "She gave us full creative control."
A restrained palette prevails makes the apartment feel larger, bright and crisp, while reflecting a relaxing vibe. The homeowner—who has a demanding schedule and was searching for a peaceful and cozy atmosphere—asked SISSY+MARLEY Interiors to recreate the sensation of a dreamy boutique hotel.
"Since the palette of the home was neutral, it was important to introduce interest through the materials we used — such as leather, shearling, and brass," says Reale. "These additions give a very luxe feel to the home." Shades of white, organic textiles, and warm finishes contribute to the timeless look and feel that pervades in every nook.
"We always say each project is our baby and finishing it is like giving birth," confesses Reale. "Our beautiful client learned she was pregnant early on in the design phase and gave birth a few weeks after completion of this space. We love being part of these special moments." Visually balanced, this home is a true retreat in the heart of the Big Apple.