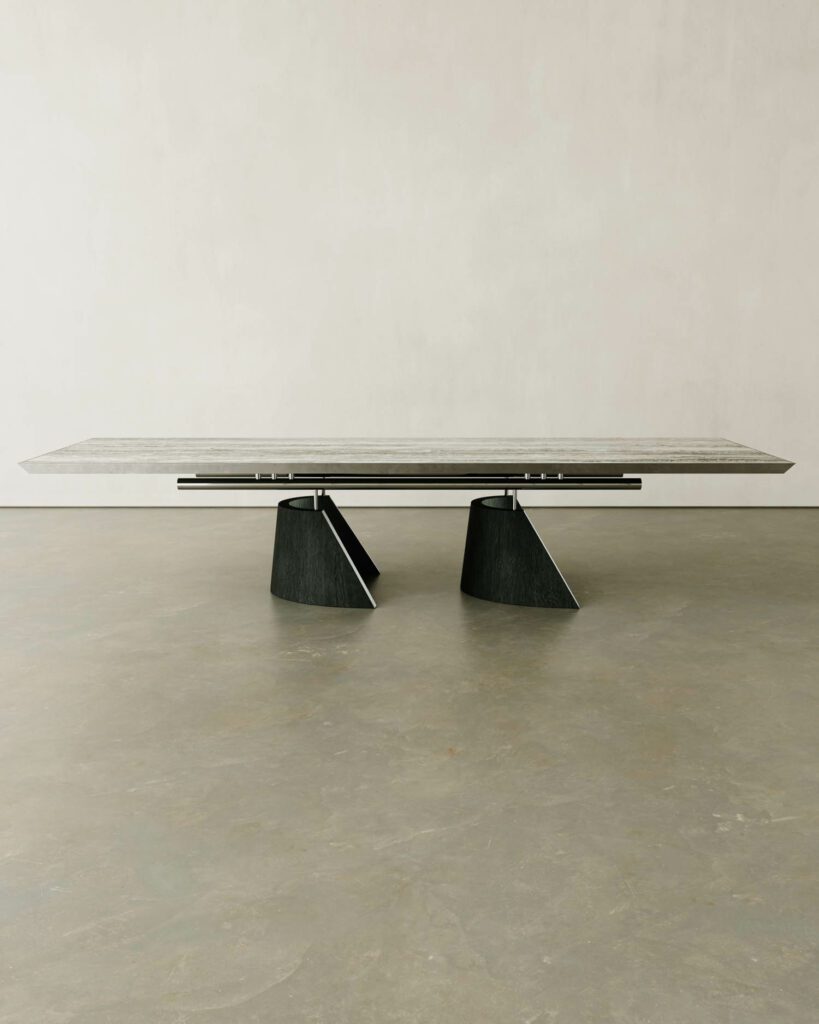 10 Questions With… Mimi Shodeinde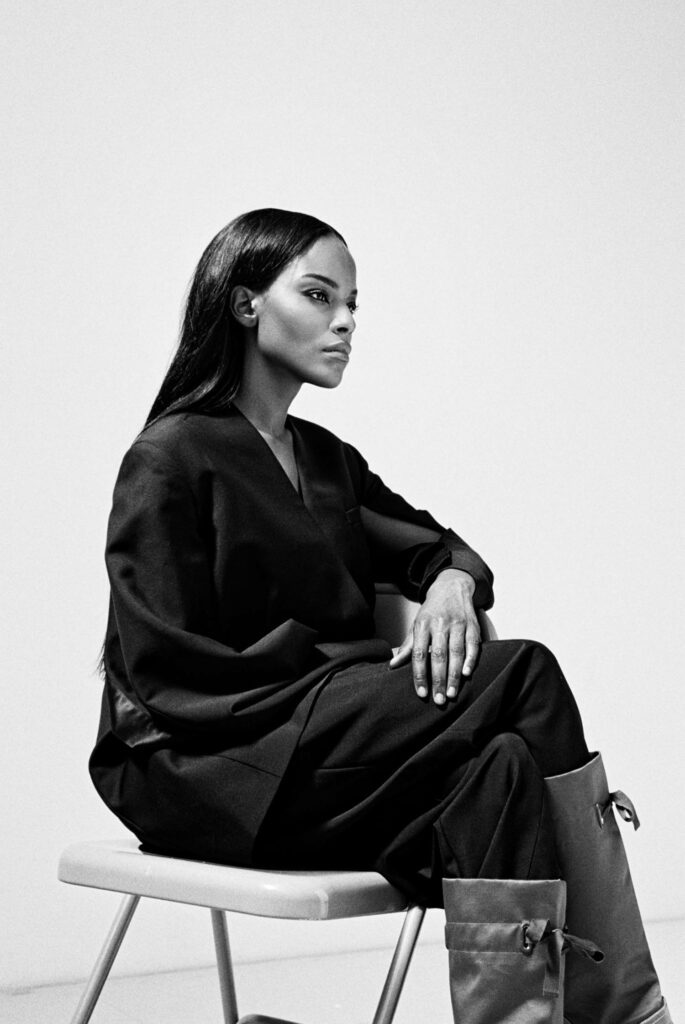 Mimi Shodeinde, a British Nigerian artist and designer who was born and raised in London, works across furniture and interior design. Her fluid and sophisticated approach gives art and design, form and function, equal stature. Shodeinde recently completed an apartment renovation in West London for which she designed the interiors and also several statement lighting pieces, a floor-to-ceiling bookcase, a coffee table and some bowls.
Currently, she is working on two villas in Lagos and is busy transforming a 12-room private residence in Ericeira, Portugal for clients that grew up in Japan and remain inspired by the country's culture. "I've never designed a Japanese home before, but it is very exciting as a lot of my designs are inspired by the philosophies of Japanese design and culture," she says. She is launching a furniture collection called the Howard Series this spring and also is busy designing a furniture range with a British interiors brand that will launch next year. Her future aspirations are both straightforward and ambitious: "To go as far as my talents will take me, maybe inspire others, and hopefully leave the world a more beautiful place than I found it."
Interior Design: Why did you study art? And why the move into furniture and interiors?
Mimi Shodeinde: Art was the only subject I really enjoyed at school. I've always been very creative and art was my way of expressing myself and navigating through the world. I practically lived in the art block in school. Sometimes I would sleep there if I got the chance and had to be forced out by my teachers! Furniture and interiors, for me, is still a form of art so I guess it was a very natural transition. There's always scope for new ideas in design. My creativity is always evolving and that's the exciting part of being in this industry.
ID: How do ideas come to you? Do you do a lot of research online or in books or do they come to you while traveling?
MS: It might sound cliche but most of the time a spark or an idea for a project or design comes naturally to me. It depends on what I am researching or interested in at the time—there are so many rabbit holes that I find myself going down that inevitably give rise to ideas. I spend so much of my time reading, researching, and developing concepts that it feels sometimes that my mind is constantly bringing new ideas to the fore organically. 
ID: What is your work and design process?
MS: My design process is really fluid and it changes all the time. I always try to get the idea from my head to paper as quickly as I can—ideas can be so fleeting that I find the discipline of writing a thought down can help me realize it. I then take it to CAD or create a model for scale, composition and communication. Depending on what it is I'm designing, I often work backwards, I conceptualize the object, develop it and then go back to materials and textures. I rarely think of function in my design process as I believe I work from more of an artistic perspective and I see my work as an artistic expression rather than designing something that is entirely for function. I'm inspired by what's around me, and a lot of it works on instinct and how I'm feeling.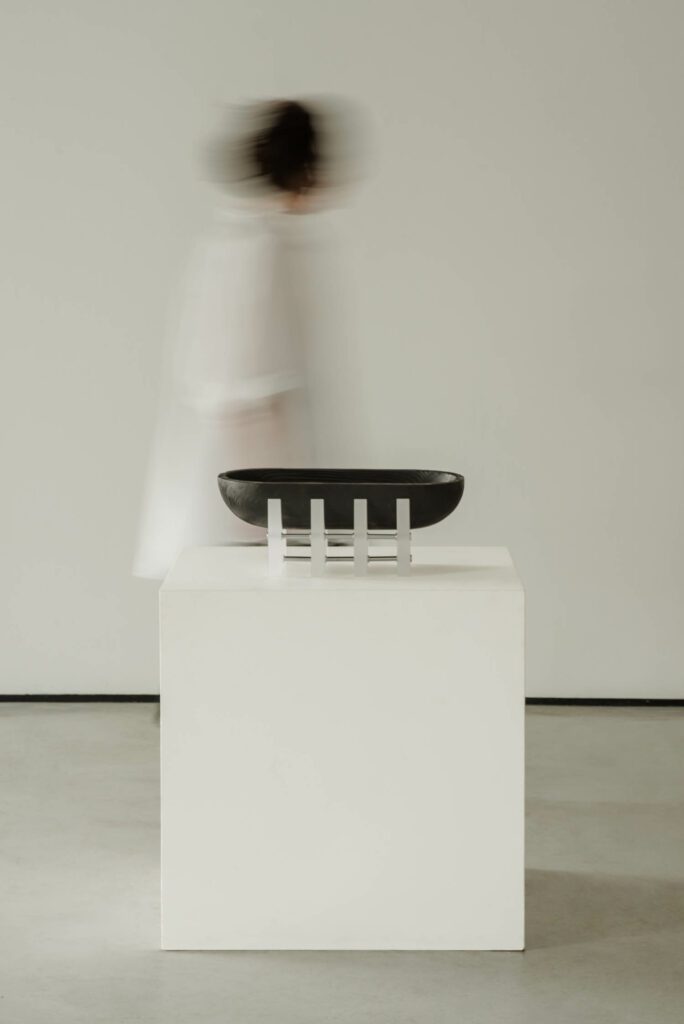 ID: You are only 27 and started your studio while still at university. Have you always been entrepreneurial? Where do you get this drive and ambition from, do you think?
MS: I would say I've always been entrepreneurial and very ambitious. My mother is a key figure in my life; she is extremely entrepreneurial and business-minded. I grew up watching her excel in all of her business ventures so I guess you could say I'm inspired by her and have sought to tread my own path with Miminat Designs whilst still embracing my creative side. My parents In general are very hard-working and I guess they passed that crazy work ethic down to me. I'm a perfectionist and I want to be the best at whatever it is I do.
ID: What's been one of the most professionally significant or influential episodes of your career so far?
MS: Every 'episode' has been significant and so special. I feel that in some ways it is quite unique that I'm young-ish as these opportunities don't usually happen so early in a designer's career. That's why every moment is a 'pinch me' moment. My latest "is this really happening" episodes were: showcasing a piece of my furniture at the Design Museum in 2021, being featured in Phaidon's prestigious "Woman Made" book and winning an epic new project in Portugal.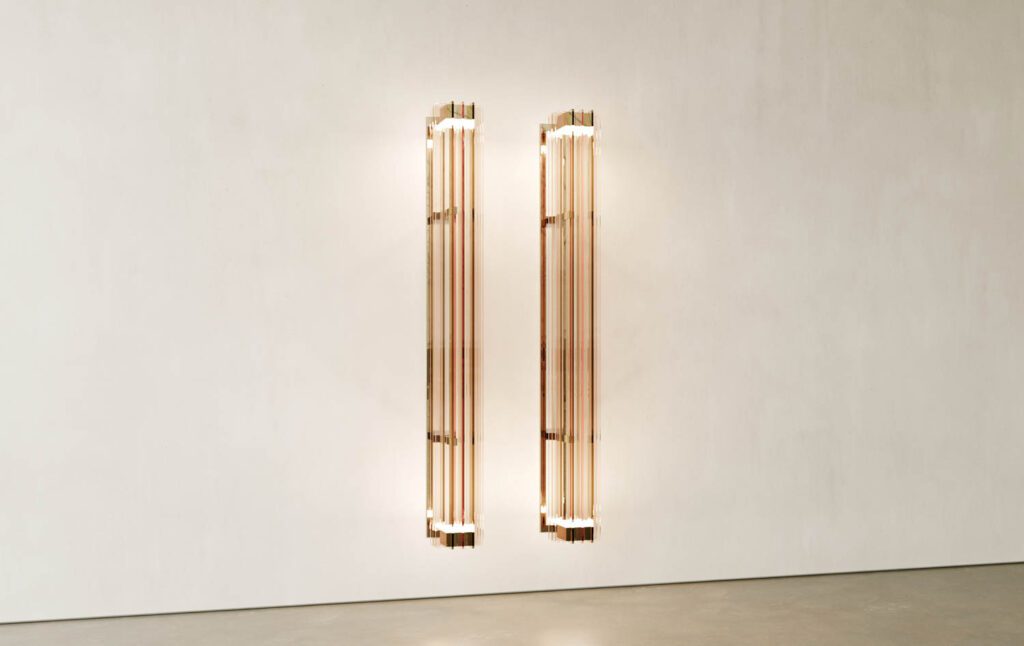 ID: What do you like about being based in London in terms of work and personal life? What does it offer?
MS: London for me is the most diverse city in the world so it suits me as a base because of the way I work and find inspiration. Although I am a London-based designer my inspiration is global due to my admiration and appreciation for different cultures and people in general. British craftsmen play a very important role in design and in British design, yet they are often overlooked because there is still this 'notion' that great design should originate from Italy or Scandinavia. The truth is, there are great craftsmen and designers all over the world and I want to work with them all.
ID: How are you influenced by your Nigerian heritage in your work? Do you go there often?
MS: My Nigerian heritage has definitely influenced my work. It appears for example in some of my furniture, the Omi table is named after the Yoruba word for "water." I love to balance both European and African schools of design and the materials I use reference my heritage too—wood, bronze, exposed stone shapes, the boldness in scale and presence of my work is also a reference to African sculpture. I try to go to Nigeria every six to eight months as I have a lot of family there. I always find traveling plants the seeds of ideas and I love the unique landscapes of Nigeria—the heat is also unbeatable. Currently I am doing two projects in Lagos, and it's incredible for me to be working in my hometown. Lagos is rapidly becoming an international city and there is a burgeoning art and design scene which makes it even more special. The projects are located on Banna Island (Lagos) and they're designed to escape from the heat of the day. We are using lots of stone and smooth textures which contrast with the vibrancy of the surrounding nature. 
ID: What needs to change to bring more black designers into the industry in the U.K.? There are more than there used to be but the scene doesn't reflect how multicultural London or the U.K. is.
MS: The lack of mentors and role models is definitely a barrier to encouraging aspiring Black designers to see architecture and interior design as a viable career path. A lot of young Black people are incredibly creatively minded but perhaps don't see design as a valuable path because they haven't seen many Black people or faces that have made it. They need to know the doors are open and they need to see how people who look like them that have made it, so representation is very important.
ID: Your Jude pendant light is very striking. How did you get the idea for it? What about the wall lamp version of the light?
MS: The idea was born out of a project for a dear client in Kuwait. She has an artistic eye and is a real supporter of great design. We redesigned the guest wing of her house and the Jude light was designed with that space in mind but also inspired by her character and taste. The piece is made out of polished brass and smoked polycarbonate glass—two materials which I feel work particularly well for sculptural lighting. The wall lamp version is also vast in scale; it's designed to be a floating sculpture with dynamic engineering and I played with the same materials so the two pieces could be used within the same space or adjoining rooms. I think the wall lamp is a more accessible take on the series.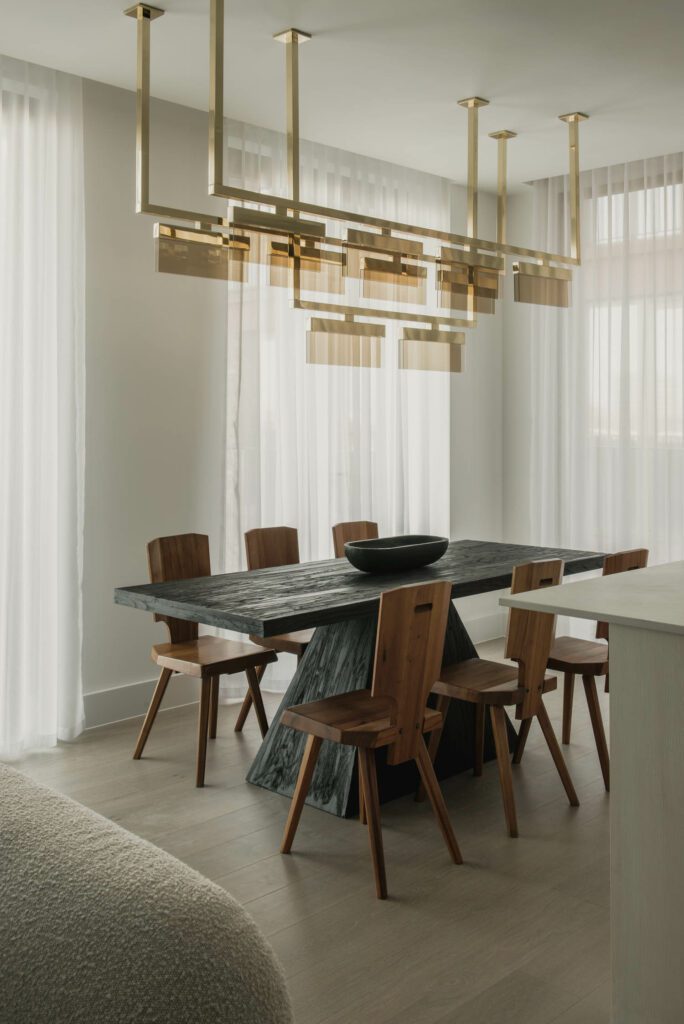 ID: Tell me about the new furniture series you are designing that launches this spring. What were the sources of inspiration for it? 
For the Howard Series, the core material palette is travertine, wood and aluminium, materials that embody refined rawness whilst at the same time strength and stability. The source of inspiration was Howard Hughes, who was both a pilot and film director and lived some of his life as a recluse. Flight, movement and aviation has become a recurring motif in my work and it was something I wanted to explore a little further with this series of pieces. Each of the pieces in the series feature dynamic angles and volumes and the power of movement—the pieces also explore gravity, balance, and form.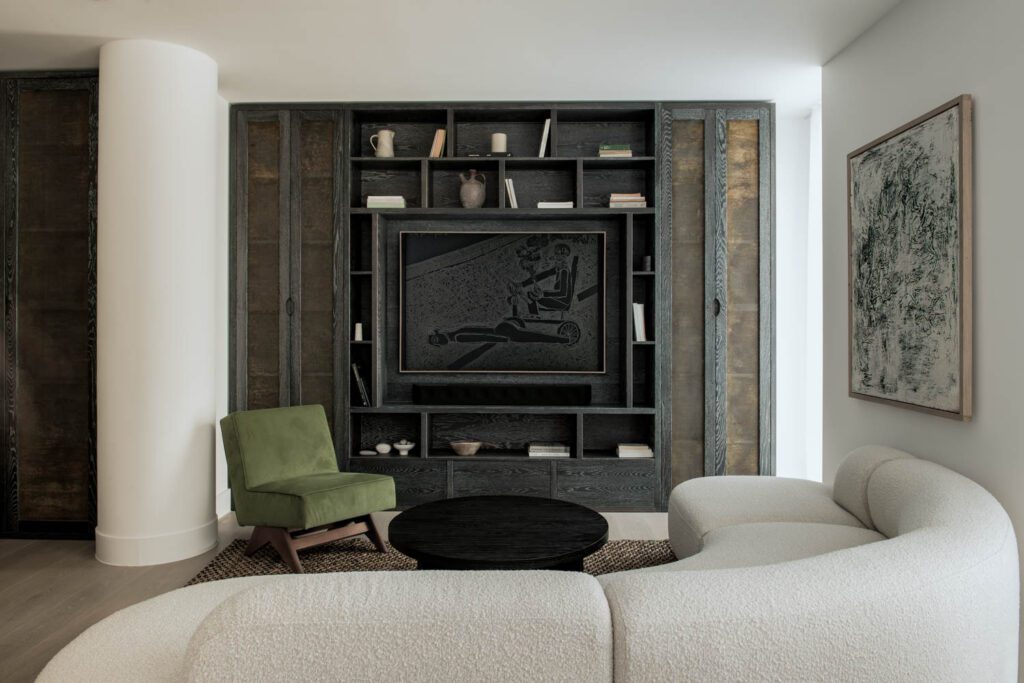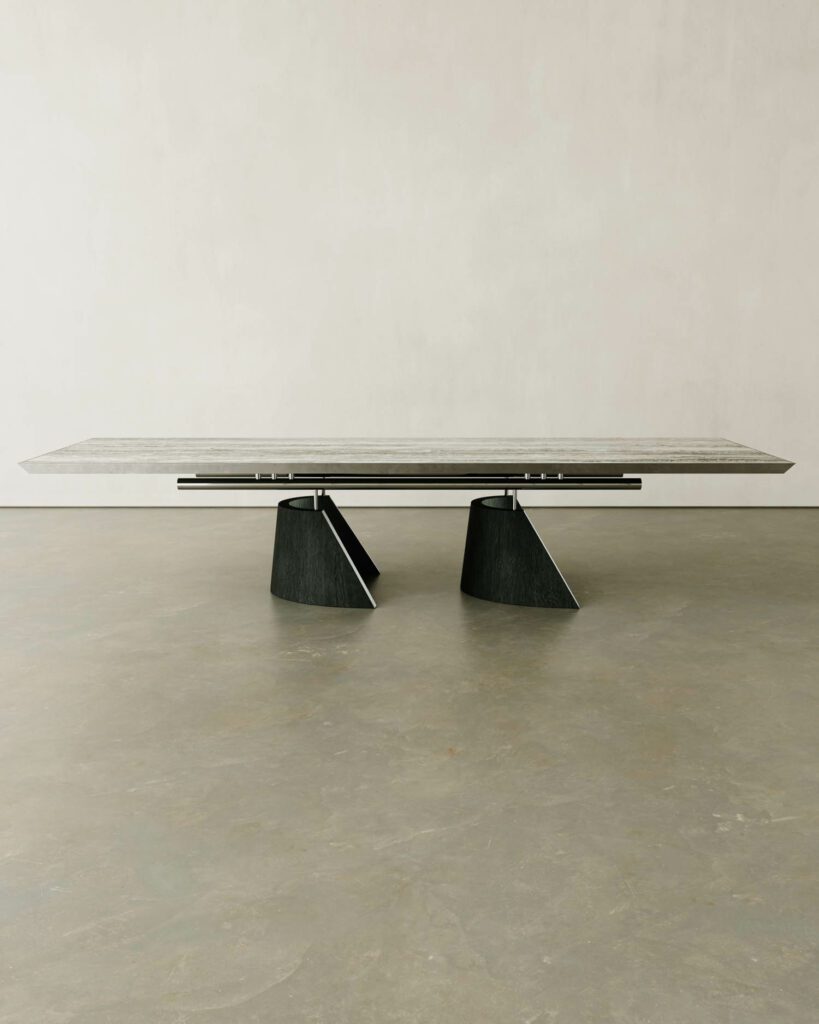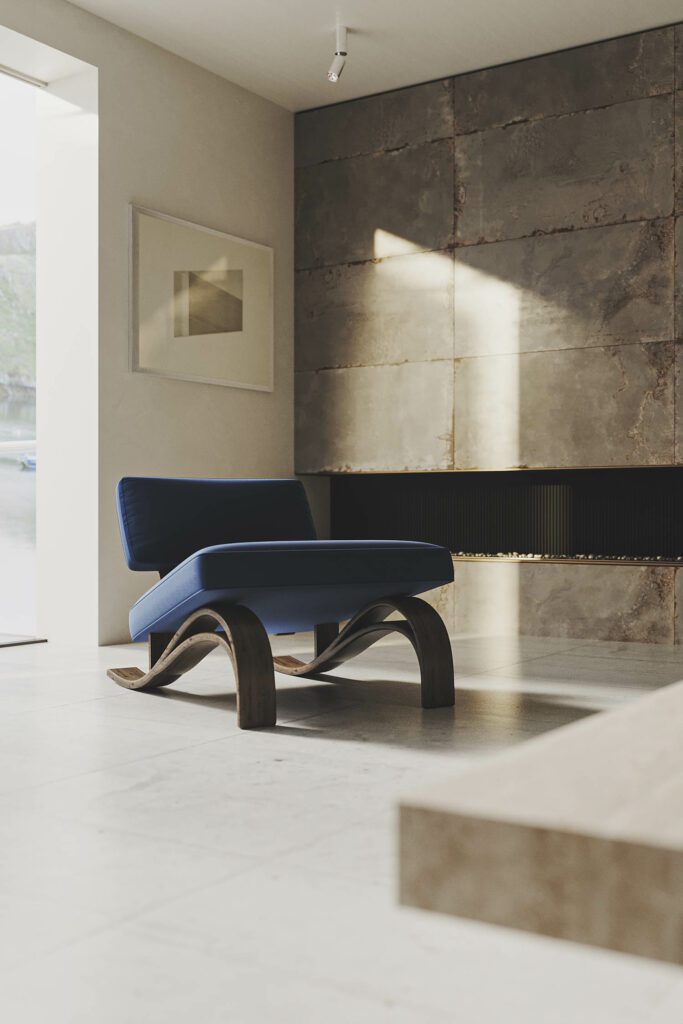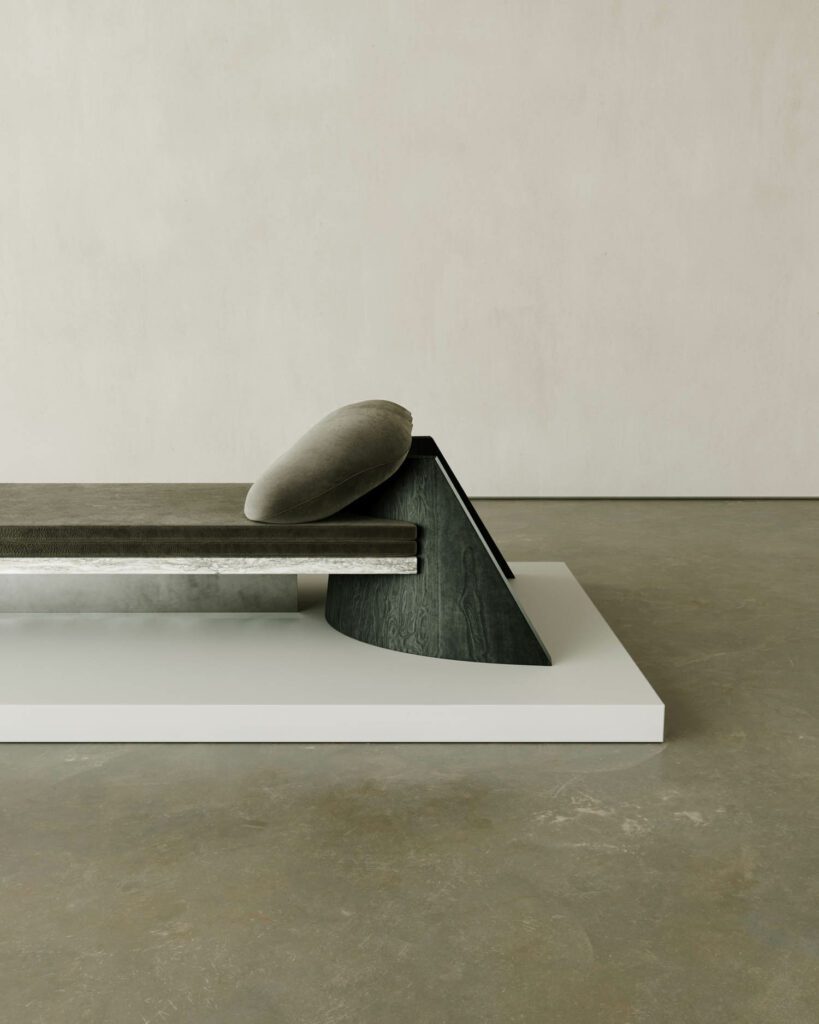 read more
DesignWire

Honoring Black History Month

In honor of Black History Month, the Interior Design team is spotlighting the narratives, works, and craft traditions of Black architects, designers, and creatives. See our full coverage here, including interviews with…

DesignWire

10 Questions With… Nina Cooke John

In an interview with Interior Design, Nina Cooke John speaks candidly about juggling responsibilities, realizing her first built public artwork, and the importance of active participation in civic life.

DesignWire

10 Questions With… Willie Cole

Interior Design sat down with Cole to hear more about Artcycling, as well as the first high heel that caught his eye, the piano that became sculptures, and the unexpected hazard of too many shoes on a headpiece.