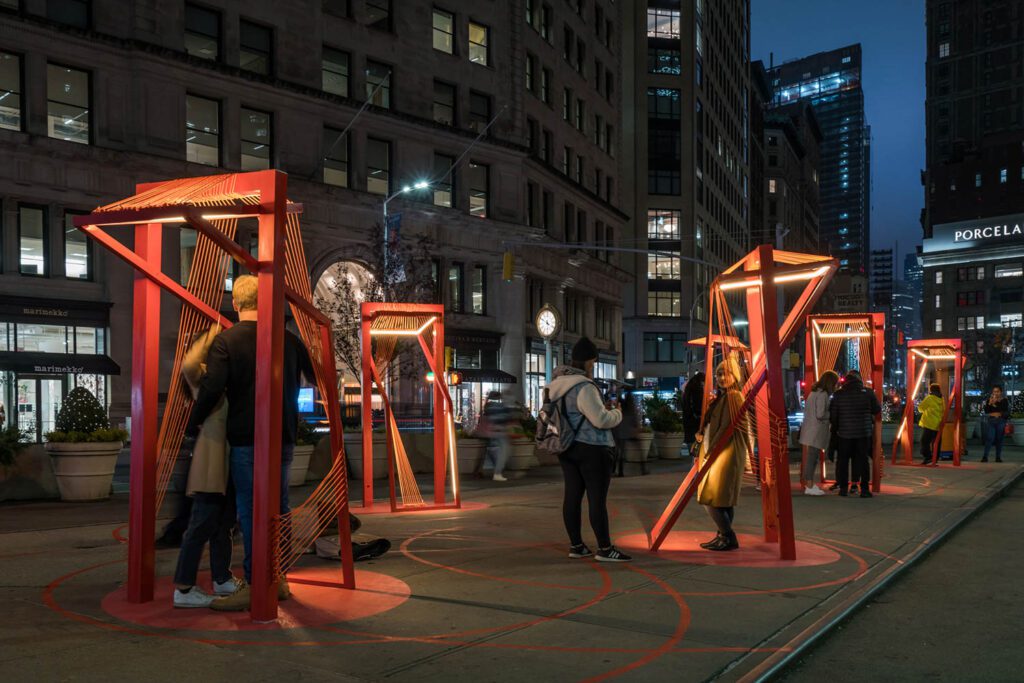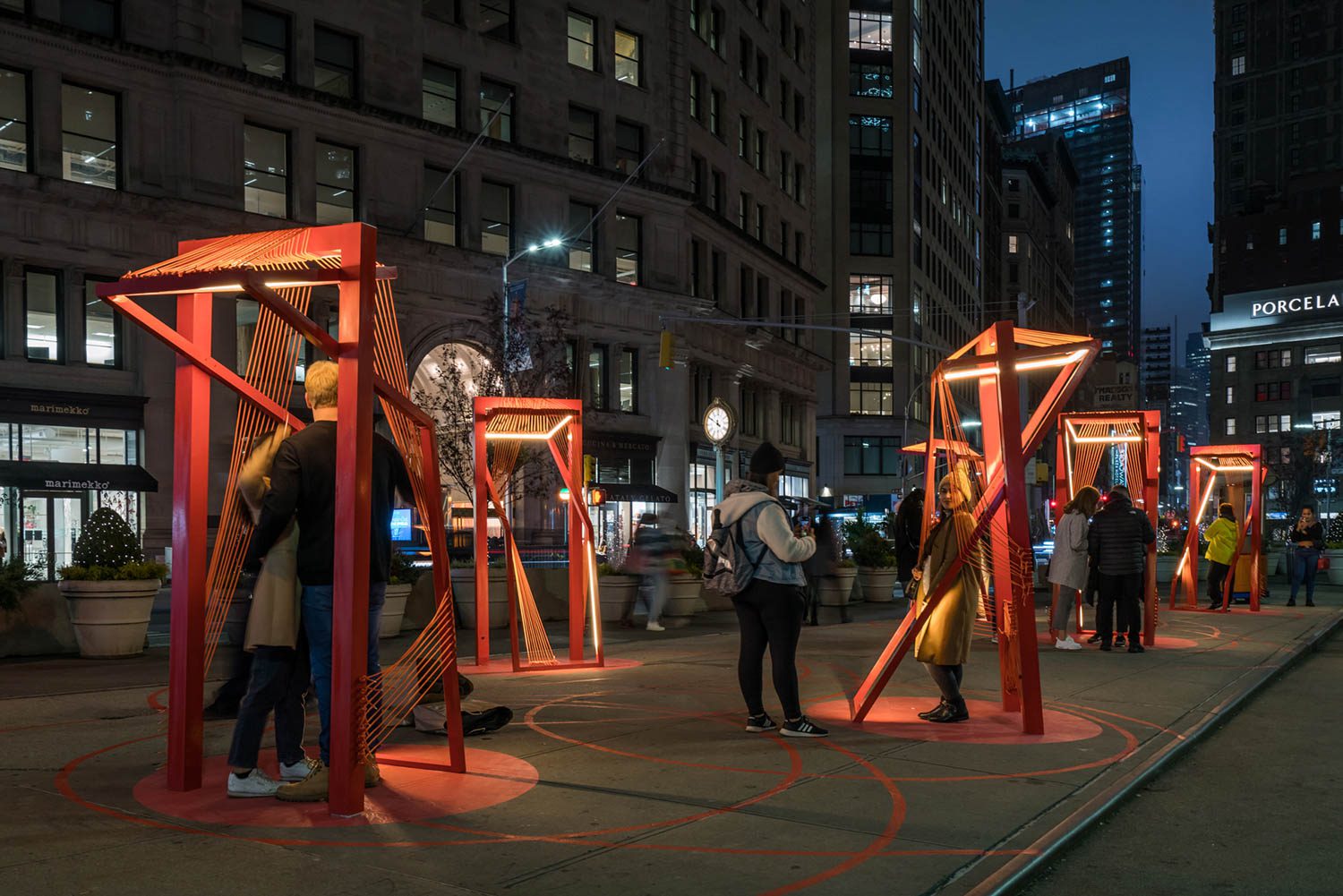 10 Questions With… Nina Cooke John
In the face of the pandemic and the facelessness of the digital era, much of New York-based architect and educator Nina Cooke John's work focuses on ideas of connectedness—to each other, to our communities and their spaces, and to history. Born and raised in Kingston, Jamaica, Cooke John is an adjunct assistant professor at Columbia University's Graduate School of Architecture, Planning and Preservation and serves on AIA New York's Scholarships Committee. Her winning design for Newark's upcoming Harriet Tubman monument is underway for a summer 2022 launch, when it will activate the surrounding park with seating and spaces for community programming. "I wanted it to be a place where people can connect to each other around the larger ideas of liberation," says the architect. Her recent "Point of Action" installation in New York's Flatiron Public Plaza encouraged passersby to see and be seen as they were framed by the thresholds of the nine sculptures.
Cooke John's design aptitude and sensitive understanding of placemaking have garnered the founder of multidisciplinary architecture and design studio Cooke John Studio recognition as a 2022 United States Artists Fellow, alongside four other celebrated architects and designers honored this year. Here, she speaks candidly about juggling responsibilities, realizing her first built public artwork, and the importance of active participation in civic life.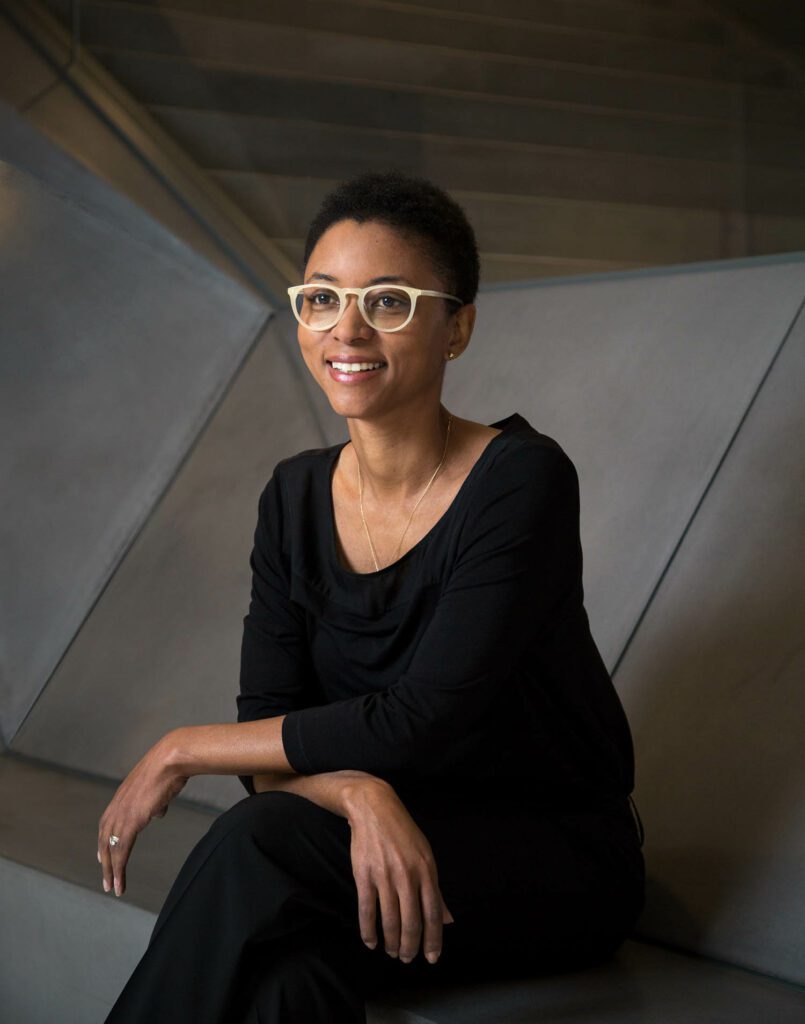 Interior Design: You've just been named a 2022 United States Artists Fellow. Congratulations! How do you expect the award will impact your work?
Nina Cooke John: Thank you so much. I am absolutely thrilled! This amazing recognition will give me the space to expand my independent, non-client driven work, which is at the intersection of art, architecture and public placemaking in the service of promoting civic participation.
ID: What do you recall as the genesis of your interest in architecture and design?
NCJ: I grew up in Kingston, Jamaica, and spent most of my high school years marching in lockstep towards a career in medicine. At the time, that seemed the only option open to me. It wasn't until my last year that I decided to take classes at the local art school in the evening. That painting and ceramics class ignited my love for art and making. That's when I decided to become an architect. Architecture school blew my mind. It was totally different than what I expected. The first year, we were not designing houses but primarily articulating form and space in an abstract way. I absolutely loved it. I learned that I was a maker and that I worked through form intuitively with my hands and then layered it with logical considerations of how might encounter it in varying ways. I haven't looked back since.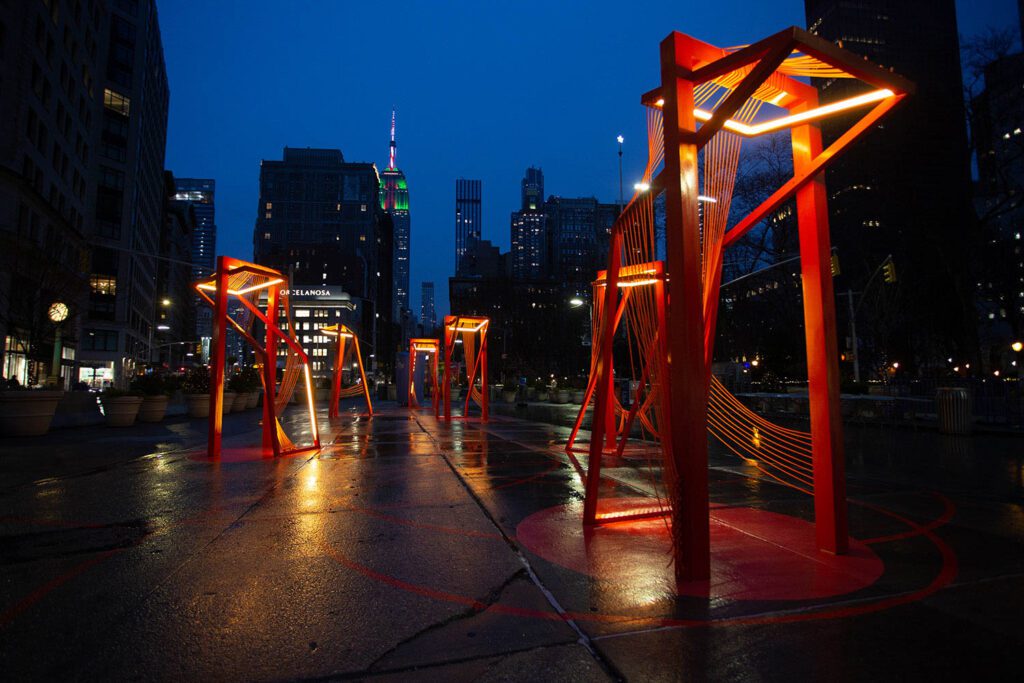 ID: Why did you decide to start your own studio? What stage of your career were you at?
NCJ: The decision to start my own studio was a very practical one. As a parent, I needed the flexibility to be able to work on my own terms, at whatever hours of the day and/or night that worked best for my family. I have now been a practicing architect for over 20 years. My professional life, working in firms of varying sizes on projects that ranged from cultural institutions to luxury residences, honed an intimate understanding of materials and fabrication. As my children have gotten older, I've been able to expand my practice from one that involved primarily residential architecture to now including more public art. My studio is now multidisciplinary bringing my expertise in craft and spatial sensibility to the core investigation of how we are empowered by and create community in spaces both public and private.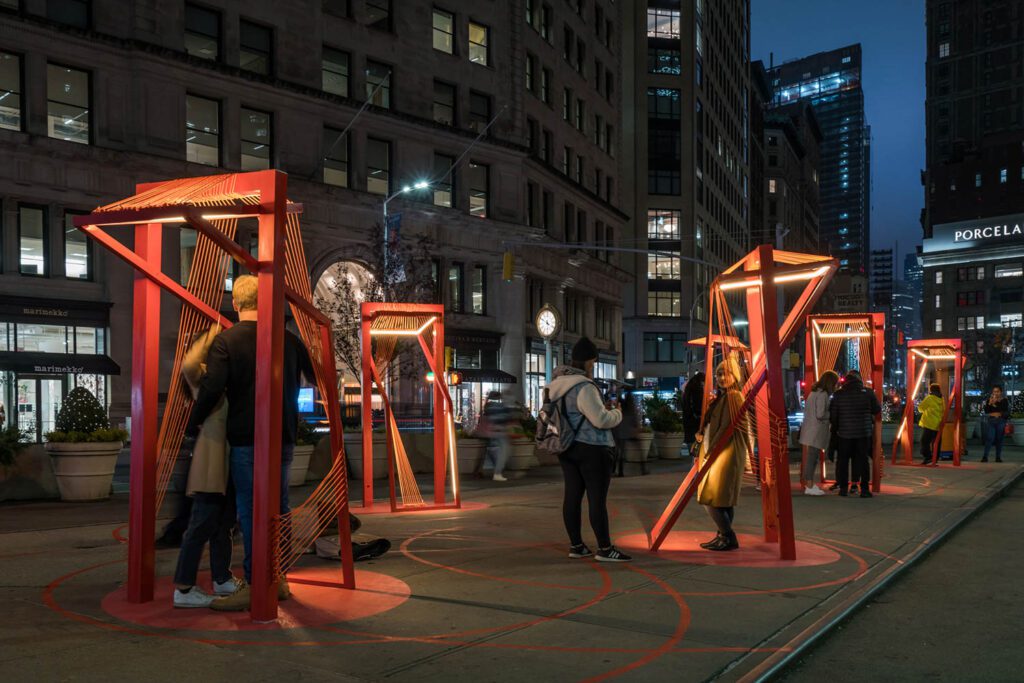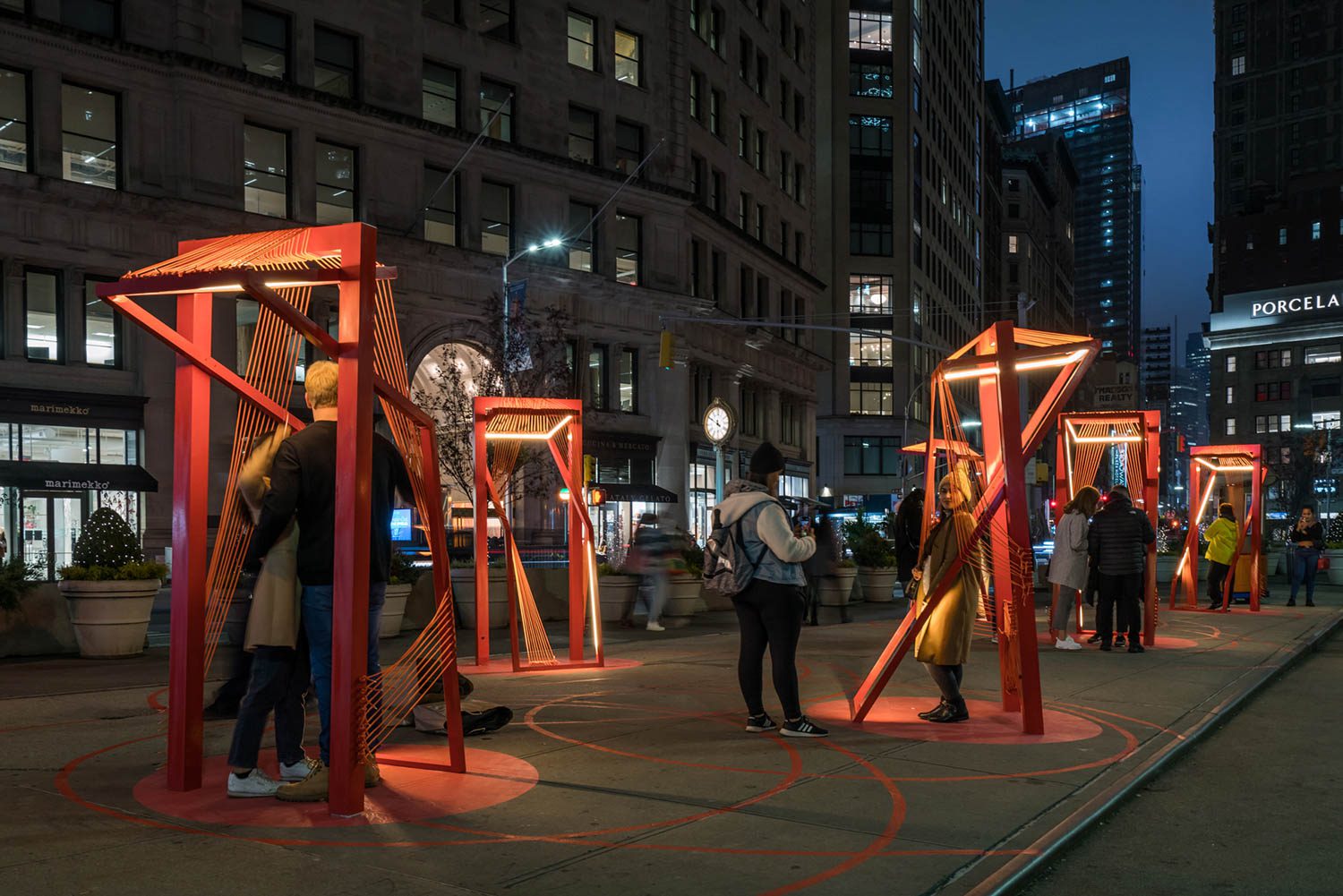 ID: What have been some of the biggest challenges in your career?
NCJ: Being a parent while expanding an architectural practice has been challenging. I haven't heard that much from others but that was my reality. I felt, for a long time, like I had to keep doing what I already knew best as an architect just so that I could have enough headspace to show up as a parent. I didn't have the energy to expand the boundaries of my work. Once I was ready to expand into new territory, I found many potential clients prefer that you have the very specific experience related to their project. Luckily, I have found clients who could look at the caliber of work that I've already produced and realize that I had the talent and capacity to transfer those skills successfully into a different sphere of work.
ID: Why did you decide to become an educator, and how has it changed your practice?
NCJ: I always knew that I wanted to teach. I've been an educator for as long as I've been a licensed architect. I wanted to continue to engage in the academic endeavor of theorizing and dreaming of new worlds. Teaching forces me to use the portion of my brain that engages with critical social issues and looks to address them with innovative design. The day-to-day work in an architecture office can get bogged down in the practical issues of client engagement and construction management. Being in academia allows my practice to be constantly engaged with evolving, cutting-edge design and being a practitioner has grounded the more theoretical explorations.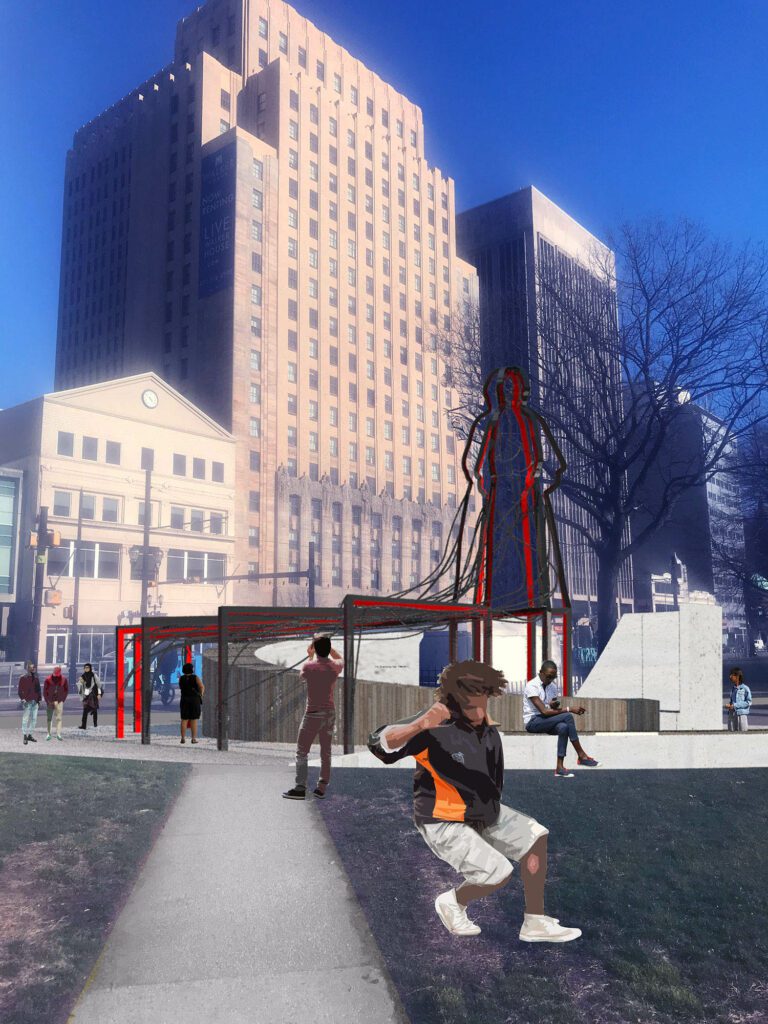 ID: Your studio's installation "Point of Action" was recently on view at the Flatiron Public Plazas. What did you hope to achieve with that project?
NCJ: "Point of Action" was my first, built public artwork. I got to tackle, head on, issues of public space and community engagement in the middle of the pandemic. I started off with the critical prompt, "How do we see each other?" New Yorkers of different cultural and socio-economic backgrounds rub shoulders in the streets and on the subway yet move through the city without making eye contact. So much about our neighbors is invisible to us. During the pandemic, our eyes were opened to varying social issues that have been with us all along. With "Point of Action," I wanted passersby to take a moment to see and be seen as they stepped into the threshold of any one of the nine sculptures. Through their engagement with the artwork, and with each other across the plazas, they would then step out and act on the realities that they could no longer ignore.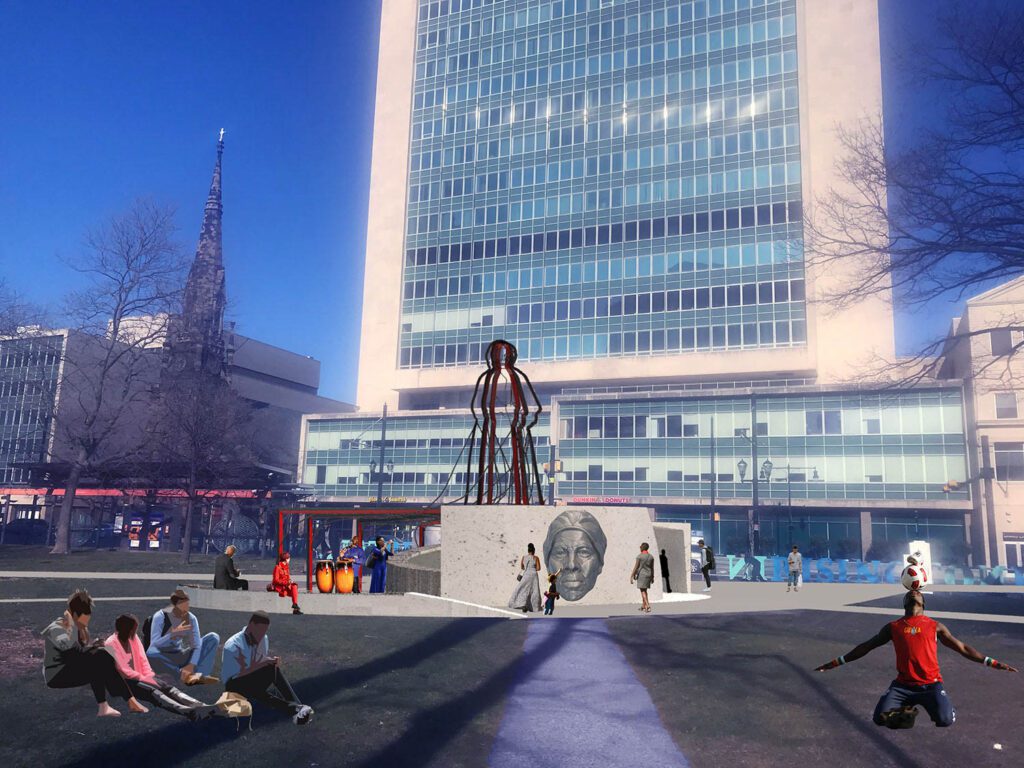 ID: How do you define placemaking, and what role does it play in your work?
NCJ: Placemaking involves imbuing space with qualities that promote community and belonging. What might have been an open plaza becomes a place of engagement in which connections are made, memories are formed and political action is formulated. Placemaking is an important component of promoting citizenship; active participation in civic life. When people feel more connected to the people and the places of their community, they are more likely to take political action to preserve and promote positive change for all, not just for those within their small circles.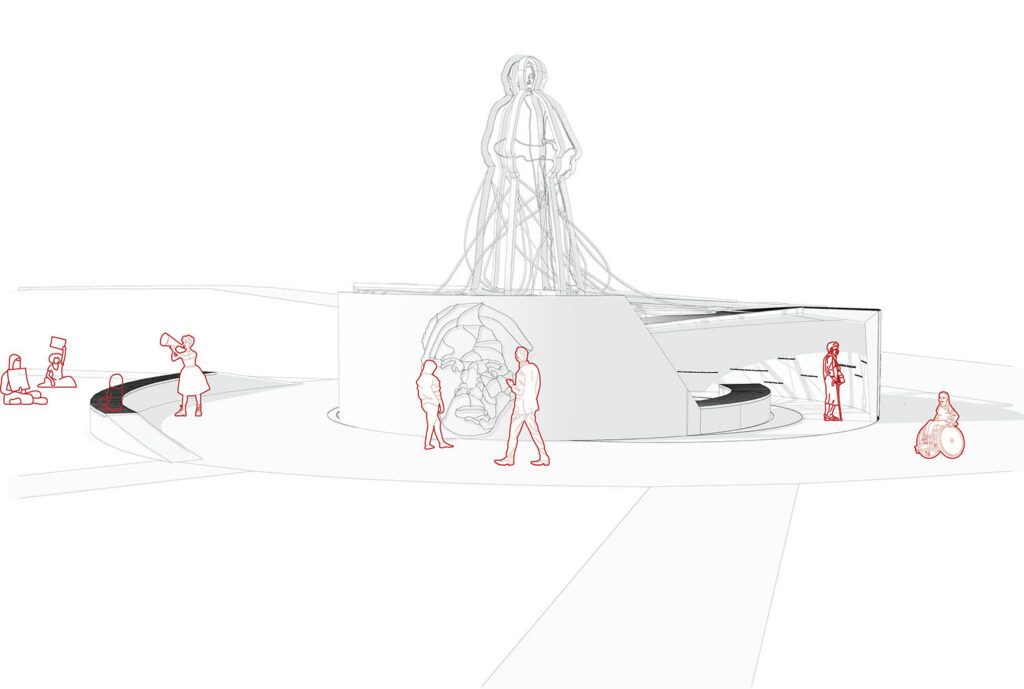 ID: Your winning design for the Harriet Tubman monument in Newark, New Jersey, Shadow of a Face, will be unveiled in the summer of 2022. What has it been like to work on such a historically significant project?
NCJ: Working on the Harriet Tubman monument has been both inspiring and intimidating. My proposal is ambitious in many ways. It isn't a singular statue. There are many different components to the installation, several of which involve direct community input. I knew that that the work had to duly honor the heroic feats of Harriet Tubman, but I also wanted it to be a place where people can connect to each other around the larger ideas of liberation. The monument will activate the entire park, providing a space to rest as well as community programming. I've been delighted by the response of community members coming out to the workshops that we've had so far, am learning even more about Tubman and Newark's role in the underground railroad and am privileged to have the project management skills as an architect to manage all the moving parts. I'm really looking forward to it all coming to life.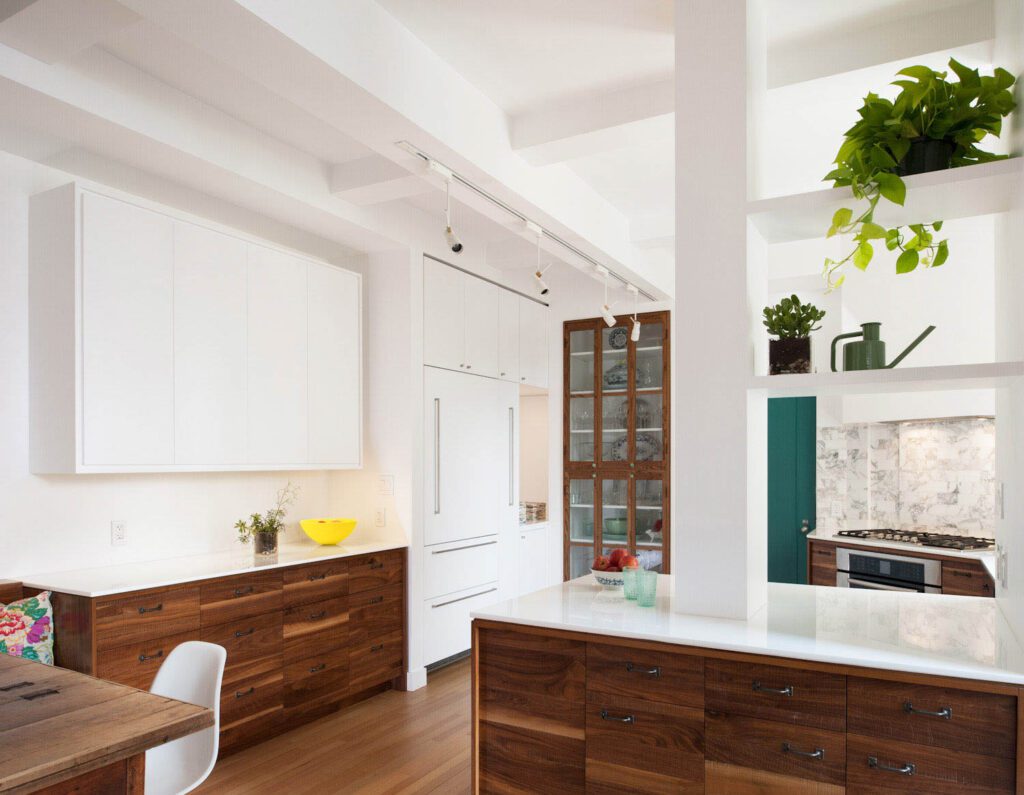 ID: What would you like to say to today's emerging architects and designers?
NCJ: Our career paths rarely follow a straight line. It is usually circuitous, taking us through varying kinds of experiences along the way. Be open to it all. Not every stop will feel like the best place to be at that moment in time, but each one will provide an opportunity for learning. We build a toolkit with parts collected from our varying experiences and we will use them all when we finally get to wherever we want to be.
ID: What is keeping you inspired right now?
NCJ: I am really inspired by the collaborations across different disciplines and with practitioners in firms of differing sizes as architecture practices try to diversify both the work that they do and the talent that they engage. Architects are coming to terms with their role as social engineers as they design the built environment while allowing for more voices to be heard on all platforms.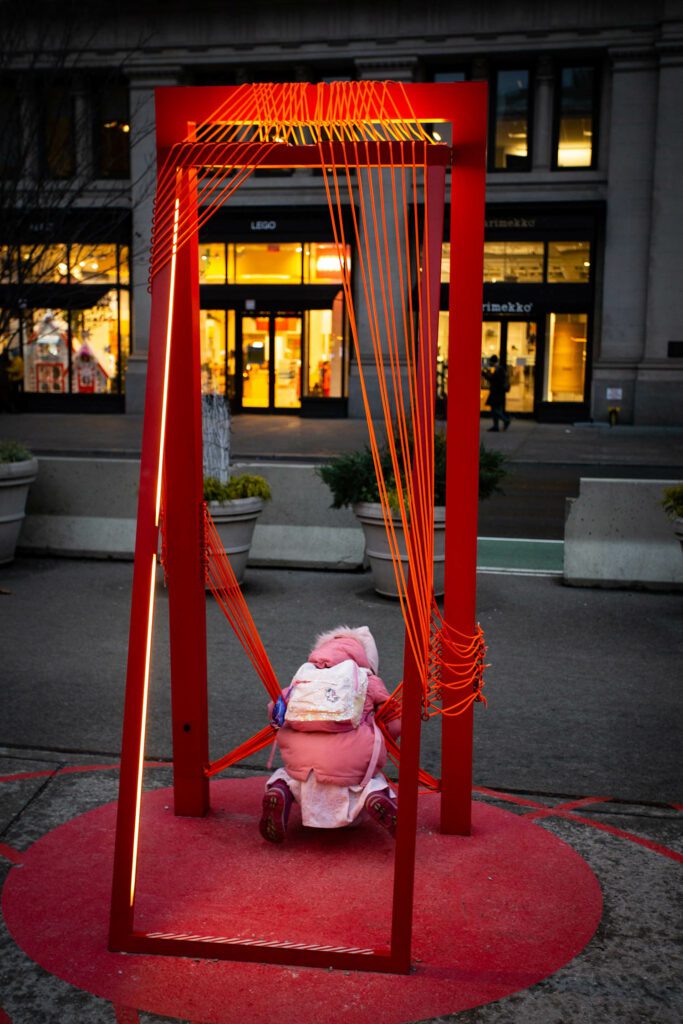 more
DesignWire

10 Questions With… David Brown

David Brown talks with Interior Design about church acoustics, the difference between the available and the vacant, and the possibilities of the temporary.  

DesignWire

Andrew Franz Elevates East Harlem's Union Settlement

Rejecting the notion that a limited budget means limited design for the neighborhood with the second highest concentration of public housing in the country, Andrew Franz Architect has completely transformed the Washingto…

DesignWire

10 Questions With… Sean Zhang

Mixing classic sensibilities, innovation, and craftsmanship, Ocrum Studios' timeless pieces evoke memories and create emotions. Here, founder Sean Zhang shares with Interior Design the inspiration behind his new c…