10 Questions with… Shashi Caan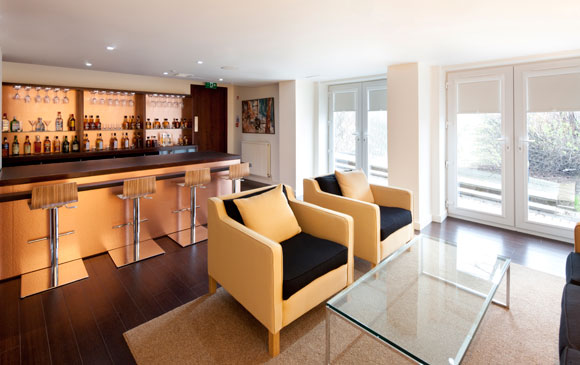 Inver House Distillers, HQ Office & Visitor Center, Airdrie, Scotland, UK.


According to Shashi Caan—design advocate, educator, and principal of her eponymous design collective—the needs of tomorrow hinge on the design efforts of today. Caan is the president of the

International Federation of Interior Architects/Designers (IFI)

, an executive committee member of the

International Design Alliance (IDA)

, the former chair of the

Parsons

interior design department at , and a sought-after speaker at conferences and universities across the globe. The

Shashi Caan Collective

, where she is principal, offers innovative solutions in the areas of architecture, interiors, product design, and brand development. Here, we ask Caan—the

Otis College of Art and Design

's 2013 Donghia Designer in Residence—about trend, the significance of today's design challenges, and the inner workings of her very own "United Nations."



Interior Design: What are the principles at the heart of Shashi Caan Collective that unify architecture, interiors and product design?


Shashi Caan: The collective is an idea that wanted to be born, in response to 21st century design practice. Since the discipline of architecture was first practiced, buildings have been delivered through a linear process. Recently, as a culture, we have changed. We can't afford to deliver creativity in a linear format anymore. In the last decade to 15 years, there's been a major thrust to obtain life balance and deliver greater creativity, faster than ever before. It's pervasive within the design community to work around the clock. In my previous position at

Skidmore, Owings & Merrill

, I worked with teams of people and, all around me, designers were exhausted. I left SOM after 9/11, at a time of great introspection, and sought to start a practice fundamentally structured to offer thoughtful solutions and cultivate teams of people in our community that are happy, collegial, and collaborative. I am proud to say we have happy and curious people working for us. It feels a bit like the United Nations. When we get a project, we compile a team that is entirely dedicated to seeing it through. That team is challenged to deliver tremendous in-depth research. We're not known for just one kind of work; we do a broad cross-section, and we do a lot of research. It can take six months to two years, and at the end we like to give credit to every single person who participates. We believe that two minds combined give you the results of 10 alone.


ID: You teach concentrated masters classes at Parsons and have held positions at numerous design institutions through the years. What would you say are the opportunities available to designers and architects just entering the field today?


SC: What young people bring is freshness, and naivete is actually a big plus. Someone more experienced may not want to test or try ideas that young people have no fear of trying. My advice is to enjoy what you do and bring enthusiasm. The best projects happen when you have a diversity of age—people with five, 10, 15, 20, 30, 40 years experience, all showing their value.

ID: And what would you say are the biggest challenged for young members of the community?

SC: The biggest pitfall is impatience. They want to get titles, and feel entitled faster than is realistic. You have to remember that when it comes to anything having to do with building, it's an older person's environment. Mistakes will get made if you haven't had a lot of experience. You need experience to develop judgment, and expertise that offers a depth of knowledge. I encourage young people to team up, even if not formally. Seek out mentorship. Ask a lot of questions, with humility. When you're 20 years old, you feel you need to know things already and that's part of being young. The older I get, the more I questions I ask.


ID: What was your experience as this year's Donghia Designer in Residence at Otis College?


SC: Otis started the Donghia Designer-in-Residence program, and I was selected to be the 2013 designer in residence—which involved teaching a semester's worth of work in one solid week. I was very honored to be selected, and I took it to heart. Rather than give the students a design brief to analyze, I gave them a brief and challenged 14 students to create a project as a group. It was pretty complicated and very open ended. It was a large, urban scale project. I didn't have the answers. . .Rather it was an experiment to see what we could do in this setting. In the end, it was truly magical. The students did a lot of research, and everyone participated equally. . .The project speaks volumes, as it addressed product design, engineering, interiors, urban master planning, and architecture. I knew we could stick to it, and I am very proud of this work.


An installation at the Carnegie Science Center in Pittsburgh, PA.





ID: How crucial is it for architects to stay curious about and engaged in conversation about city planning?

SC: This is absolutely crucial. It's important to keep an eye on the big picture, and equally important to think on a micro scale. We have to keep the context of every project within the world at large, and yet meanwhile we're finding solutions for ordinary activities and everyday people. Fundamentally, all people are the same, and have similar needs—sleeping and eating, the need for contrast, the need to express joy. These things are fundamental. If we can maximize the human potential of a project, we are on the right path. The more we develop those intangible qualities into our practice—whatever makes people feel inspired and responsive and respected and valued—the better results we get.

ID: Given your focus on object and furniture design, what's your take on "democratic design?" How does strong design, available at a range of price points, affect the industry?

SC: This is a very current conversation. . .As president of IFI, I deal with a lot of governments and policy makers and my job is advocacy. But for what am I advocating? It's a problem for design to be funneled into the "cool" and "hip" and "trendy." There's that side to it, but in every aspect there are far more pertinent conversations to be had. Trendiness takes away from excellence. For example, there are people out there who believe that interdisciplinary design is important. . .For me, architects are architects and designers are designers, and there is a difference. If we decide that titles don't matter, why do we have them? Design is pervasive; nothing in the world today is not designed. The public does not know what good design is. It need experts to execute design in smart ways, so we can accomplish great design.

ID: What do you consider the new priorities of the design world, versus those of ten or twenty years ago?

SC: We are in a tremendously transformative period. There are changes taking place that humanity has to face. We have to dismantle problems of 40 years ago to prepare for the future. The issues now are so huge—technological advancement, the shrinking world—that thinking about our home has turned into thinking about our neighborhood. Pollution in India doesn't just affect India, is goes up into the stratosphere and spreads. There is nothing that one country does that doesn't affect the entire world. This and the next decade are a very pivotal time. If we were to sit in 3013 and look back, history will say that critical things took place right now, at this moment. The issues now are so huge—aging, mobility, density in the urban environment, ecosystem balance, infrastructures. We can't think nationalistically when it comes to design for the next forty, fifty years. It's no longer about patriotism or an "American aesthetic." The challenges we face are those of humanity.

ID: In what ways were you inspired as a young person to become the professional you are now?

SC: This is a simple thing. My father was an architect who loved to rehabilitate buildings. He would go into neighborhoods as a developer, and at age 10 or 11 I would go to his sites. I would look at these places and try to imagine who had been there, and I would wander off into these empty, dark, sometimes abandoned spaces. I would try to listen to the walls and figure out what stories those spaces had to tell. If these buildings were people, could I resurrect their happier iteration? It's little wonder I wound up in interiors. I was fascinated by the personalities of the people and the buildings. Now, it's my deepest personal challenge to consistently recreate the qualitative, so it's not a stylistic vocabulary but a genre of work that captures a living, breathing essence of people and the places that they occupy. It feels like such a privilege to do what I do—to spend my time and get paid for something that is a passion. I think I'm the luckiest person on earth.