10 Questions With… Sophie Ashby and Alexandria Dauley, Co-Founders of United in Design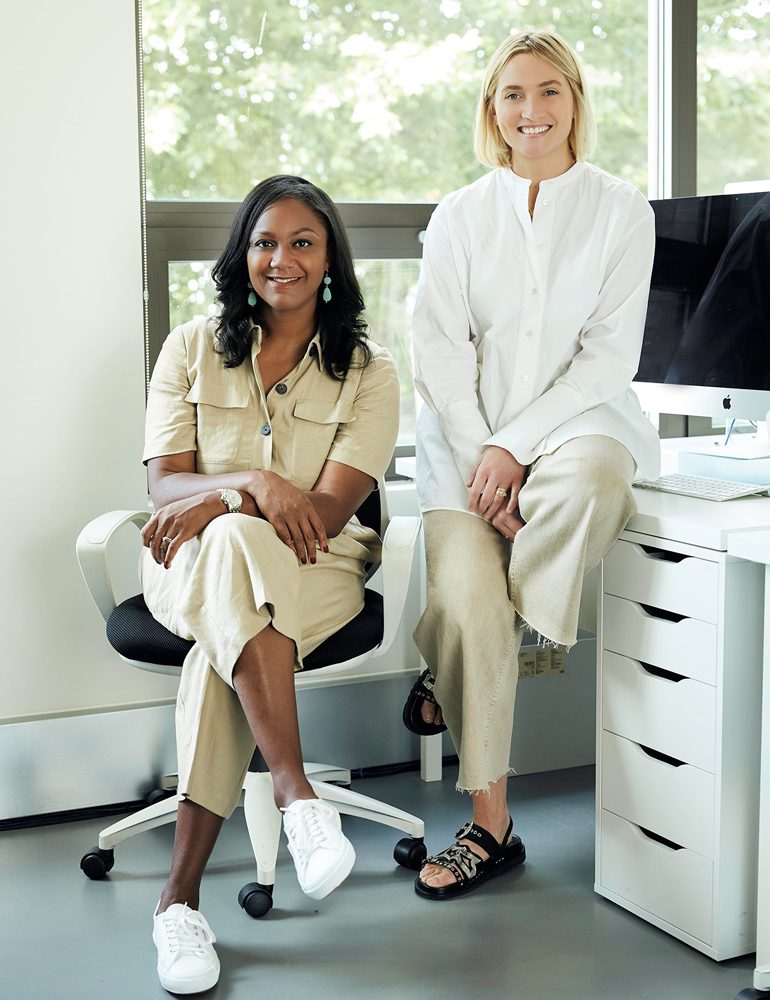 Last June, just days after demonstrations across the world brought into focus the far-reaching implications of systemic racism, two designers sprang into action to enact change within the A&D community. Sophie Ashby, founder and creative director of Studio Ashby, and Alexandria Dauley, founder of Dauley Design, teamed up to create United in Design, a charitable organization that addresses the lack of diversity in design in the U.K. where they both live and work.
With support from colleagues and leaders in the field, the duo launched United in Design grounded by the goal of "diversity in action." Drawing on their unique backgrounds in the design industry—Ashby with her wide network of artisans and craftsmen and Dauley with her mentorship experience—the women quickly established their organization, which now has more than 140 partners and plans to launch an apprenticeship program for BIPOC early career designers in July. The United in Design call to action statement invites designers to "be part of positive change," and Ashby and Dauley offer an open and inclusive entry point into that conversation. Here, they share with Interior Design goals for the organization's growth and hopes for the industry's future.
Interior Design: How did you two meet?
Sophie Ashby: On June 4, 2020, I issued a statement on the Studio Ashby Instagram in response to the murder of George Floyd and the global anti-racism movement acknowledging the studio's own shortcomings in running a diverse company and also some uncomfortable truths about the elitist and exclusionary nature of the design world. The response I received was overwhelming. I spoke to at least 20 people on Zoom over the course of the following week, mainly black designers and students who had a story to tell me. I heard some very real and desperately sad stories and received the most extraordinarily heartfelt and open responses to my post that I felt motivated and compelled to figure out how I could help.
Alexandria Dauley: Sophie and I discovered quite quickly that we were simultaneously having the same conversations, thoughts, ideas and were independently beginning to put the edges to some kind of 'something.'
SA: We spoke on Zoom a few times, got on instantly and agreed that one strong message was better than many quieter ones so we joined forces.
ID: What was it like founding United in Design in the midst of a global pandemic while running your respective design practices?
SA: When confronting such a systemic, far-reaching inequality it can feel unsurmountable. The challenge for us was reflecting on our positions and capabilities and then streamlining how best we can enact change— United in Design is still a work in progress and we are learning more each day. We've worked pretty tirelessly to get it up and running in a tight timeframe and, of course, in the context of a global pandemic, too. We're really fortunate to have such a dynamic, informed, and perceptive team of trustees and councillors that we can lean on. Admittedly, it's been a challenge, but a hugely rewarding one, and one we are so proud of. Alex and I work really well together—she is a 'doer', as am I, and we both seem to be solutions-driven, fast-moving people so the combination of us together works.
ID: What do you hope to accomplish with United by Design?
AD: We hope to play a part in making interior design an accessible and obtainable career choice by working with the industry to tackle the obstacles preventing this—correcting the balance and leveling the playing field. Our end goal is to become an ongoing sponsored initiative that is able to nurture, coach and develop high potential candidates from Black and minority ethnic groups—funding scholarships, apprenticeships and bursaries for program participants via annual subscription fees and events.
ID: I understand you're launching your first apprenticeship program for BIPOC designers this summer, can you share a bit about that?
AD: With the Designers Lead Apprenticeship we pool groups of four design studios/makers/suppliers together in order to provide a 12 month apprenticeship placement with the apprentice spending three months in each organization. The apprentice is paid a junior designer salary, split across the four studios— giving each the scope to gather a broader set of skills, knowledge, and contacts in order to progress through the industry.
ID: How did you manage to grow the organization so quickly?
SA: Time, love, commitment, a drive for change—an excellent steering committee and teams of trustees and councillors.
ID: Who do you admire or perhaps consider a mentor in the field?
AD: My mentor is a wonderful interior designer and design tutor, Evey Dunbavin-Hands. Evey was my tutor at design school and when I graduated she offered to take me under her wing and guide me through the early years as I started out on my own. Her support shaped me as a designer and she is still a great source of advice as well as a wonderful friend. She inspired the Mentoring program at UiD because I had such a positive experience of mentoring.
ID: What are some actionable steps designers can take now to improve equity and inclusion at their firms, in and out of the U.K.?
AD: If you are an interior designer, maker, supplier, magazine, stylist, photographer, interior architect or anyone working in this sector looking to take actionable steps toward equity and inclusion, please visit www.unitedindesign.com to register your interest. We would love to have you as part of the conversation.
ID: What first sparked your interest in the field of design?
SA: As is the case with so many interior designers, I moved a lot growing up. With a South African mother and a British father, my childhood was spent living for stints in London, Stellenbosch (South Africa) and Devon and, with 14 or so moves, I got used to unpacking and rearranging my bedroom. I've always been fascinated by the idea of home and how much it can mean to people. I love houses and am fascinated by how people live, what they surround themselves with, and what makes a place a home. I was very lucky to get an apprenticeship with Victoria Fairfax where I worked on some very special projects—I credit her with my understanding of color and sense of proportion. Studio Ashby was born as soon as I got my first private client. Again, I was fortunate that within a couple of weeks, one client quickly became three and things have continued to grow steadily from there. I started my business from a laptop, with no savings or investment, working from cafés… We're now a studio of 19 and on the hunt for a new Studio Ashby home to house us all.
AD: My love of interior design started when I moved to London aged 19 from Wales and I began working in the property industry as a relocation agent and property finder. I was fascinated by the wide ranging property styles, architecture and the way in which interiors influenced the way you live and feel within your home. Having renovated my own homes, and once my daughters were a little older, I decided to follow my passion, studying at KLC School of Design in London and then setting up my practice Dauley Design. My mentor Evey Dunbavin-Hands has guided me over the years and I now work on wonderful residential projects in Surrey and South London for great clients. I am passionate about creating well designed homes for my clients and feel incredibly lucky to be able to have a career that I love which allows me to indulge my creativity.
ID: Where do you often find inspiration, especially given so much time at home this past year?
AD: With the usual sources of inspiration being closed at the moment, such as galleries and museums, I am finding myself seeking inspiration online, in magazines, books but also during walks around my local area looking to nature and the local architecture. I am also inspired by talking to people about how they are now using their homes differently due to the pandemic and looking to create multifunctional spaces in their homes.
ID: What are you most hopeful about in terms of the future of design?
AD: I am hopeful that design will become more accessible to everyone at all stages, opening up the industry to a wider audience. From encouraging and supporting more people to enter into a career in design to an increase in people being able to incorporate good design into their homes. A focus on sustainable design choices and well designed pieces becoming affordable and attainable.
SA: If I zoom out for a moment, in five years time I would love to see a lot more diversity across our industry; design studios and supplier workshops owned and run by Black, Asian, and ethnic minority talent and far more diversity in the press and across the top designer lists.