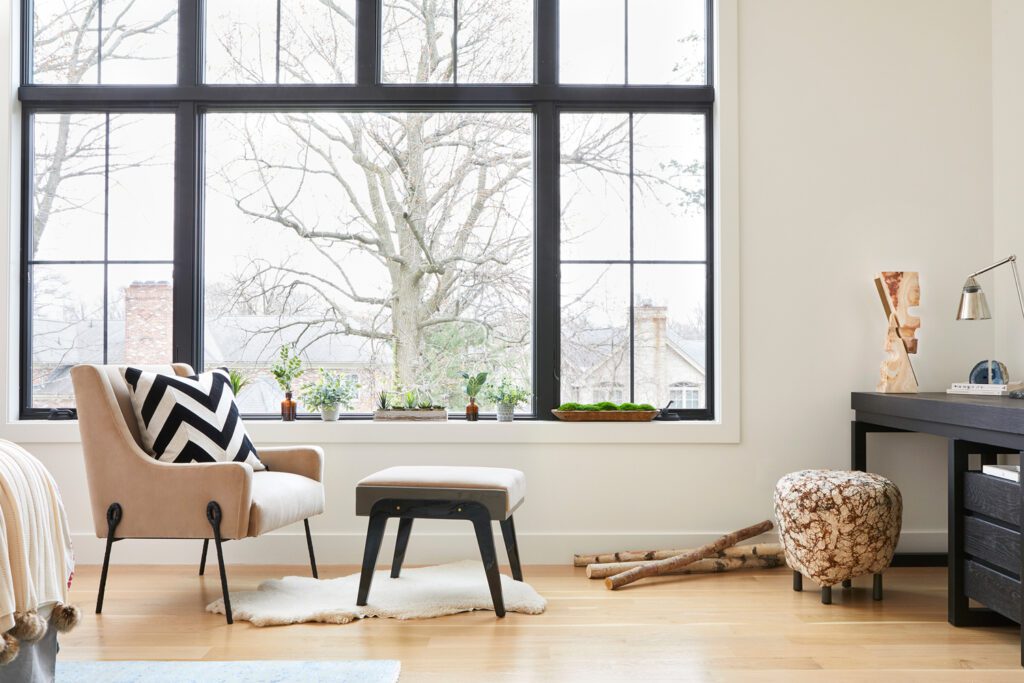 10 Questions With… Sustainability Expert Laurence Carr
A fiery dedication to normalizing sustainable and circular design drives Laurence Carr, CEO and creative director of her eponymous New York-based design studio, which specializes in healthy and sustainable interiors for high-end residential and hospitality projects. This mission makes her a champion of carbon-zero processes including zero-waste fibers and "take back" programs, and informs her service as brand ambassador for the Sustainable Furnishings Council, and as an advisory board member for Thinking Huts. When she's not fusing principles of wellbeing with contemporary design and smart technology, Carr puts her passion for educating to good use via her YouTube channel and Beyond Aesthetics blog, an EarthXTV original series, and countless international speaking engagements (including one coming up at High Point Market).
Born in France, raised in Europe, and educated at Paris Universite VIII and Parsons The New School, Carr is a GREEN Leaders Accredited Professional, and holds the Healthier Materials and Sustainable Building Certificate from Healthy Materials Lab at the New School.
She is also a member of the International Living Future Institute (ILFI), the International WELL Building Institute, the National Kitchen Bath Association (NKBA), the American Society of Interior Design (ASID), and the International Interior Design Association (IIDA). Here, Carr tells us what "regenerative" design means to her, how COVID-19 has impacted her view on wellness, and what it's like to host a TV series on circular design.

Interior Design: How did you first become interested in combining healing and interior design?
Laurence Carr: They are both topics that I've always felt passionate about, and from the start, I merged my love of wellbeing and healing into my work. But then, the deeper I got into the design industry, the more I learned about the industry's impact on the environment. I felt certain that, with the right kind of education and efforts to raise awareness, we could be a large part of the solution to turn things around and lead other industries toward a more sustainable, healthy future as well. I am honored to be a large part of this vital movement.
ID: How has the COVID-19 pandemic changed how you think about wellness and healing in residential interiors?
LC: It has definitely increased consumer desire for homes and spaces that support wellbeing and healing, which is a small silver lining in this challenging time. This increased demand is forcing the industry to adapt, which is bringing sustainability, healthy materials, and supportive design to the forefront.
The pandemic has sharpened my focus on this work and is helping amplify the potential for the spaces and places we design to be safe havens of wellbeing, convenience, and ease.
ID: Are there any specific design categories that you wish had more healthy alternatives?
LC: I'd love to see more healthy options in flooring and paint, as they cover the largest amount of spaces in interiors. But there is progress happening! Cork and linoleum are wonderful alternatives to some of the more troublesome yet popular choices, such as LVT (luxury vinyl tile), made of environmentally-hazardous PVC, which is taking over the flooring category in terrifying proportions. Carpets are often treated with chemicals to avoid fires, staining or microbials. Conventional paint is problematic too, as it has many more harmful ingredients than just VOCs.
I think of healthy materials as those which do not contribute large amounts of CO2 to the atmosphere. The embodied carbon (the greenhouse gas emissions resulting from the manufacturing, transportation, installation, maintenance, and disposal of materials) is a main focus, as well as what it's made of and where it was sourced.
ID: What does "regenerative" design mean to you?
LC: Regenerative, to me, is about infinite lifecycles. When we transform what would have been waste in a landfill into a new product, a new material, we give it a new future. When something is regenerative, it feeds a new need at its end-of-life—like food waste becoming compost to help fertilize soil, so industry waste can be re-processed into parts and pieces that can go on to live again.
ID: Where is the most innovation happening right now in terms of processes that actively slow (and in some cases, reverse) the industry's impact on the environment?
LC: I feel like a broken record, but waste transformation is really the name of the game! Companies working with carbon-zero processes that use the whole plant (in this case, highly-renewable Belgian linen) and eliminate waste, like Libeco, are extremely innovative and inspiring. LENZING uses old cotton garments to produce new, zero-waste fibers that go on to have a diverse list of end-uses thanks to their REFIBRA technology. I'm seeing more companies offering "take back" programs—so when you're done with a piece of furniture, for example—instead of selling or trashing it, you can return it to the company who made it, where they break it down and recycle or upcycle those elements into new products. These are all extremely exciting developments that I hope to see adopted more broadly.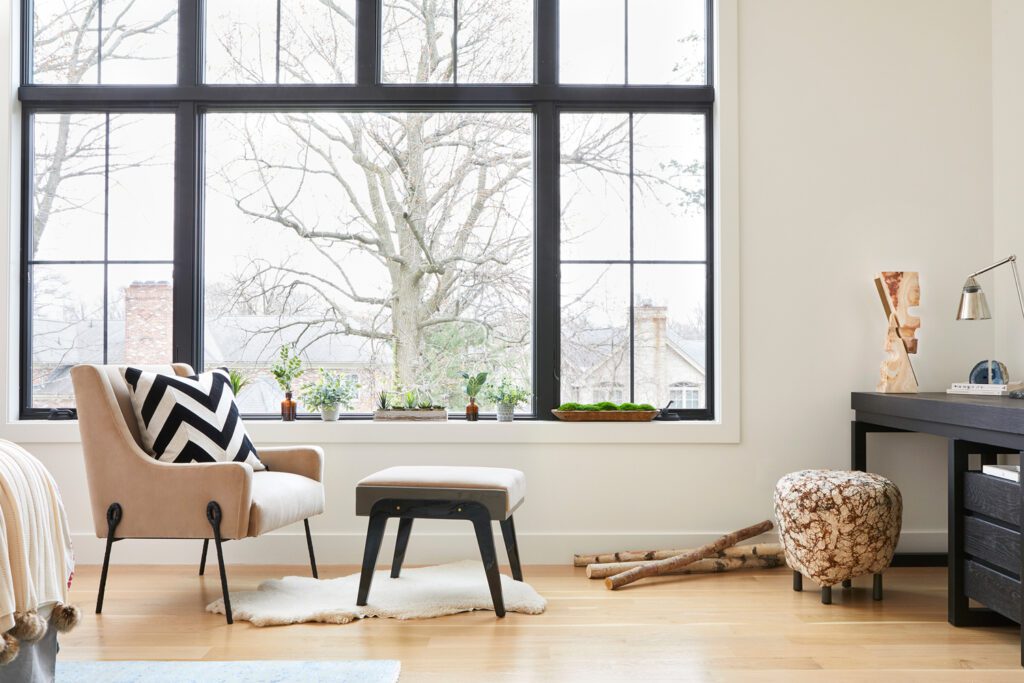 ID: What have been some of the biggest challenges to your commitment to sustainable design?
LC: Slow adoption is really the biggest challenge. Some people still aren't convinced that climate change is a tremendous threat, or that simple changes across one industry can be a major part of the solution. I do feel that this is slowly changing, though, and I'm quite encouraged by the progress I'm seeing in recent years as more companies step up their sustainability efforts.
ID: Having grown up in France and Europe, do you think that wellness in design means something different to Europeans than it does to Americans?
LC: Europeans embrace slow living as part of their everyday wellness routines. Walks in nature, home cooking with fresh ingredients picked in their organic garden, and enjoying social gatherings over good food and wine is a way of living. To me, it is a culture of relaxation. But, this does not get in the way of hard work! Rather, these activities support it.
Americans' perception of wellness is often more about fitness, making a plans to start a specific diet (keto, plant based, low carb), doing yoga or cycling as a new practice… all with the goal of embracing holistic wellness. The culture of busy-ness prevails and it seems people are more keen to find quick fixes to their malaise than make longer-term lifestyle investments. These cultural differences highlight the variances between how the concept of wellness is perceived and achieved from country to country.
ID: Did you attend Salone del Mobile this year? What role do trade shows play in today's design arena?
LC: Unfortunately, I could not attend this year, but it is usually one of my favorite events of the year when I am able to go! Trade shows are a wonderful way for companies to share their progress toward circularity, sustainability, and wellness, raise awareness about the importance of this issue, and learn from each other.
ID: What is on deck for the next six months within your design practice?
LC: We recently finished airing season one of my EarthXTV original series Chez Laurence, where I spotlight furnishings and textile manufacturers who are pioneering circular methods in their work—and are now gearing up for season two, which will take up a lot of my time and attention over the next six months. I'm also looking forward to debuting an original vignette for the Sustainability Stories activation at High Point Market in October, where I'll also be hosting an expert panel on circularity.
ID: What is keeping you inspired right now?
LC: Nature! Nature is my ever-present muse in work and life. That's part of why I feel so fiercely protective of the environment. On a personal note, my children inspire me deeply, and knowing that my work can contribute to a safer, healthier future for their generation means so much to me.