10 Questions With… Tiffany Howell
Tiffany Howell packed in almost a lifetime of experiences before turning to design. Creativity factored into all of them. A self-described nomad, she was born in Bakersfield, California, and grew up in Portland and Vancouver. Early on, she was a dancer and earned a college dance scholarship. But she was drawn to study fashion, and San Francisco beckoned with a job offer while still in college. Then came modeling, a movie role, and a move to Los Angeles "for its creative energy and old Hollywood glamour." In her 20's, she determined her fascination for life behind the lens. As luck would have it, she got to work with legendary photographer Herb Ritts and was surrounded by an entourage of artists, directors, and set designers, "who took me under their wing," she recounts. Ergo her introduction and immersion into the many facets of design. Calling on her diverse background, she launched her design studio Night Palm along with William Melton in 2016.
Interior Design: Wow, Herb Ritts. How did you meet him and what kind of work did you do?
Tiffany Howell: A friend of a friend introduced me to Billy Hayden, Herb's partner, and we hit it off. I started at Ritts/Hayden as an assistant and worked my way up to executive producer while being mentored by Billy. I had over 10 directors I was responsible for including Mike Figgis, Herb, and the Douglas Brothers. I opened a music video division and eventually left to start my own production company.
ID: How did you embark on learning about the profession of design?
TH: My mentors were never in interior design. I taught myself everything I know just by getting out there and doing it. My journey was knowing that I didn't want to do anything else but this. I live and breathe design.
ID: What is the scope of your work? How did you obtain early commissions?
TH: We do both commercial and residential, but most of our projects are high-end residential. I got everything by word of mouth. I did a few projects for some young actresses, and they referred me to their friends. The circle kept getting bigger and bigger.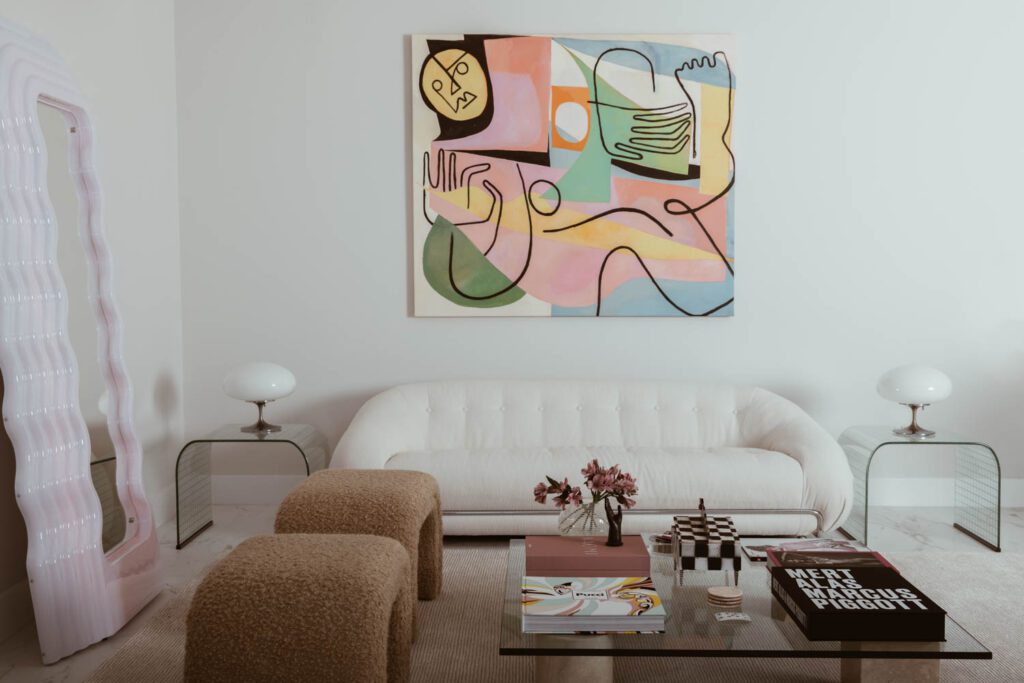 ID: Though projects are different, is there a common thread running through them?
TH: A common thread is our use of European vintage with an emphasis on Italian '70's and French '60's design. We love using lush colors and textures. We're very drawn to sculptural and artful shapes so we find ourselves fabricating more and more pieces. I believe all our projects should not only tell the story of our design, but of our clients as well.
ID: Gold-Diggers, your Hollywood hotel is sui generis. Touring it, Interior Design discovered it to be literally and figuratively sexy (the site a one-time strip club), and rock-and-roll, aimed at a music-scene clientele along with the cool recording studio in a separate building at the rear. How did it happen? Tell us more about your vision.
TH: I met Dave Neupert, the owner, and he trusted me to bring the creative vision to life. The muse was the Hotel Chelsea in New York. I wanted to create a place where creatives could rub elbows and inspire each other. I gave each room its own personality since there are 11 rooms and typically 11 songs on an album. Each room received a song title. I wanted the hotel and bar to embody a bit of old Hollywood Rock n' Roll grit meets beautiful boutique hotel. Nothing too precious. Leon Bridges recorded his album Gold-Diggers while living there.
ID: How did the name Night Palm come about?
TH: It came from a poem I wrote about living in Silver Lake. We're drawn to romantic design, and our work is often inspired by fashion, music, and cinema.
ID: What's the studio like?
TH: Our studio, in the Hancock Park area of Los Angeles, is in a historical French Art Deco building called Chateau Rossmore. We wanted to design it to feel more like a fun apartment than a traditional office space.
ID: How did you keep active and what did you learn during the pandemic?
TH: Construction continued, and we worked the entire time during the pandemic. I did a few properties remotely, which was a challenge. I learned I am a visual and tactile person, touching, feeling, and seeing things in person. It was interesting to note the shift in clients during this time. Our clients were able to understand more about their spaces and their desires for them.
ID: What would be your dream project?
TH: We want to have our Diane Lane in "Under the Tuscan Sun" moment, renovating an old villa and bringing the romance back to life in the Italian countryside. Throw in an Italian 1970's-influenced discotheque, and we'd be in heaven. 
ID: If you hadn't been a designer, dancer, model, you'd have been?
TH: I would've been a poet or a flower farmer with a peacock rescue. Basically "Grey Gardens."