10 Questions With… Vicente Wolf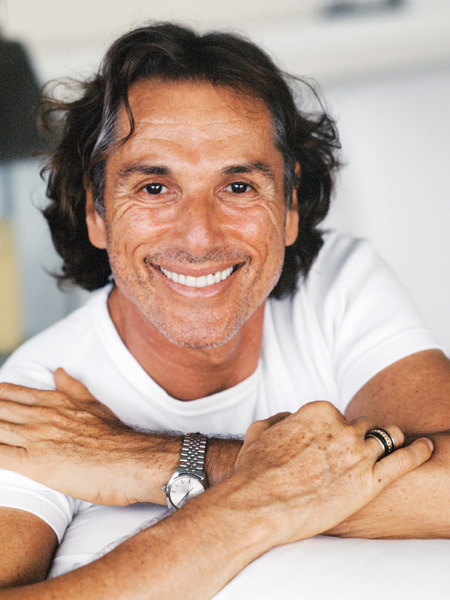 Cuban-born interior designer, photographer, author, lecturer, and art aficionado

Vicente Wolf

has offered his sumptuous yet pared-down perspective to our industry for nearly four decades. His work – private, corporate, and throughout the hospitality sector – has long declared him an icon, while his sought after partnerships with companies like

Ann Sachs

and

Baccarat

suggest an elemental business savvy. Here, he invited us into his collaborative process and offers the secrets to his monumental success.

Interior Design: As you steer the vision of the many projects that come to your team at Vicente Wolf Associates, how do you keep cohesion within your design team?


Vicente Wolf: It's about bringing a great variety of projects into the office – from production design, to a set, to a charity event, to working on rehearsals for the Joyce Theater. Everyone gets involved, and there's always a sense of excitement.

ID: And what would you say you look for in your creative team?


VW: First and foremost, I look for support, those who can execute the mechanical design, from the drafting to penwork to organization. Certainly my team needs to be creative, though the most important necessity is the ability to do all I can't do at this point, meaning actually run projects and keep things on task.

ID: You've been making such significant contributions to the interiors world for quite a while. How do you keep the experience inspiring and fresh?


VW: I'd have to say by traveling. Travel, of all my experiences, has trained my eye to be its best and I continually use it to generate creativity. Be it at Burning Man or in the jungles of Borneo, it's all about being inspired and seeing things in a different way.



A family room in New York by Vicente Wolf Associates. Photo courtesy of Vicente Wolf Associates.




ID: Do you consider any particular structure or locale to be a wellspring of inspiration?


VW: I actually don't go to any one place and consider it a constant source of inspiration. As I say when I'm teaching [through Parsons School of Design], "Look around, and it is there." It can be as stupid as a grate on the street or the way boxes are stacked that presents a really creative solution.

ID: Meaning, the greatest inspiration can be in your own back yard, so to speak?


VW: I'm definitely not trying to belittle the "search for inspiration." I just notice that many interior designers are looking at other people's work in magazines and so on, meaning they're looking at projects that were completed up to two years ago. I say, look within.

ID: You mentioned teaching… What does the opportunity to lecture to burgeoning designers afford you?


VW: It's about paying back. I just think back to how I was helped when I was getting started. It's not always easy… A good teacher doesn't give the answers but lets his students come up with their own, whether you agree or not. Sometimes when I teach, I will think, I don't like that, but perhaps there is a client out there who does.

ID: Would you agree that in an industry as large as the design world, there is room for a wide spectrum of taste levels and solutions?


VW: Water seeks its own level. I think you become successful when you trust your gut. You have to ask, "Do I believe in what I'm doing?"

ID: And what of those clients with whom you work? What kind of person makes the process exciting and inspiring?

VW: I appreciate an intelligent person, who respects what it is we do.

ID: How much collaboration do you invite during a project?


VW: I love it when a client is clear about the emotion they'd like a project to have, yet doesn't get too hung up on specifics. I'm a pro in what I do, and at the end of the day I know more than you in this process, otherwise I'd be hiring you.

ID: What sticks out for you as you look back at all you've accomplished?


VW: I am proud to know I've survived in this for thirty-eight years, and have come up with many solutions to many problems.