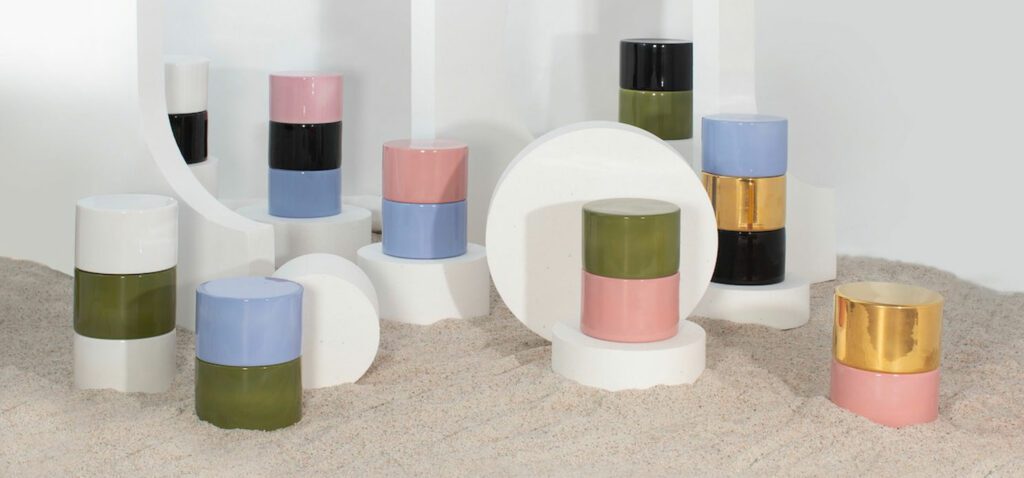 16 Furnishing Highlights from 3daysofdesign 2021 in Copenhagen
More than three days could easily be consumed to fully embrace 3daysofdesign 2021, held in Copenhagen this month—despite a global pandemic. In showrooms, galleries, and special event spaces around the city, there was no shortage of freshly launched furnishings, with much of the industry flying in directly from the Milan Furniture Fair. Once again the seemingly effortless ethos of Scandinavian design shined (or rather, was painstakingly hand-waxed to a soft touch, as one table collection is).
From a surprising candle holder met with much fanfare to a kit embracing 1970s electronics nostalgia to a round and layered easy chair and more than a few designs dusted off from the archives of Danish design masters, here are 16 furnishings that caught our eye at 3daysofdesign 2021.
Interconnect Candle Holder by Colin King Studio for Menu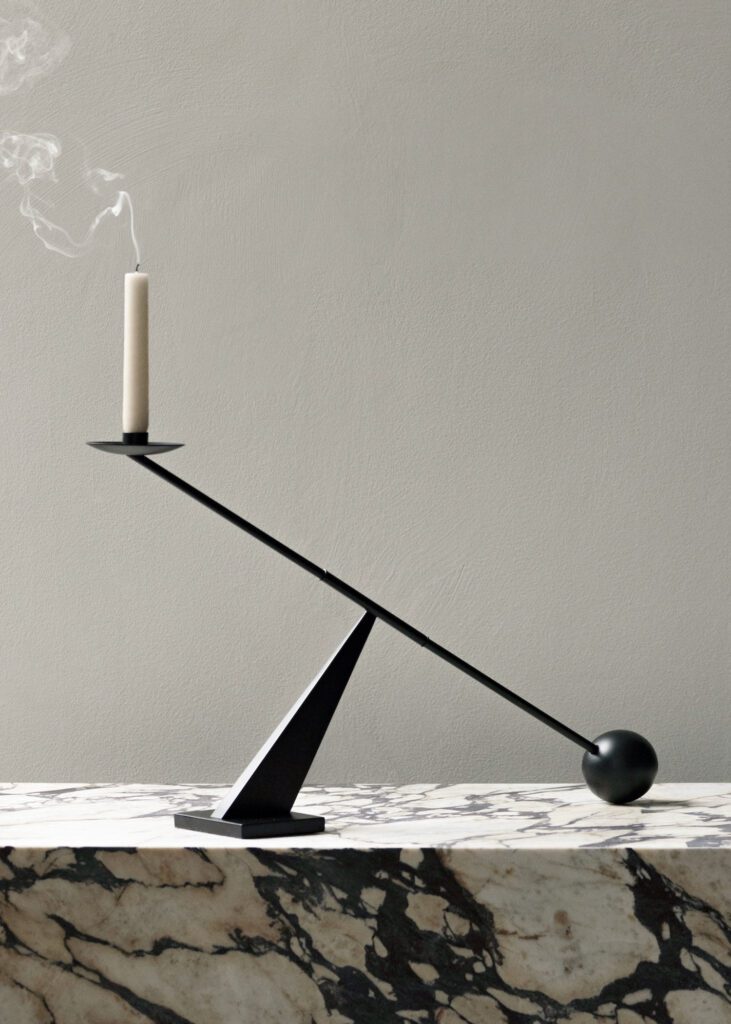 A pronounced geometric celebration of a single candle that makes for an unorthodox center piece, the Interconnect Candle Holder by Colin King Studio for Menu is available in brass or painted steel.
Beogram 4000-series Service Upgrade Kit from Bang & Olufsen
Nostalgia for the 1970s is great..until you try hooking up the speakers. What if you could upgrade a record player half a century old with current tech? "We see e-waste climbing at a large scale," said Kresten Bjørn Krab-Bjerre, creative director of design at Bang & Olufsen as he presented the electronic's company's Beogram 4000-series Service Upgrade Kit. With the kit, a vintage Beogram turntable1, introduced in the 1970s, can be restored and connected to a modern sound system.
Easy Chair by Verner Panton for Verpan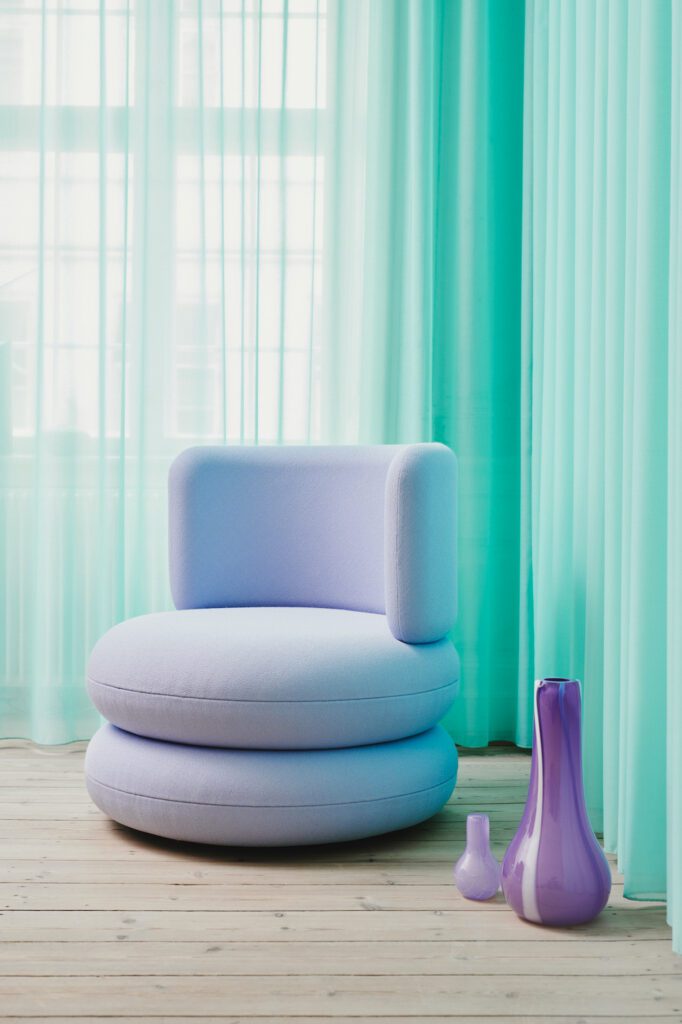 Plush and layered round shapes determine the geometry of Easy Chair by Verner Panton, designed in 1963. Now the sculptural, fully-upholstered chair returns to production, thanks to the archives of Verpan, the licensed manufacturer of designs by the Danish architect and designer.
Adesso by Josefine Winding for Gubi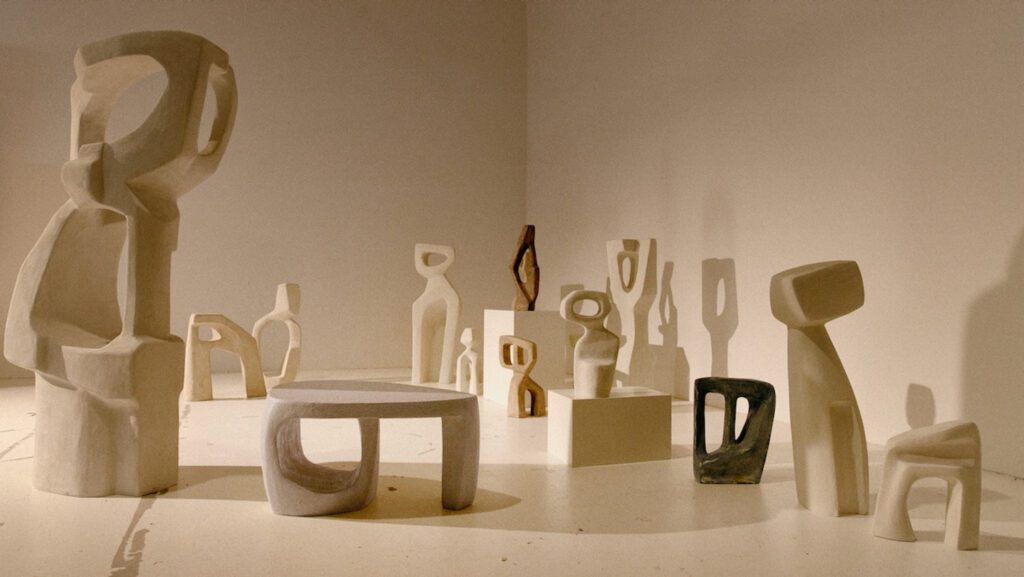 Adesso, a limited-edition series of six cast-concrete side tables by Josefine Winding in collaboration with Gubi and available through Arden Asbæk Gallery, premiered among 15 sculptures, also by Winding, in the exhibition "Adesso: In the Moment." A portion of the tables' proceeds will be donated to charity SOS Children's Villages through MyFoundation.
Jari Low by OEO Studio for Brdr. Krüger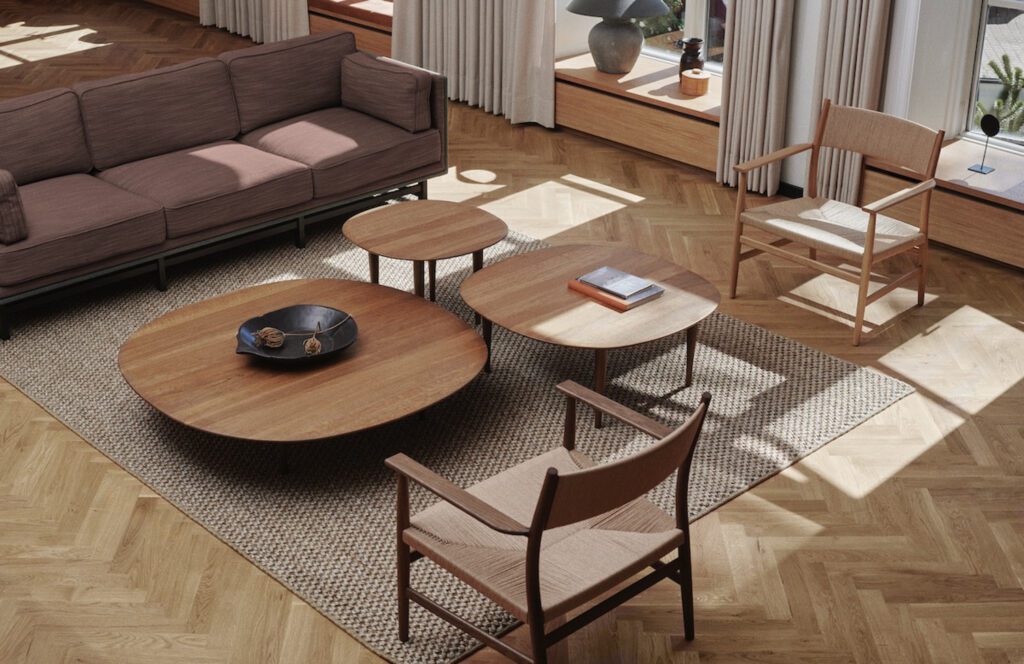 Initially designed for Inua, world-renowned Copenhagen restaurant Noma's Tokyo outpost, solid oak Jari low tables by OEO Studio can be shipped flat-packed. "The idea was tables as low as possible that could break down an otherwise slightly hard environment with organic and soft shapes," says Jonas Krüger, creative director and co-owner of Brdr. Krüger, the 5th generation, family-owned manufacturer of the tables. "The different sizes can adapt to any seating setting, singled out or in clusters." The tables are hand-waxed for a soft touch and available in six variations, from small side table to large elliptical.
Space Invaders by Luca Nichetto for Stellar Works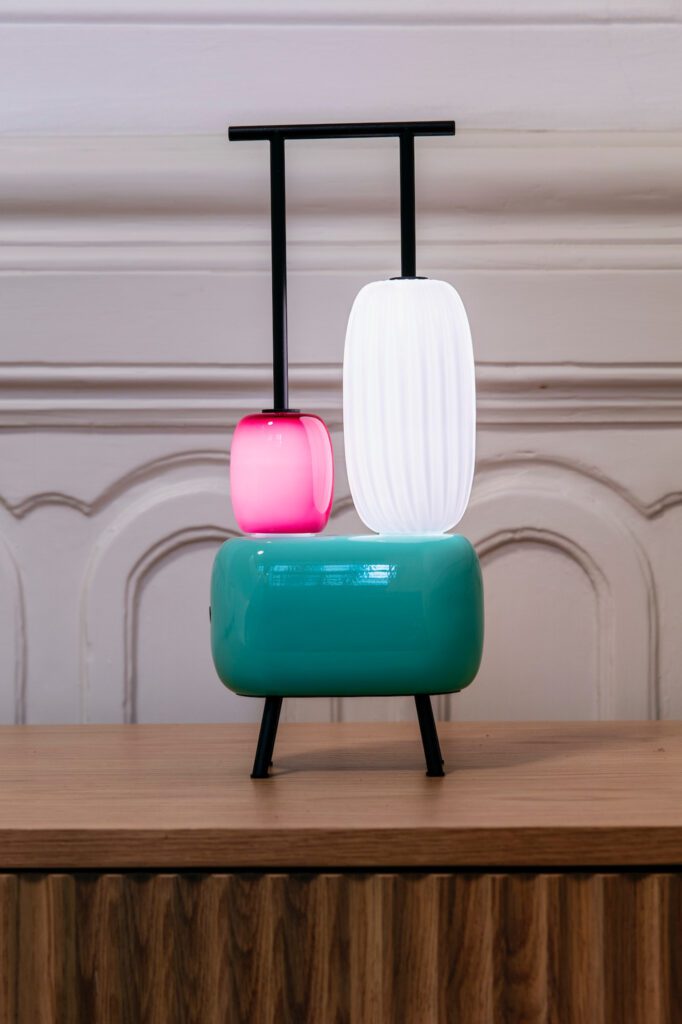 Stacked supersized Murano glass beads form the blown glass and steel Dhala table lamp in the new Space Invaders collection by Luca Nichetto for Stellar Works. The collection also includes an additional lamp and two trays.
Oxford by Fritz Hansen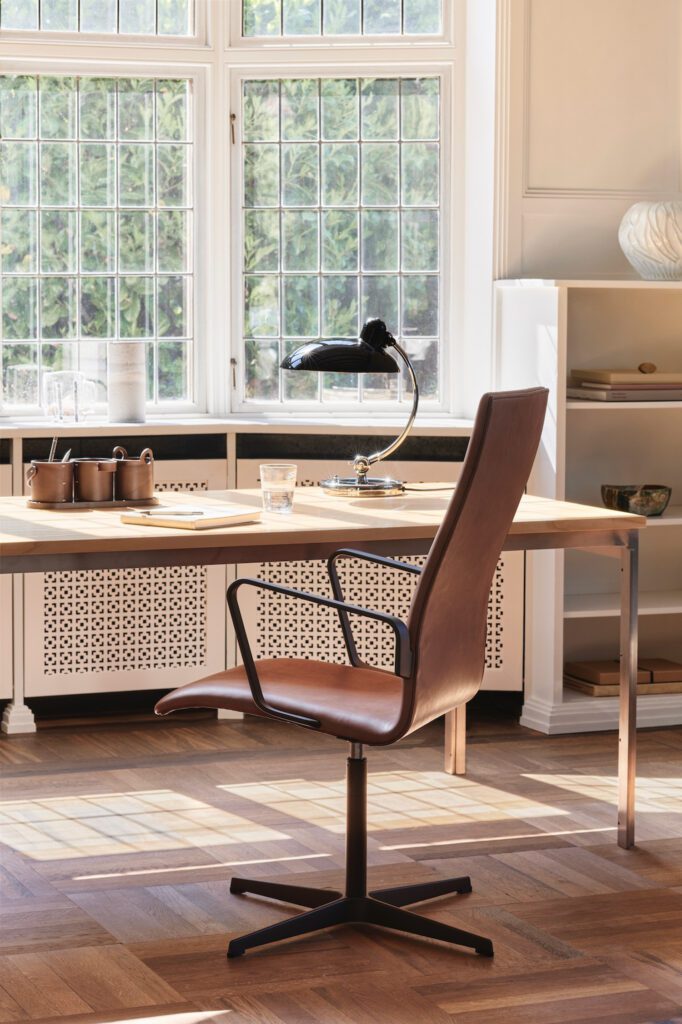 Working from home during the global pandemic had many pining for that rare find: a comfortable, ergonomic home office chair that's not ugly. In steps Fritz Hansen with the Oxford task chair. Initially conceived by Arne Jacobsen for professors at St. Catherine's College in Oxford, England, the chair returns updated with modern necessities like increased lumbar support, adjustable seat, and angled armrests that tuck under a desk.
Imi by Sebastian Herkner for Pulpo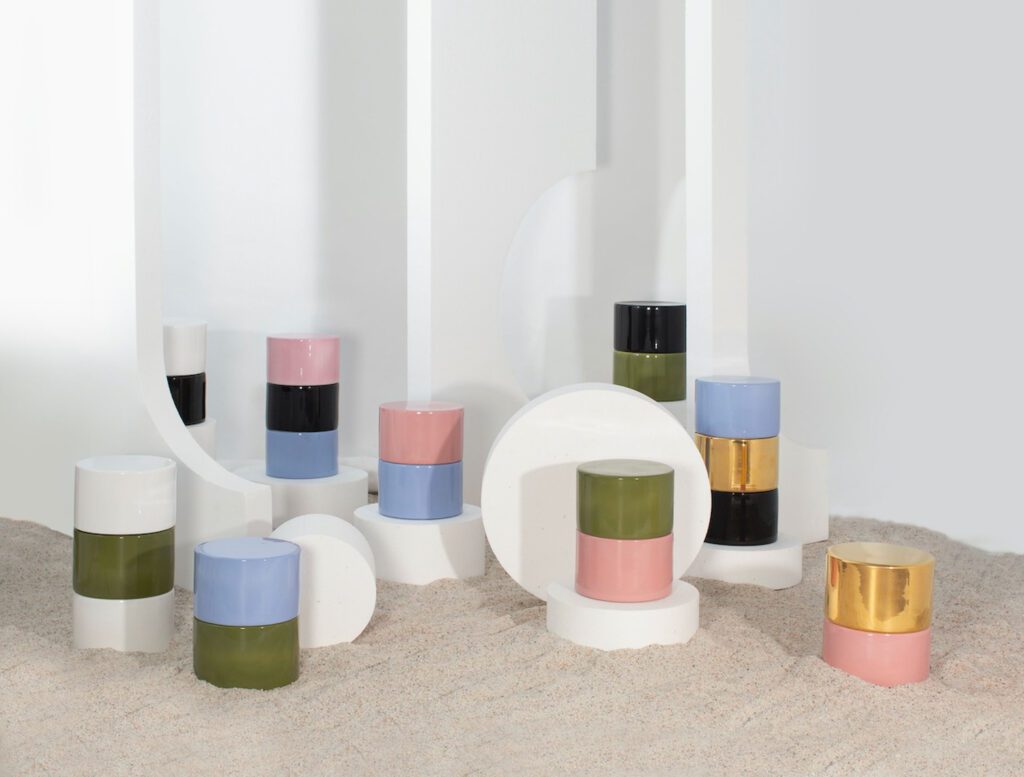 Handmade ceramic side table Imi by Sebastian Herkner for Pulpo is a colorful, shiny, and round tribute to German minimal artist Imi Knoebel. Two sizes are offered in several color combinations.
Barnum pouf by Vipp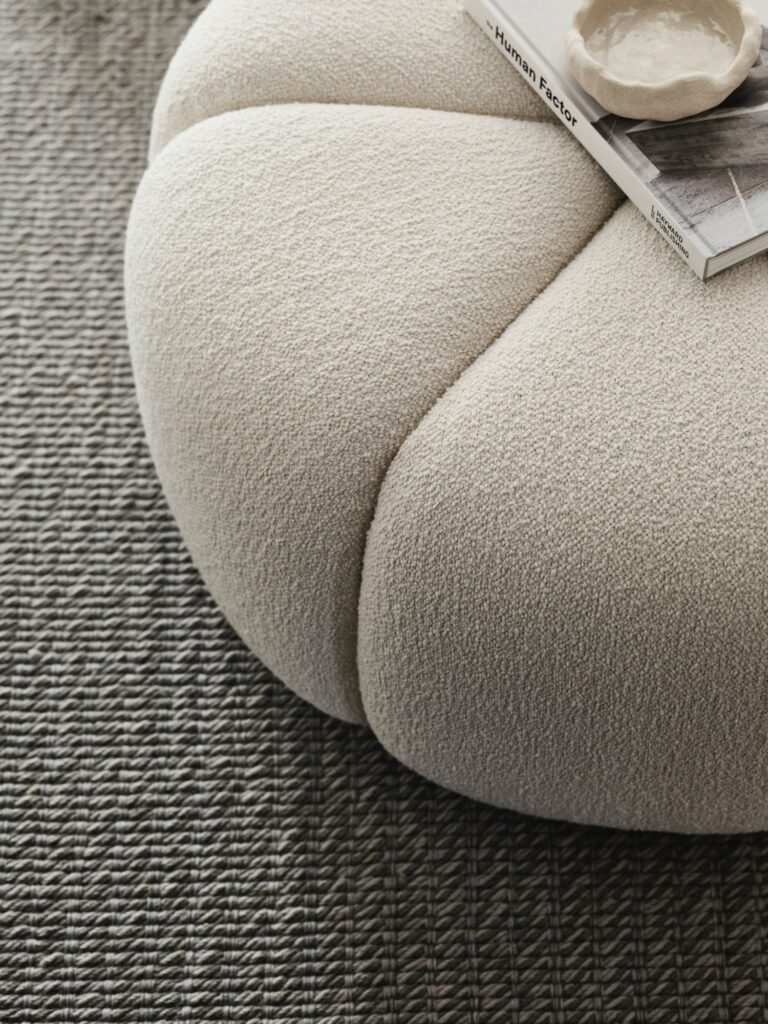 Six-piece construction adds sculptural beauty to the versatile Pouf—be it seat, footrest, or side table—from Vipp. On the occasion of 3daysofdesign and to take full advantage of a one-of-a-kind showroom space in a century-old former pencil factory, Vipp also launched its own dining experience. An initiative to engage with the local community, Vipp Supper Club will highlight diverse chefs. First in line is Italian chef Riccardo Canella, formerly research and development sous chef at Noma.
Watercolour by Lykke Bloch Kjær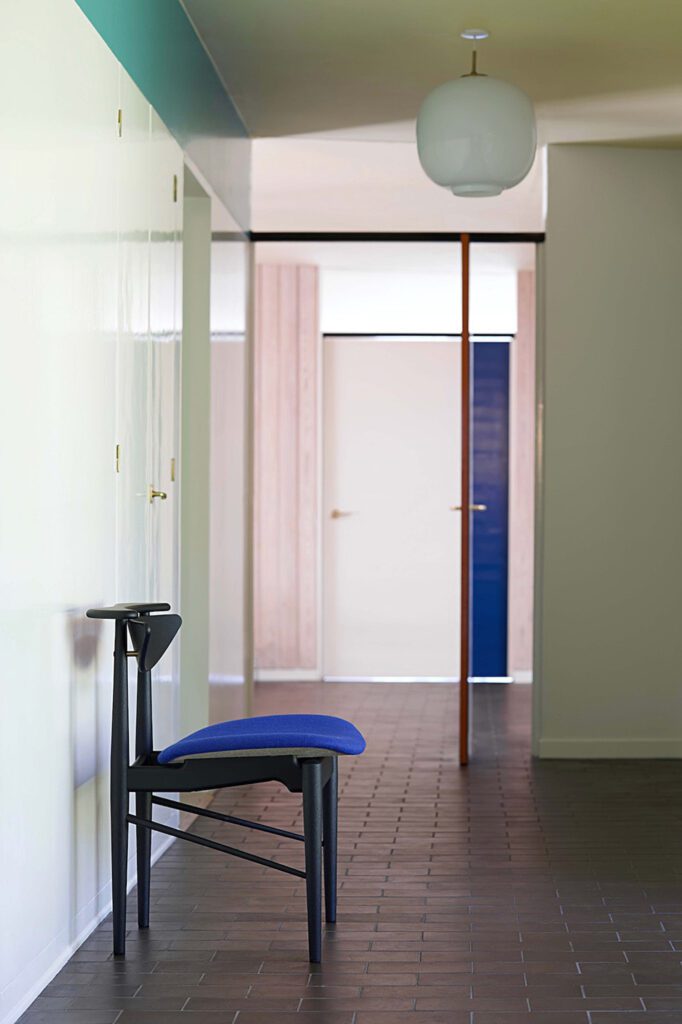 Watercolor paintings by Danish architect and designer Finn Juhl inspired the hues found in the Watercolour textile collection by Lykke Bloch Kjær for House of Finn Juhl. Locally woven by Danish weaver Kjellerup Væveri, the collection is available in 32 shades in a wool-cotton blend. Shown is Juhl's Reading dining chair, upholstered in Blue Bonnet.

Front desk by Pedro Sottomayor for Mor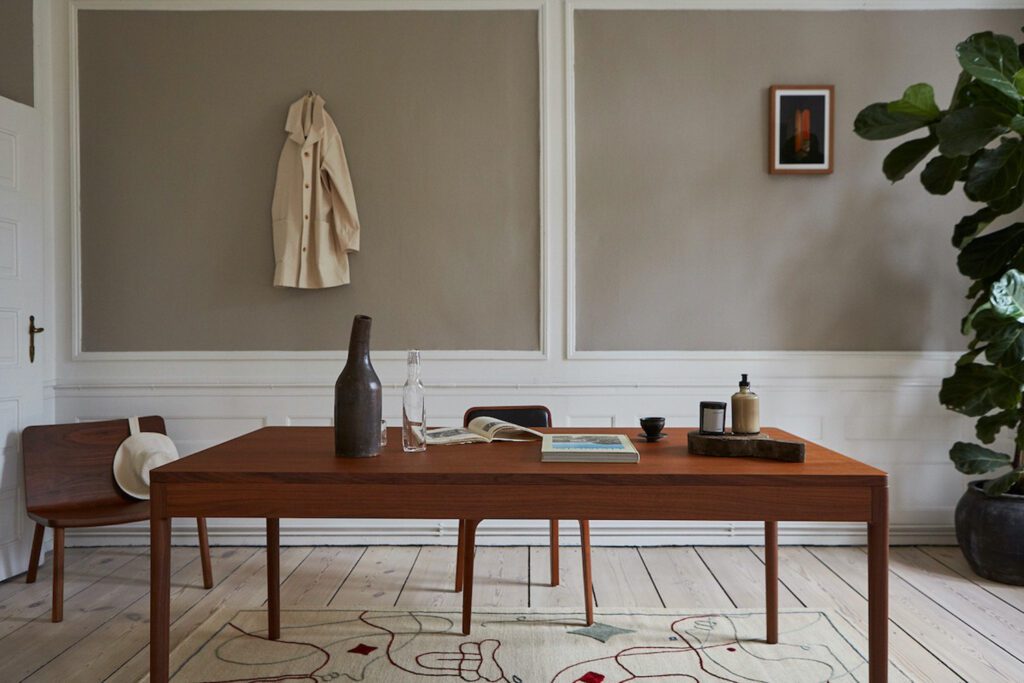 Designer Pedro Sottomayor, founder of Mor, a new Portuguese furniture brand embracing simplicity, chose a sunny Copenhagen apartment for its entry into the global market. Two nearly invisible drawers and cable storage are integrated into the slim lines of the Front desk, also by Sottomayor. Available in various sizes in solid ash, oak, or walnut, the desk can be used for home office or hotel reception.
Konami by Damian Williamson for Fredericia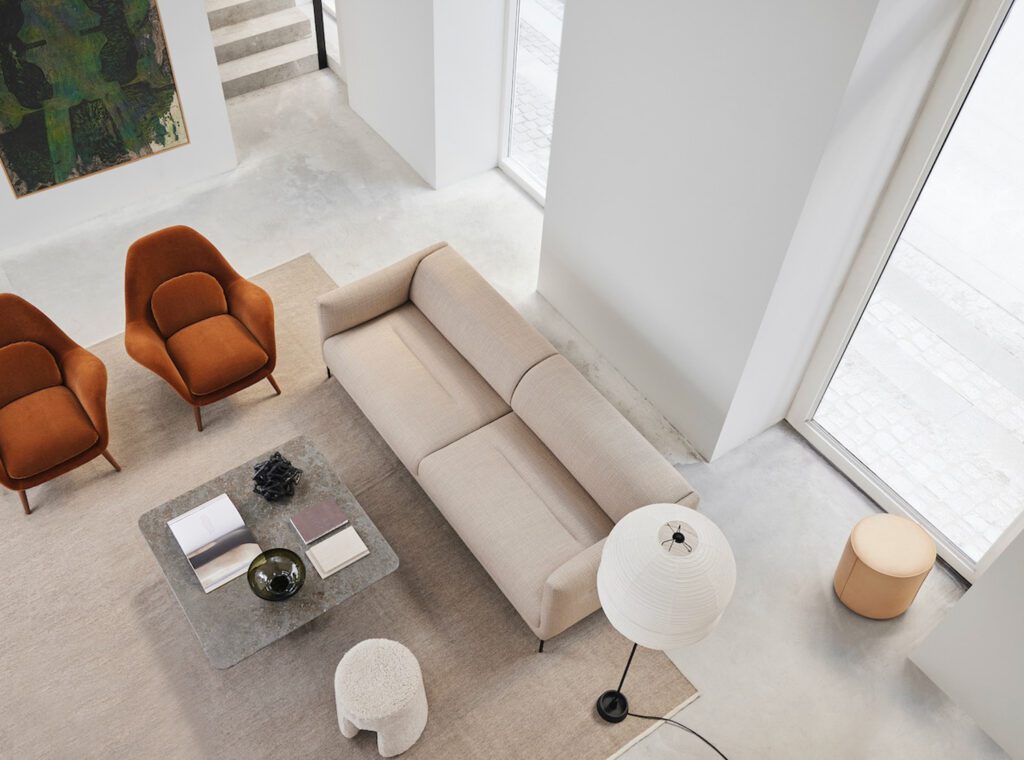 The inner armrests of Damian Williamson's upholstered Konami sofa for Fredericia softly curve inward like a 'little wave'—hence its Japanese name, which means the same.
Recycled Noah by Trimm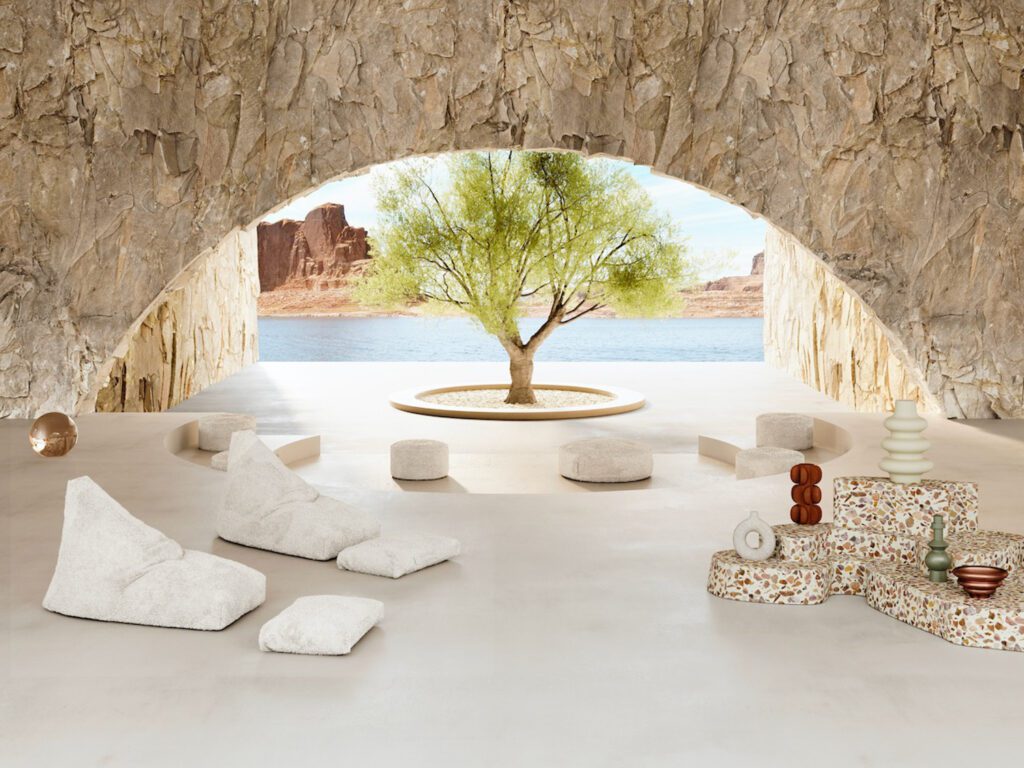 For Recycled Noah, a collection of indoor lounge furniture, manufacturer Trimm Copenhagen deep dives into sustainability. Washable, zero waste, 100 percent recycled textile in earth-tones is paired with a soft, beaded interior of 100 percent recycled polyester fiber.
OW58 T-Chair by Ole Wanscher for Carl Hansen & Søn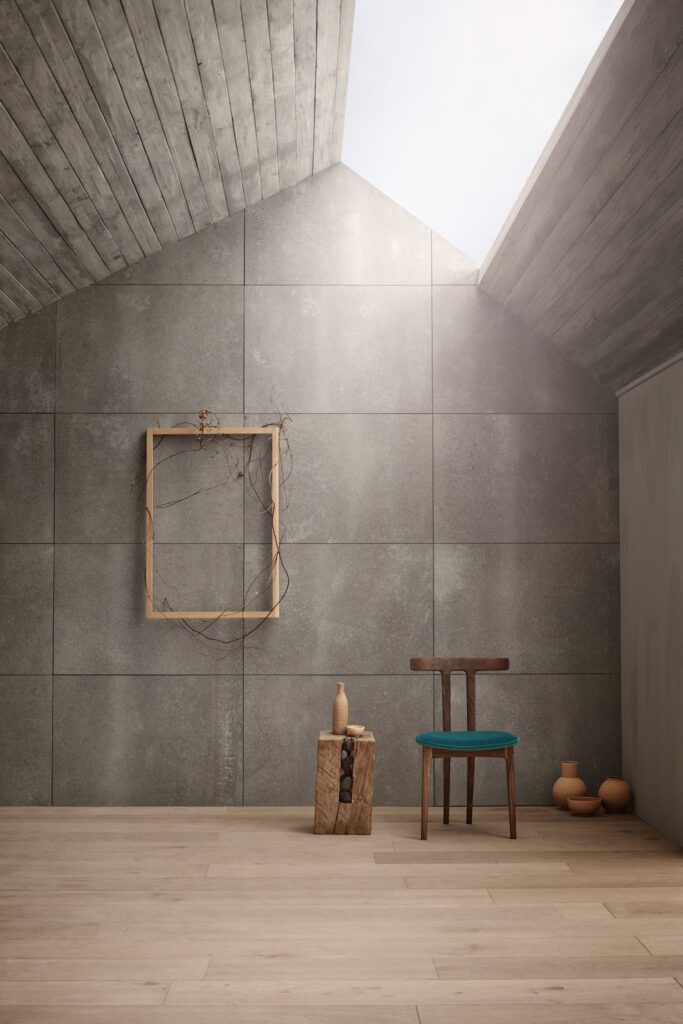 A T-shaped backrest points out the craftsmanship of the OW58 T-Chair by Ole Wanscher for Carl Hansen & Søn. The archival piece, almost an inch higher than the one designed in 1958 to serve a taller humanity, joins the two chairs and a stool by the designer already in production by the manufacturer.
Connect Sofa by Anderssen & Voll for Muuto
Small feet are behind the elegant hover of the wood-framed Connect Sofa by Anderssen & Voll for Muuto. To achieve optimal comfort, a deep, low seat and loose upholstery conceal cold foam filing and cotton wadding.
Twiggy Wood by Marc Sadler for Foscarini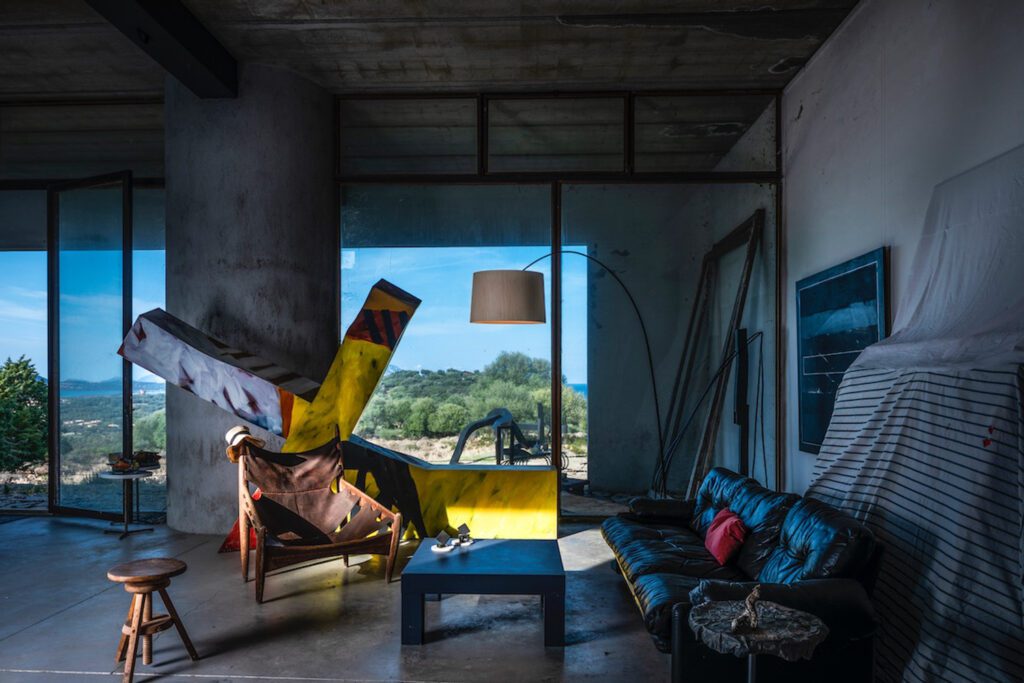 The Twiggy lamp by Marc Sadler for Foscarini earns an update just in time for its 15th birthday. With a honey-hued wood diffuser, carbon fiber stem, and a new LED circuit, Twiggy Wood is warmer in both light source and form.