2013 Hospitality Giants: Growth
Firms reported nearly 900 projects more than the year before—the total is now 3,720 projects or 202 million square feet. As mentioned, the biggest number of new commissions came from hotels and restaurants. Compare the number of luxury hotel projects this time (816) versus last time (704). For boutique hotels, it's 247 versus 166. For mid-level or economy, it's 627 versus 460. Next year, 58 percent of all hospitality revenue, or $402 million, is expected to come from hotels. Restaurant numbers were even more impressive, rising 59 percent to 979 projects. More than 1,000 restaurant projects are predicted for next time around.

Renovations continue to dominate. On average, the breakdown is 57 percent renovation and 43 percent new construction. But half the Giants, taken individually, were over the 60 percent mark for renovations, and six firms did nothing but renovations. The total dollar value brought in from furniture, fixtures, and construction product grew 12 percent, to $18 billion. That trumps the predictions by $1.1 billion.

The question is, as always: Where will future clients come from? Though the amount of work done outside the U.S. has now leveled off, for three years straight, at about a third, 24 of these Giants do more than half their work overseas. China is still the projected growth champ, as 28 of the Giants agreed.

But take a closer look. Last year, it was 39 firms. Meanwhile, 15 firms see promise in the United Arab Emirates, versus 10 previously, and nine point to Eastern Europe, almost twice as many as before. In the U.S., the West Coast will be the hotbed next year, 29 of the Giants say, and 28 point to the South. Only 19 say the Midwest, but it's notable that a mere 14 said so before.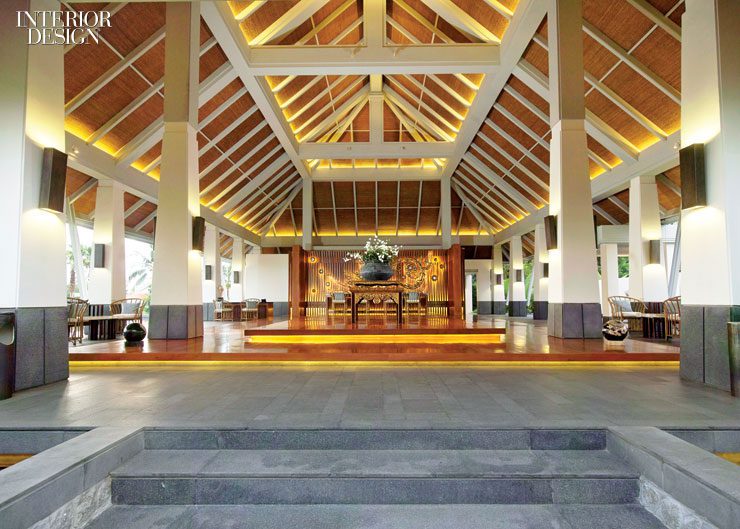 Blink Design Group designed the Regent Phuket Cape Panwa in Thailand. Photography by Se Ee Kuong Richard.




Heitz Parsons Sadek

(50) 100%




DiLeonardo

(12) 98%




HBA

(1) 97%




HOK

(7) 96



Bilkey Llinas Design

(5) 95




Pierre-Yves Rochon

(11) 95




Parker-Torres Design

(49) 95



Steelman Partners

(19) 90




Duncan Miller Ullmann Design

(25) 80




Wilson Associates

(4) 75



J/Brice Design International

(44) 75




2013 Hospitality Giants Listing


2013 Hospitality Giants: Firms and Fees