25 Partner Products from the May/June Edition of LAUNCH
Interior Design's May/June 2020 issue features a new edition of LAUNCH™, a powerful tool for the architecture and design community. Brought to you by the editors of Interior Design, LAUNCH exists to streamline the specification process. Here, we highlight 25 product picks from our partners, available now on LAUNCH.
1. Reale by DDC
With an intricate timber-truss base topped in glass, Carlo Mollino's relaunched 1964 design is an engineering masterpiece, equally suited for use as a desk or a conference or dining table.
Standout: Coming in three sizes between 75" to 110" long, the glass top comes in extra clear or smoky gray while natural or black-varnished oak or walnut makes the base.
>Learn more about Reale on LAUNCH
2. Kylo by Bernhardt Design
Claudio Bellini gives the traditional swivel chair an aesthetic revamp, its soft curves, wide seat, and ergonomic shape allowing for maximum comfort.
Standouts: There are four designs with mid- and high-back versions, with options for polished aluminum or matte black powder-coat base.
>Learn more about Kylo on LAUNCH
3. Kemizo by Altura
Diagonal gestures and curvaceous profiles unify the table collection's four styles, their forms highlighted by optional metal inlays and 32 standard finishes.
Standouts: Designed by Jeff Behnke and Roland Zehetbauer, this American-made table comes in four wood species with three inlay finishes.
>Learn more about Kamizo on LAUNCH
4. Ultraleather Reef Pro by Ultrafabrics
Inspired by sea coral, this performance fabric with understated two-tone texture offers enhanced resistance to tough stains (including ballpoint pen and ketchup) and a sophisticated sensorial experience.
Standouts: All 17 colors are bleach cleanable, made with 300,000 wyzenbeek double rubs and leads the industry in hydrolysis results for over 14 weeks. Not to mention, its SCS indoor advantage gold certified.
>Learn more about Ultraleather Reef Pro on LAUNCH
5. Flek by 3form
Durable, architectural-grade resin emulating translucent terrazzo is created from Varia panel trimmings that have been ground down, sorted, and encapsulated into new closed-loop panels.
Standouts: Each of the six colorways is made from 75% recycled content and come in 48" x 96" and 48" x 120" panels.
>Learn more about Flek on LAUNCH

6. Savoy by Ann Sacks Tile & Stone
Tiles crafted from recycled content by skilled artisans in the ancient ceramics capital of Tajimi, Japan, are offered in an extensive range of formats and glazes to introduce warmth to any setting.
Standouts: All 18 formats and 10 glazes are made with 21 percent pre-consumer recycled materials.
>Learn more about Savoy on LAUNCH
7. Universal Infinity Drain by Infinity Drain
Compatible with most types of waterproofing, the new shower-drain system—featuring a pitched channel with a clamping collar—simplifies installation and promotes barrier-free bathroom design.
Standouts: Offered in a complete, convenient kit this USA-made product has seven drain lengths fitted with either a tile insert frame or perforated grate.
>Learn more about the Universal Drain on LAUNCH
8. M75 by Davis Furniture
Both highly customizable and aesthetically sophisticated,
this executive chair by Burkhard Vogtherr and Jonathan Prestwich reduces workplace distractions by way of its intuitive, intelligent design.
Standouts: With a molded foam seat and back, plus an aluminum base, these chairs has discreet height-adjustments and lock buttons to keep the height in place, plus a built-in weight-activated mechanism for added comfort.
>Learn more about M75 on LAUNCH
9. Destination by KnollTextiles
A high-performance collection takes its cues from architecture and nature, with four bleach-cleanable upholsteries including two indoor/outdoor fabrics,
a velvet and an epingle.
Standouts: The nuanced color palette is available as four bleach-cleanable fabrics and two indoor/outdoor fabrics, all are stain resistant and highly durable.
>Learn more about Destination on LAUNCH
10. Metro by Turf
An acoustic panel system designed to fit into ceiling recesses offers a minimalist aesthetic while easily accommodating lighting and architectural elements.
Standouts: Customizable in length, all 30 colors of pet felt are made in the U.S., with up to 60 percent recycled content
>Learn more about Turf on LAUNCH

11. Porcelain Countertops by Crossville, INC
Elegant 12mm-thick porcelain slabs ideal for countertop installations offer all the advantages of tile—seductive looks and unparalleled durability among them.
Standouts: Use it indoor or out, none of the 16 colors and finishes will stain, crack, or yellow.
>Learn more about Crossville's porcelain tiles on LAUNCH
12. Color Core by Bentley Mills
An innovative twist process produces a multifaceted all-loop product with the illusion of a slight tip-shear—resulting in a visual complexity conveniently delivered in a single yarn.
Standouts: Made of type 6.6 nylon, this broadloom or carpet tile is Cradle to Cradle certified as well as LCB compliant.
>Learn more about Color Core on LAUNCH

13. Rugs by Shaw Contract
Add color and improve acoustic properties in any home or commercial space with these 100 percent recyclable nylon rugs.
Standouts: This bold design statement will transform any space quickly and easily, plus the rugs come with a built-in non-slip backing.
>Learn more about Shaw Contract's rugs on LAUNCH
14. Halo by Bernhardt Design
The company teamed with Italian design firm BrogliatoTraverso to create an ash-wood guest chair formed by subtracting unnecessary details, resulting in a minimalist, timeless piece.
Standouts: Painted and natural wood finishes are available as well as upholstered or ash-veneer seat, with abundant upholstery options.
>Learn more about Halo on LAUNCH

15. Emerald Designer Edition by Sherwin Williams
A range with exceptional performance and the company's best hide yet is available in 200 paint colors, with five designer-inspired collections ranging from warm and rustic hues to fresh, contemporary shades.
Standouts: Curated for designers, this collection has ultra-white base with flat, satin, and gloss sheens available.
>Learn more about Emerald Designers on LAUNCH

16. HardStop Decorative Protection Panels by Formica Corporation
The high-performance—and high-design—wall solution blends impact resistance and ease of install with aesthetic flexibility.
Standouts: Class A fire rated and with a treated fiberglass core, the over 400 decors allow for maximum versatility.
>Learn more about Hard Stop on LAUNCH
17. Color Portfolio App and ColorReader by Benjamin Moore
Browse fan decks on the go, match paint colors to fabrics or surfaces, and colorize rooms through virtual reality.
Standouts: Their app has it all: Augmented reality renderings; photo and video
visualizers; virtual fan decks; and color matching technology.
>Learn more about the Color Portfolio App on LAUNCH
18. Forena by Nucraft
A suite of "resimmercial"-styled credenzas conceived for multiuse entertaining/meeting spaces transcends simple storage with features like built-in refrigeration drawers, waste compartments, soundbar accommodation, and easy-to-access device charging.
Standouts: Designed by Joseph Jeup, the Forena suite comes in four styles, including chat, meeting,
and buffet-height
credenzas with veneer, lacquered polyester, or painted case options, and a plinth or steel base.
>Learn more about Forena on LAUNCH

19. Atmosphere II FR Window by Kravet Contract
A new collection of polyester drapery fabrics features fresh yet familiar designs, many pairing large-scale patterns with subtle textures for a bold and timeless look.
Standouts: Not only an excellent value for conservative budgets but also flame retardant and USA-made.
>Learn more about Atmosphere on LAUNCH
20. Invari by Brizo
With linchpin joints and sophisticated facets these bathroom fittings offer a streamlined interpretation of stately elegance.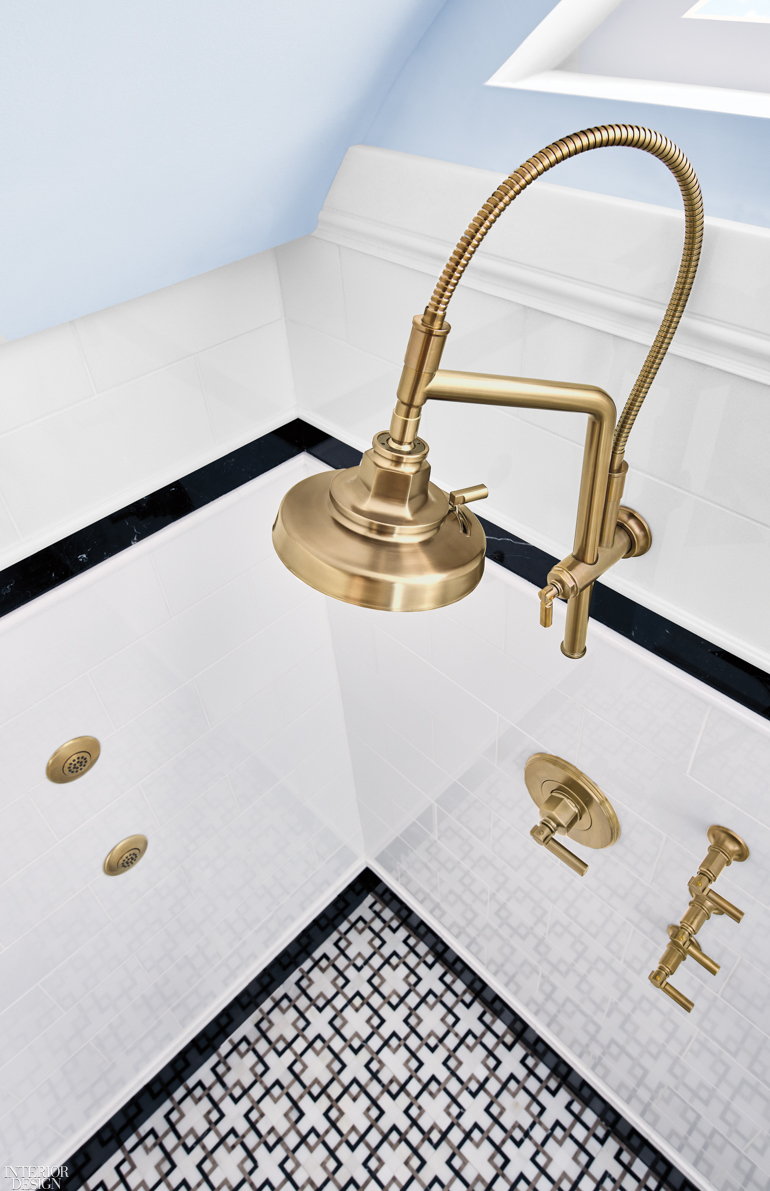 Standout: Options galore with five finishes, seven 5/8" showerheads with four spray settings, lavatory faucets can come with either lever, cross, or black crystal knob handles, and the shower arm has 10"
height adjustability.
>Learn more about Invari on LAUNCH

21. Eastwood by Craftmade
Rugged yet refined, the indoor/outdoor fan boasts nine substantial blades, a dimmable LED light, handheld and wall remote controls, and an energy-saving DC motor. Cool!
Standouts: Available in Brushed, Polished Nickel, and Espresso finishes, this fan has integrated led lighting and an optional light cap.
>Learn more about Eastwood on LAUNCH

22. Smart City by Mohawk Group
Transit maps from across the globe are reinterpreted into a collection of net positive carbon
carpets reflecting the rhythm of metropolitan life.

Standouts: Made in collaboration with Gensler, Smart City is a Living Product 12" x 36" carpet plank.
>Learn more about Smart City on LAUNCH

22. Dax by Surfaceworks
This flip-top table for collaborative, classroom-style, and small-group meetings is made to move, courtesy of its smooth-gliding casters, ultra-light aluminum legs, and lean profile.
Standouts: Easy to store and highly functional as both a display board and table.
>Learn more about Dax on LAUNCH

23. TXZ-3 by Banker Wire
The unique patterning of this sleekly modern woven-wire mesh can be enhanced by colorful decorative plating, making it an ideal option for interior applications.
Standouts: Available in plain or stainless steel, there are over 10 options between PVD, plated, and powder coated secondary finishes.
>Learn more about TXZ-3 on LAUNCH

24. Atmos by Pure + Freeform
High-performance aluminum surfaces are environmentally friendly and fully customizable, even offering the ability to incorporate different textures on the same plane.
Standouts: Not only are these 20-plus finishes sustainably made, they vary in earth and neutral tones to reflect the environmental inspiration.
>Learn more about Atmos on LAUNCH

25. Under Desk Power Dock by Doug Mockett & Company
Make outlets and USB charging easily accessible at all times with a minimalist power dock that tucks underneath the front edge of a desk or table.
Standouts: Featuring two power outlets and USB chargers, the dock comes in gloss black, white, or gray.