5 Questions With… Jonathan Marvel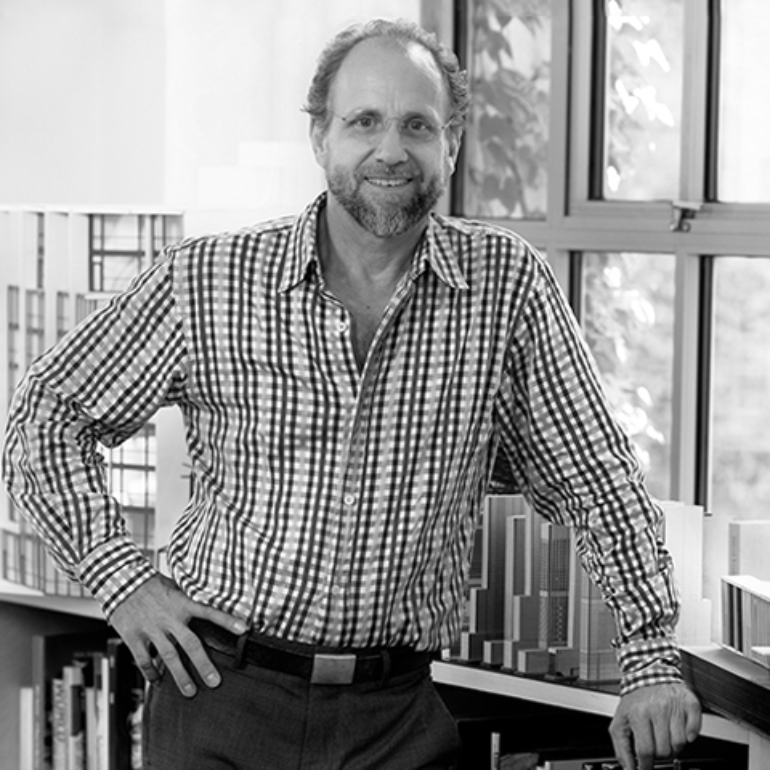 He's a great nephew of R. Buckminster Fuller. But architect Jonathan Marvel has made a name for himself completing such high-profile New York projects as St. Ann's Warehouse, which won the 2017 AIA National Architecture Award, and the Interior Design Best of Year Award–winning 1 Hotel Brooklyn Bridge. He's currently designing the 25,000-square-foot Brooklyn Public Library and the mixed-use 1 million-square-foot Building 77 in the Brooklyn Navy Yard.
But his work extends beyond the Big Apple. Founded in NY in 2013, Marvel Architects opened a second studio in 2015 in San Juan, Puerto Rico, where Marvel grew up. Today, not only are he and his 26-person team there helping repair the territory after Hurricane Maria, they're also making it more energy-efficient through Resilient Power Puerto Rico, which Marvel co-founded with lawyer Cristina Roig and landscape architect Walter Meyer of Local Office Landscape. Approximately 50% of Puerto Rico is still without power, but through RPPR, neighborhoods such as San Juan's Cano Martin Pena, where the 26,000 residents don't have electricity, local community centers are now running on solar power, so residents can come there to charge cell phones, refrigerate medications, and purify water. Currently splitting his time between the two islands, Marvel takes a moment with us.
Interior Design: How bad was the damage when you first went to Puerto Rico after Hurricane Maria?
Jonathan Marvel: Devastation everywhere. Everything was brown when it had been all green. Roads were impassable. There were long, long lines for anything and everything basic. People were walking like zombies, entranced by the powerlessness and overwhelming mess.
ID: Why was it important to you to get involved, and why in this way?
JM: I'd helped my mother Lucilla prepare her San Juan home for Irma, which ended up thankfully only brushing the island. I came back to NY thinking that was going to be it for hurricane season. We were all kind of blind-sided by Maria. When it was clear it would be a direct hit, it was too late to fly to San Juan, so I watched the devastation from NY. Being so far away really heightened my desire to help our beloved island and the beautiful people of Puerto Rico. We came up with a plan to create a solar-powered prototype at our San Juan office, which fortunately stayed intact during the hurricane, and use that as a home base to power up the island with solar at any scale we could.
ID: How many solar panel and solar converter systems has your team installed so far?

JM: Three large installs for a neighborhood of 20,000 residents in the San Juan metro area. Each install of 20-30 panels, racks, inverters, and 2 Tesla batteries costs $25,000 and generates 12kwH, savings of roughly $500 per month in electricity costs.
ID: How else is your team volunteering to help with the recovery?
JM: They're doing roof rebuilds and repairing water purification systems.
ID: Would your father be proud of the work you're doing in PR?
JM: He always wanted to see Puerto Rico go solar. Actually, a few years after I was born in San Juan, he and my mother built a prototype for tropical living: a poured-in-place concrete town house with a double-height living room and a sunken conversation pit. We always lived in small, environmentally responsible, really cool houses with lots of indoor/outdoor transparency, cross ventilation, natural light, and locally sourced materials. So, yes, papi would be thrilled.
Donate to Resilient Power Puerto Rico here. Follow the recovery efforts via our Instagram, when deputy editor Annie Block joins Marvel Architects in Puerto Rico later this month.