7 Beirut Designers to Know
The seventh edition of Beirut Design Week cemented its role as a regional showcase not just for beautiful and sophisticated products, but also for conceptual design and community-based projects that examine life in a complex contemporary city. As Doreen Toutikian, co-founder and director of the design week and not-for-profit organization MENA Design Research Center, which organizes the event, says: "Making a statement in galleries and exhibitions can be easier, but is also like preaching to the mosque."
In terms of product design, the combination of a relatively young design scene and a strong legacy of craftsmanship make for intriguing results. Many of the city's designers create hybrid pieces that are informed by the collision of artisanal aesthetics, the country's rich (and recently quite troubled) history, and a thirst for making by hand or by machine.
1. Youmna Geday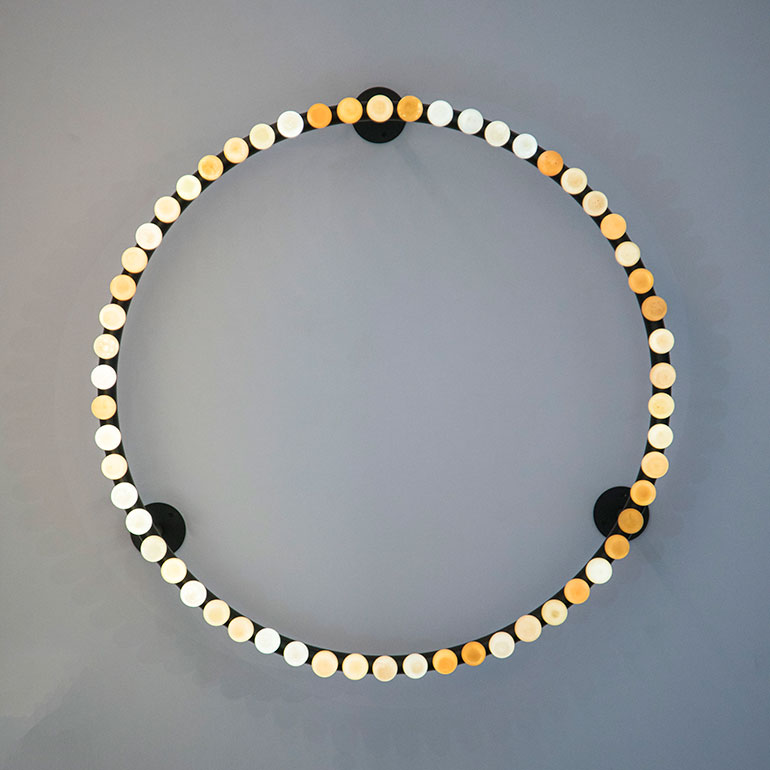 Artist Geday's Unborn Creatures of Light lamp features a ring of 60 hollowed-out and strengthened eggshells filled with LEDs. Each egg casts a different shade of light and from close up, the egg speckles and filaments create beautiful patterns on the shells and on the walls around it.
2. YAD
A joint design and craft project implemented by UNIDO (The United Nations Industrial Development Organization), YAD focuses on helping small-scale artisanal producers step out of their comfort zone and modernize their crafts and providing marketing assistance and new packaging for their products. The collection includes tableware, lampshades, curtains, cushions, and Jezz, a new line of cutlery based on the traditional Phoenix bird cutlery of Jezzine in southern Lebanon, which usually features inlaid bone. Jezz features updated handles with contemporary firebird patterns and slightly streamlined forms.
3. Wyssem Nochi
Nochi showed dumbbell-shaped glass candleholders cleverly called Beirut Power in a reference to the frequent power cuts experienced in Lebanon on a daily basis. They come in both platinum-plated silver and a see-through glass version.
4. Marianne Sargi & Zeina Aboul Hosn
Marianne Sargi and Zeina Aboul Hosn share a workspace and realized by chance that the ceramics pieces they were creating—the tall and tapering bottles of Aboul Hosn and the moreish mushrooms of Sargi—worked enormously well as families of one-off pieces. Unearthly is the appealing and somewhat supernatural fruits of their collaborative labor.
5. Blocksfinj
Chrystèle Karam's Blocksfinj brand creates versatile, inventive, and affordable furniture, accessories, and objects out of foam in a process she likes to call "industrial craftsmanship." Experiments with new production techniques and material combinations at her family's foam factory just outside Beirut has resulted in new patterns and materials. Her first collection, Moonstruck, looks like marble but is soft to the touch and ages with light. Her second collection, Bonding Blue, was launched during Beirut Design Week and is made out of terrazzo-like foam produced from material waste and offcuts.
Zahr's Core series of objects is conceived of as a poetic dialogue between what is hidden and what can be seen, and between the rough and the fragile. Core 3 is a set of table lamps made out of one block of concrete and activated by a single switch. The material references the vernacular and informal brutalist construction methods in Lebanon, and the electrical wire takes inspiration from the multitude of cables that crisscross Beirut and other regional cities.
7. T Sakhi
Architect sisters Tessa and Tara Sakhi founded their multidisciplinary practice in 2016. This year, they were one of 11 participants in AD Middle East's Art of Dining event, held for the second time during Beirut Design Week. Their installation, titled Silent Echoes, was a timely and chilling reflection on the transformation of dining from a social to a virtual event with the table layout featuring a mirror and smart phone cradle in front of each diner instead of a view of their neighbor.
At the Adorno exhibition, the sisters showed two pieces that referenced the security barriers that invade and impede everyday urban experience in Beirut. Barrier of Rest is part room divider, part vase holder—but also a response to the lack of green in public spaces in the city.