8 Cutting-Edge Lighting Fixtures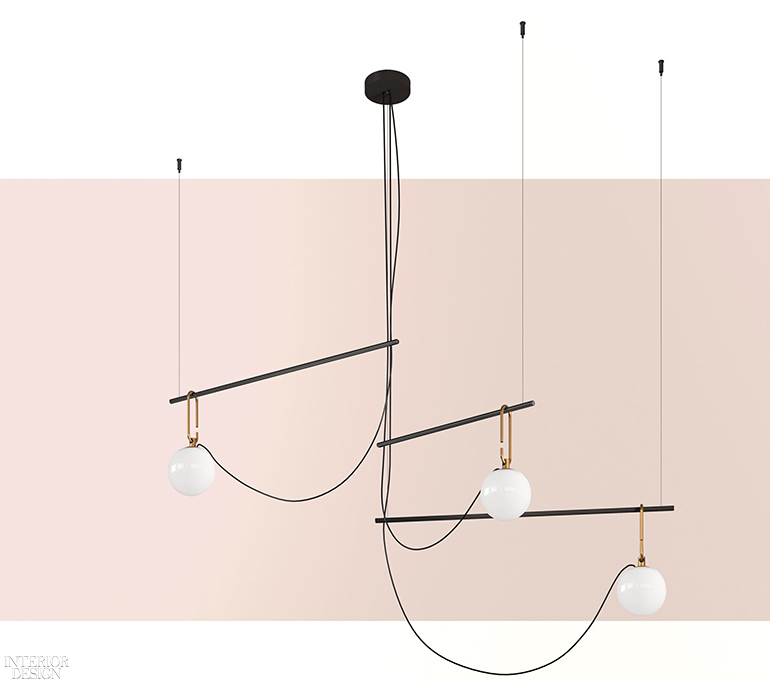 Designers: Lyndon Neri and Rossana Hu for Artemide
Product: Nh1217 Suspension
Standout: Riffing on lanterns, the Interior Design Hall of Fame members and Neri & Hu partners have concocted a fixture of blown-glass spheres that can be slid along iron rods via brass rings.
Designer: Marcel Wanders of Moooi
Product: Purr
Standout: The company co-founder has abstracted rabbit and penguin silhouettes into endearing table lamps, their frosted glass bodies adorned with ears, beak, and flippers in gold-plated ceramic.
Designers: Kai Williams and Chen Chen of Chen Chen & Kai Williams
Product: Brittle Star
Standout: Melted zinc has been poured around myriad colored glass spheres, strung on an aluminum rod, and fitted with LEDs, yielding a pendant fixture with a stained-glass effect.
Designer: Lee Broom of Lee Broom
Product: Tidal
Standout: An unseen gravitational force appears to separate the table lamp, its seemingly precariously balanced, polished-chrome hemispheres revealing a glowing acrylic lens.
Designers: Tobias Nitsche and Cesare Bizzotto of From Lighting
Product: Piazza Round
Standout: The base of the plug-in LED sconce is magnetic, so it can be located anywhere on the 30-inch–diameter wall-mounted disc, the latter in powder-coated steel.
Designer: Alexandre Joncas of d'Armes
Product: Cé Wall
Standout: Solid bronze pairs with a sweeping curtain of rayon fringe descending 40 inches for this sconce that plays a game of peekaboo with its dimmable LED source.
Designer: Rosie Li of Rosie Li Studio
Product: Inez
Standout: Replicating fan palms, the hand-pleated copper shades of the floor lamp, sconce, and pendant fixture are offered with or without a salt treatment for a natural or cerulean patina.
Designers: Jean and Oliver Pelle of Pelle
Product: Beam and Glow
Standout: Minimalist art spawned these linear sconces and pendant fixtures, their amber or rose resin lenses set in aluminum frames that can be finished with a green or lilac stain.