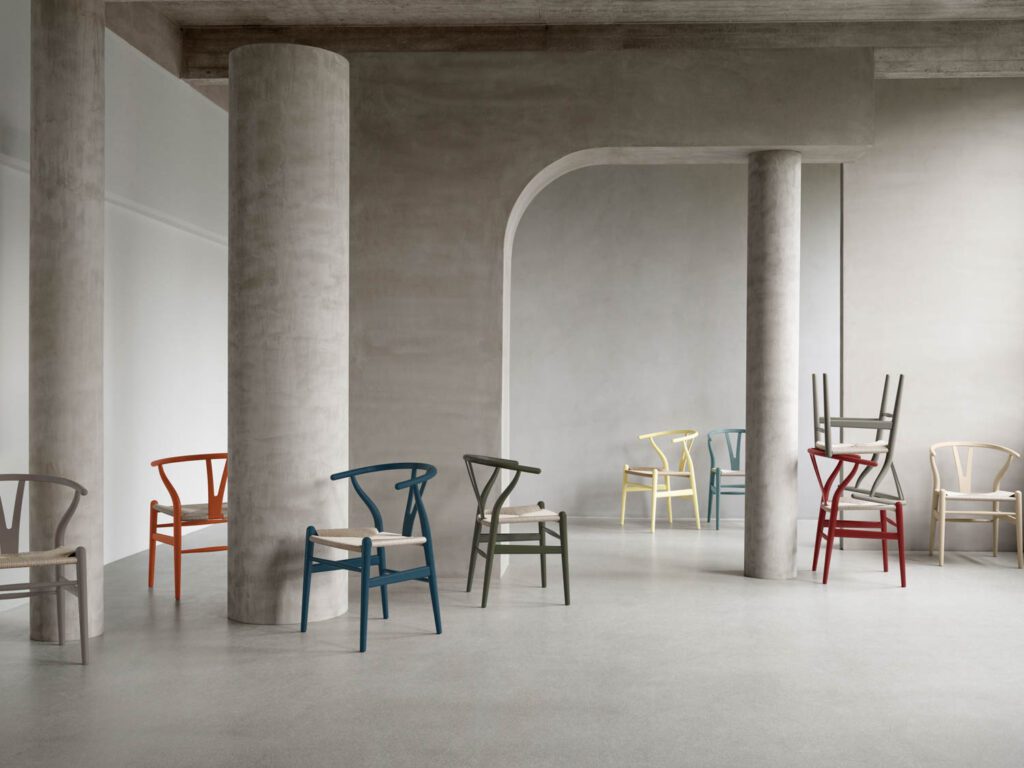 8 Designer Débuts At Copenhagen's 3daysofdesign Festival
Denmark's annual design event has continued to grow since its beginnings in 2013. This year, over 200 exhibitions fanned out across the capital's showrooms, shops, streets, and museums from June 15-17.
Welcoming visitors, a graphic identity by Luca Nichetto of Nichetto Studio featured visuals alluding to iconic Danish design, local gastronomic specialties, and architectural landmarks, gently chiding all to "Remember to Play."
Pavilion by Fritz Hansen
Fritz Hansen, celebrating 150 years, won the fair's best exhibition award. The furniture, lighting, and accessories brand marked the anniversary with an impressive pavilion designed by architects Henning Larsen and set in the garden of the freshly-reopened Designmuseum Denmark. Post-exhibition, the sustainable wood structure will be disassembled and re-sited at the brand's headquarters north of Copenhagen.
Happy Hook by Jaime Hayon for Fritz Hansen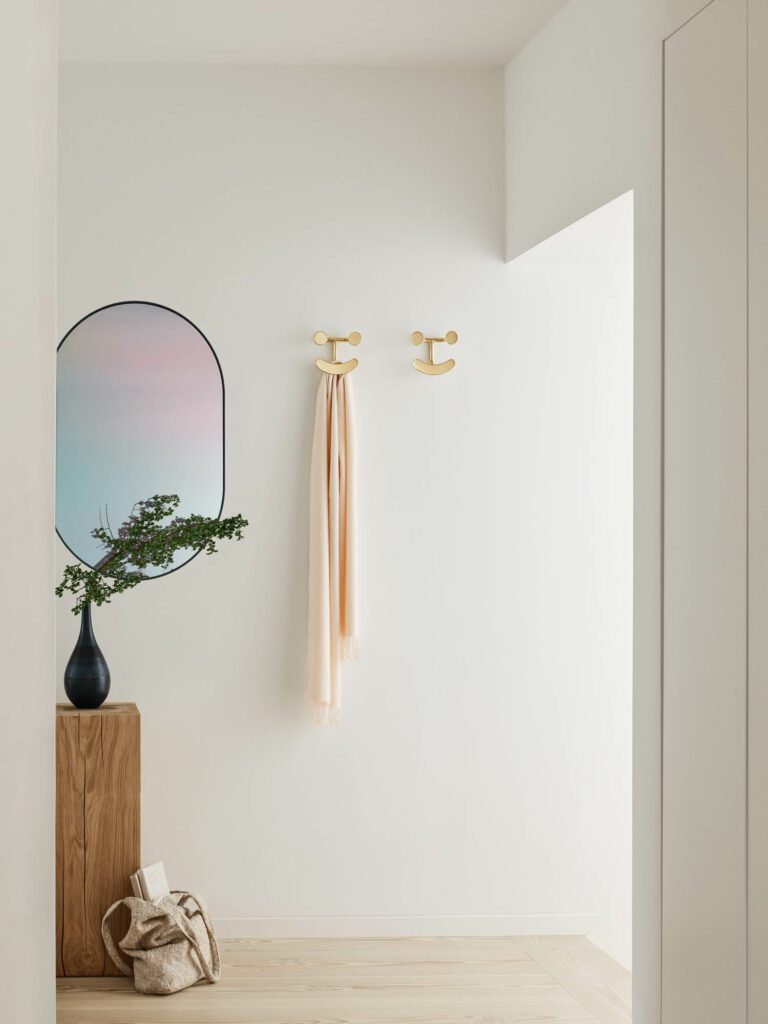 A joyful new offering from Spanish designer Jaime Hayon, the Happy Hook is a purposeful-yet-playful wall-mounted hanger in solid brass and shaped with a smiling face, a reference to Hayon's signature street tag from his youth. Available in September, the hook's finish will patinate over time to a blue-green hue.
Tabata by Luca Nichetto for &Tradition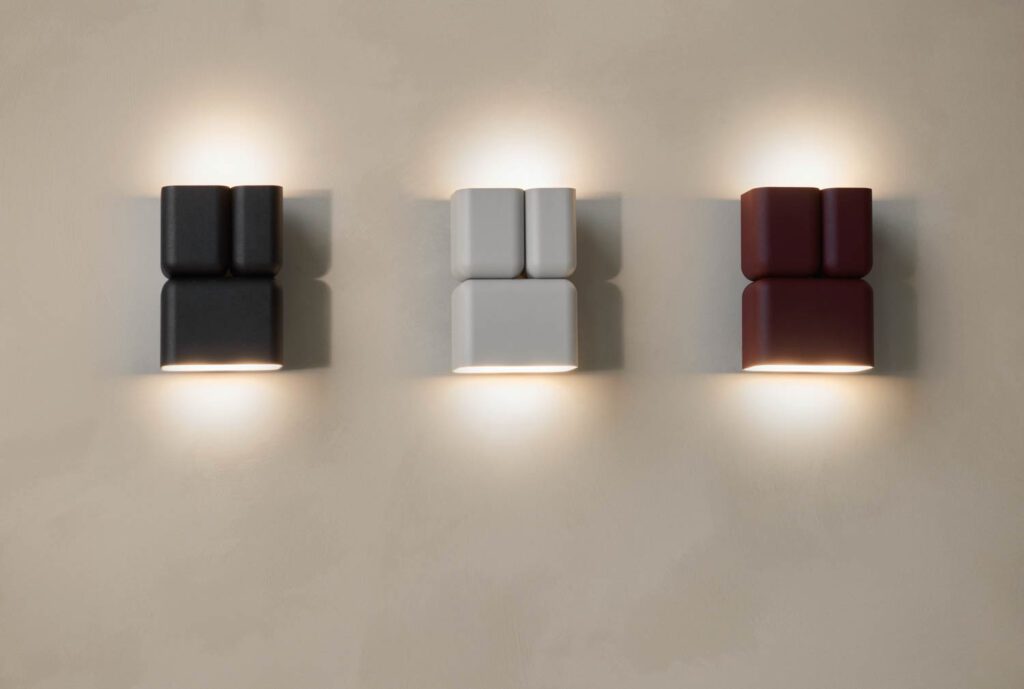 The brand's Head of Design, Els Van Hoorebeeck, tapped the Stockholm-based Italian designer to bring his signature style to a lighthearted-yet-refined indoor wall lamp. Made from cast aluminum, the powder-coated fixture has a textured surface and comes in sophisticated black, subtle silk grey, and luscious dark burgundy. A frosted acrylic diffuser softens the light output.
Sobremesa by Laila Gohar for Hay
The stylish brand founded by Mette and Rolf Hay celebrates 20 years. An upcoming collection of kitchen and tabletop accessories by Egyptian-born and New York City-based artist and chef Laila Gohar, dubbed Sobremesa, previewed during the festival. Standouts include a whimsical striped cookie jar, cheeky embroidered table linens, and a squat painted bean pot, all debuting in stores this autumn. Gohar says, "All of the items together create an extension of my own world. I approach them as a little fantasy or dream." The pieces promote the joy of hosting and connecting people over the table.
Beetle in 3D Veneer by GamFratesi for Gubi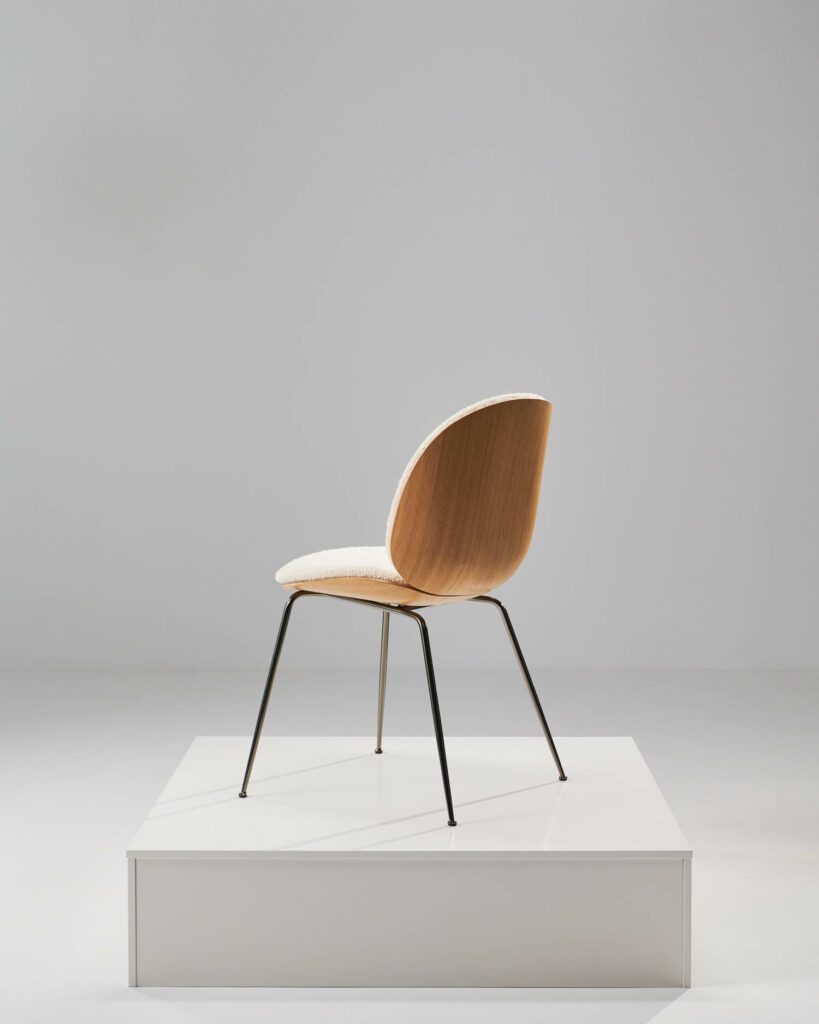 First introduced in 2013 by Danish-Italian architect duo Stine Gam and Enrico Fratesi, the Beetle chair secured a cameo in the 2019 film "Always be My Maybe." Now with a material makeover in 3D veneer, its shell even more closely mimics its insect inspiration. GamFratesi notes, "The design language of the Beetle chair lends itself to be rendered in wood, which underscores its 'inspired by nature' story." The molded wooden shell comes in oak or American walnut.
Ta-Ke by Michael Anastassiades at Anker & Co.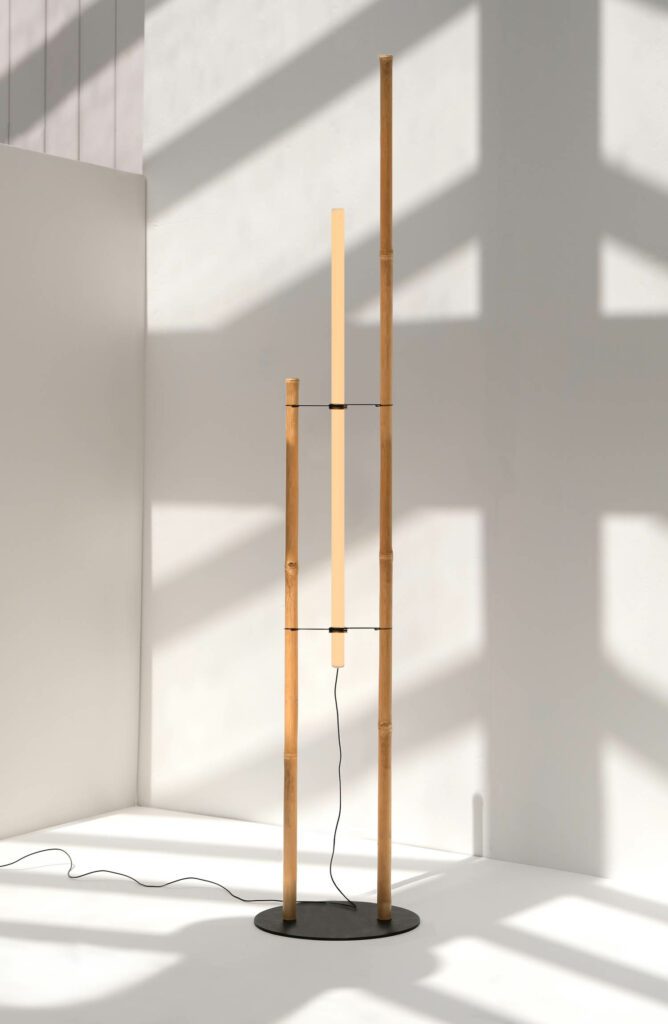 The London-based designer presented a family of floor lamps dubbed Ta-ke crafted of natural waxed bamboo poles atop powder-coated steel bases. Delicate wire springs hold a custom-built, self-powdered linear bulb of opaline borosilicate glass with integrated LED. "I have always been intrigued by bamboo as a material and by its ability to grow in an almost perfectly straight line. I am fascinated by the thought of using it in exactly the way it grows naturally by simply cutting it at the moment it reaches its required diameter. I love the idea that I could use it without any industrial processing, by simply defining a series of parameters to determine my selection and cutting process. The project is essentially an exercise of negotiation with nature," said Anastassiades.
Soft Colors by Ilse Crawford for CH24 Wishbone Chair from Carl Hansen & Søn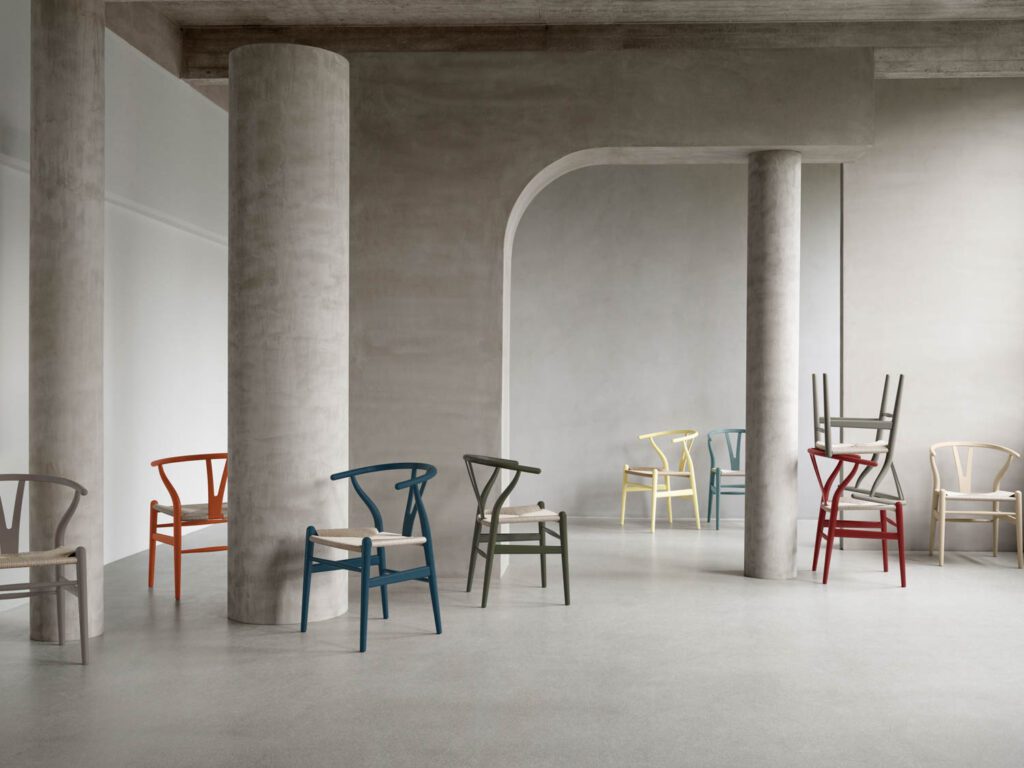 The company tapped London-based designer Ilse Crawford to develop nine new colors for the frame of Hans J. Wegner's iconic CH24 chair, known as the Wishbone and produced continuously for over 70 years. Inspired by the natural Nordic elements found in paintings by Danish artist Per Kirkeby, the hues include Hollyhock, Terracotta, and evocative North Sea, all applied in a soft matte finish. "Colors are so closely related to our emotions and our mood," Crawford says, "and we believe that these subdued tones will help create a warm, relaxed and natural environment."
Nendo Collection by Oki Sato for Georg Jensen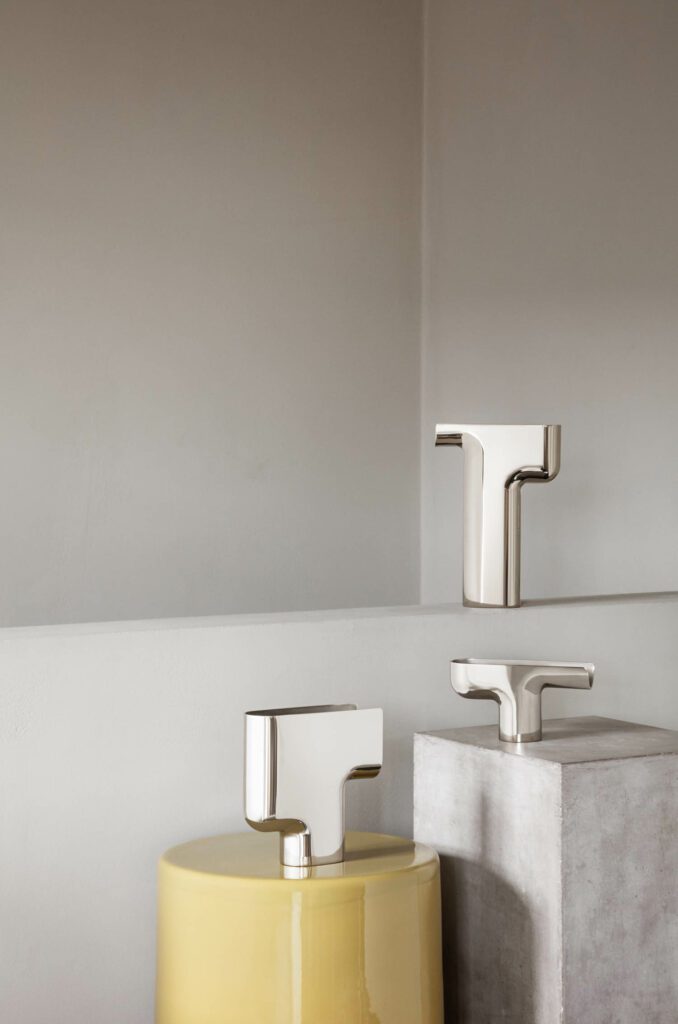 The heritage brand founded in 1904 builds on its existing collection with Japanese designer Oki Sato of Nendo with organic-shaped candleholders and stainless steel versions of vases previously offered only in silver. Their forms inspired by nature, each Nendo vase also doubles as a carafe due to a clever integrated spout. Shown as a sneak peek, the collection will be available in November.
Tubby Tube by Faye Toogood for Please Wait To Be Seated
An installation of archival collaborations between the London-based designer and the Danish design brand included the highly-recognizable Spade chair plus Tubby Tube stools and tables. Adding to the array, a new linear pendant also dubbed Tubby Tube was launched. Presented in a room softened by fabric sculptures and a painted curtain wall, the fixtures stand out for their streamlined rigor.