9 Statement Lighting Fixtures With Creative Verve
Fine art has a significant impact on some of today's most imaginative spaces. Designers of luxury interiors are looking beyond traditional wall art to showcase sculptural forms in exciting new ways. Whether a statement sofa, a vibrant rug, or a glimmering light fixture, design objects enhance interiors with unusual texture, color, and pattern.
This emphasis on creating timeless but modern styles is evident in Corbett Lighting's latest offerings, which channel aesthetic traditions—such as mid-century Italian design—into eye-catching fixtures. Drawing influence from galleries, museums, fashion shows, and luxury ateliers, the brand's offerings evoke memorable artistic movements. Using fine materials such as handblown Venetian glass, rich Spanish alabaster, and top-grade Brazilian rock crystal, Corbett Lighting's products push the envelope in appearance, functionality, and durability. Discover four of the brand's cutting-edge pendants:
Calligraphy's sculptural iron bands, which cast dramatic shadows across walls and ceilings, surround two LED engines.
Element features smoked and plated glass bulbs balanced on a handcrafted iron structure finished in Vienna bronze.
Graffiti's artistically twisted iron ribbons, finished in silver leaf, encompass illuminated crystal diffusers.
The distinctly modern Metropolis features handcrafted iron cubes that surround an LED bulb.
Uniting convex Italian glass with lustrous gems inside an iron framework, Motif is finished in gold leaf with stainless accents.
Polished stainless-steel stems support Piet's round, elliptic, and tapered glass shapes.
Pulse's iron mesh screens form a sculptural "ruffled" body finished in hand-applied gold leaf.
Sauterne places gold-speckled Venetian glass staves around a candelabra light source.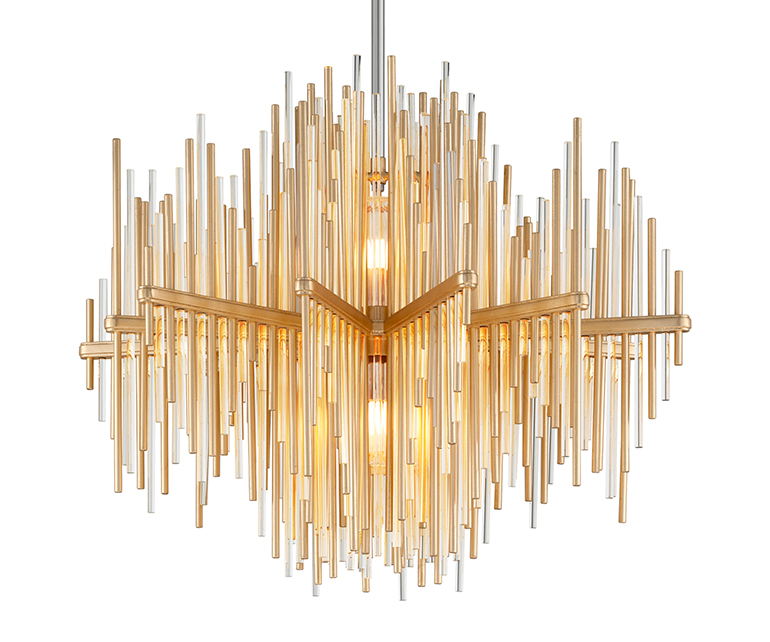 Drawing from mid-century Italian design, Theory features a multidimensional shape formed by alternating glass and gold-leaf iron rods surrounding an LED.
Corbett Lighting also offers an array of expressive sconces, including Pulse and Motif, which showcase handcrafted iron, textured glass, polished stainless steel, and gold leaf details.
See more art-inspired fixtures by Corbett Lighting.