Art Basel Gets Suites by Venus Williams at the InterContinental Miami



The new exterior LED screen at the InterContinental Miami.



In tandem with

Art Basel Miami Beach

, running today through Dec. 6th, the

InterContinental Miami

is unveiling a $30-million renovation including suites by

Vstarr Interiors

, the design firm of tennis superstar Venus Williams.
The 641-room hotel's  two redesigned, 3,300-square-foot presidential suites mark V Starr's first-ever hospitality project. Williams' firm also updated the hotel's six executive suites and the club lounge on the 29th floor.
"As our first hospitality project, we wanted the design to tell a story and make an impact," says Williams. "InterContinental Miami in its own right is iconic and we wanted to be sure that every detail of the suites represents its legendary roots. I brought my world travels into the space to make sure that guests feel at home."



The InterContinental Miami's Royal Palm Suite renovated by Vstarr Interiors.



The 34-level, 100,000-square-foot hotel's renovation also includes a spa by

United Designers

, dramatic new lighting, a new restaurant, and a fully renovated lobby featuring 18 LCD screens that showcase content ranging from local digital art to Miami attractions. Michael Dalton, VP of design for

Strategic Hotels & Resorts

oversaw the design, including touch-screen coffee tables that enable guests to order cocktails, plan sightseeing excursions, and book dining reservations and spa appointments.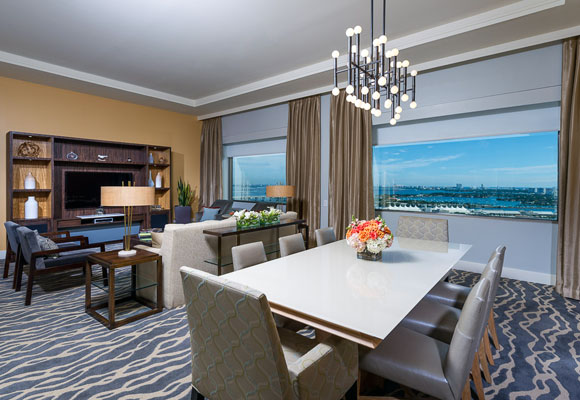 The Metropolis Suite by Vstarr Interiors.



The hotel's exterior will now project digital images and animations on its east and west facades via a 19-story "digital canvas" featuring thousands of LEDs. The canvas was conceptualized by Laurence Geller and executed by Brian Edwards of Edwards Digital. An in-house curator will oversee the digital content comprising local art and culture.
This luminous addition to the Miami skyline announces the hotel's new presence loud and clear.