Cassina Brings Le Corbusier's French Hideaway Cabanon to Miami
Sixty years ago, Le Corbusier constructed a tiny log cabin perched high above the Mediterranean to serve as his summer getaway near Nice, France. Now, the interior of that structure, called the Cabanon, has been reproduced and is on view for the first time in the U.S. in the

Poltrona Frau Group

Miami showroom from Deceber 6 to January 12.
Mirroring the original cocoon-like hideaway, which the architect designed and built in 1952, the model displayed in Miami is made from birch and other species of woods and measures a mere 13 by 15 feet in size.



Claudia Uribe/Cassina Miami.



Why reproduce the one-room retreat?
According to Gianluca Armento, brand director for

Cassina

, Cabanon is "a very important piece of heritage from Le Corbusier, one of the final points of his creations." Cassina holds exclusive rights to manufacture Le Corbusier 's furniture designs and spent $100,000 on the Cabanon replica. "We are bringing the experience to people who haven't been able to go to the actual site in France," says Armento.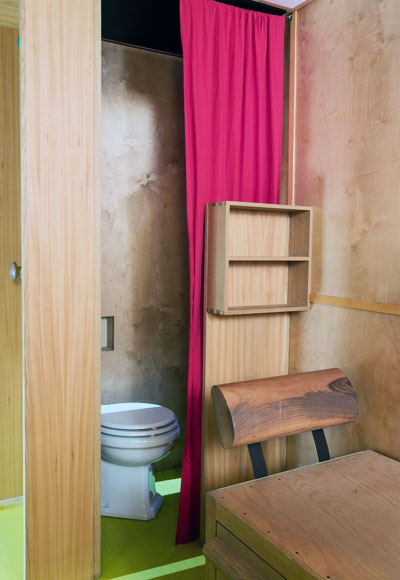 Claudia Uribe/Cassina Miami.



Like the original, situated in Roquebrune-Cap-Martin, France, the replica is furnished with built-ins and reproductions of the same boxy stools.
Even the process of assembly mimics the one Le Corbusier used. Then as now, components were made off-site (in Corsica for the original), were sent by ship to the locale (the Riviera in 1952; Miami in 2012), and reassembled on site.
For those seeing the Cabanon model, it's warmth and intimacy may come as a surprise.
"It belongs to a later part of life in which [Le Corbusier 's] domestic designs are becoming more comfortable," says Professor Jean-Louis Cohen, professor of architectural history at

New York University

. Le Cabanon is "poetic, very touching, very warm," he adds.
The model will appear next during the Le Corbusier retrospective this spring at the

Museum of Modern Art

in New York.