Central Park Tower by D Form A: 2017 Best of Year Winner for On the Boards: Mixed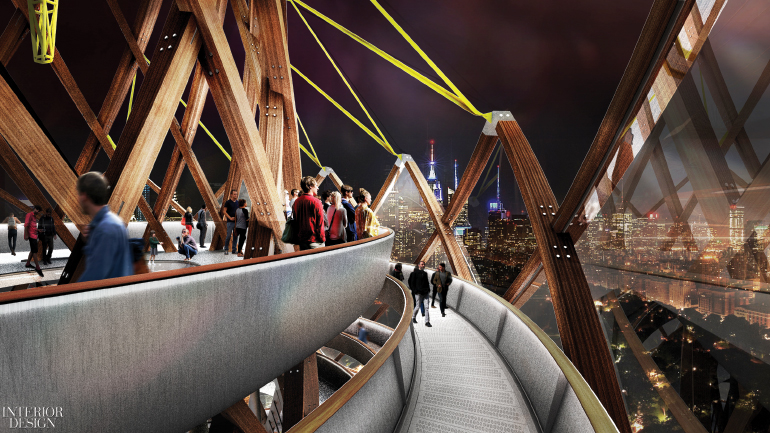 The Jacqueline Kennedy Onassis Reservoir, a body of water that stretches across Central Park, holds about 1 billion gallons, all of it contaminated. But just imagine boating across sparkling freshwater instead. This astounding transformation could be achieved through a sustainable filtration system that's part of a hypothetical proposal by founding principal Laith Sayigh. Of course, this being the tourist-friendly Big Apple, Sayigh conceived the treatment facility doubling as a magnet for tourists.
He calls it the Central Park Tower—here's his vision: prefabricated offsite, glue-laminated timber components are assembled as a 700-foot tall structure anchored by a precast concrete base and stabilized by tensile cables in the center of the reservoir. Accessible via a pedestrian bridge, the tower is formed by a densely configured helix that integrates the vertical-axis wind turbine necessary to provide electric power to filter the water. From the inside, where visitors walk up a ramp that spirals around the steel core, city views appear through the glue-lam exoskeleton. At the top, a long observation platform offers panoramic vistas, while a glass oculus showcases the tower's mechanics.
"It pushes the boundaries of what we perceive is possible in a city as dense, historic, and environmentally vulnerable as ours," he says. We're guessing Jackie would be proud.
> See more from the December 2017 issue of Interior Design
> See all 2017 Best of Year winners and honorees