Crossville Raises Breast Cancer Awareness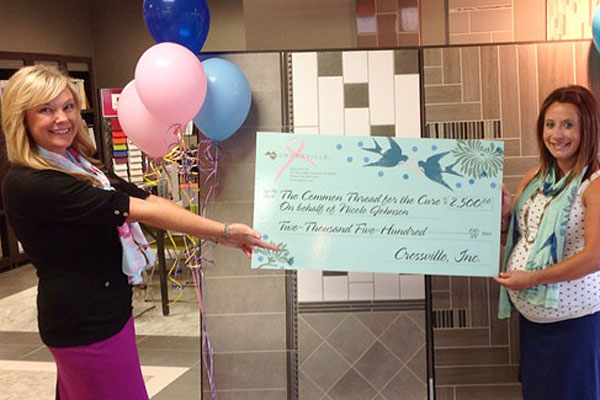 Crossville's Gita Tao presents to design winner Nicole Johnson of United Tile.




Crossville

has unveiled its latest scarf design to promote breast cancer awareness. This is the seventh year that the Tennessee-based sustainable tile manufacturer has created a scarf for the cause and the first year that it has held a scarf design contest.

As a way to increase engagement and awareness of breast cancer among its distributors, sales reps, and vendors, Crossville invited its partners to submit original designs to a panel of judges, which included notable members of the design industry such as interior designer Jeanne Khoe Chung and design writer and interior designer Courtney M. Price.

"We were looking for a way to engage our partners to become a part of the process for a solution [to breast cancer]," says Lindsey Waldrep, vice president of marketing for Crossville. "A lot of our sales reps have interior design background and are very creative people."

Some 12 entrants submitted designs, and the judging panel chose "Birds of a Feather" by Nicole Johnson, showroom manager of United Tile in Spokane, Washington, as the winner.

"The partnership of the birds passing a ribbon from one to the next illustrated the common thread of helping hands," Waldrep says. "It really exemplified how like-minded individuals in the design industry can help others."

A portion of the proceeds of the "Birds of a Feather" scarf will go to

The Common Thread for the Cure,

a foundation that unites members of the furnishings industry in the fight against breast cancer. Each scarf retails for $15 and can be ordered through Crossville's distributors.

In addition to the scarf sales, a portion of the proceeds of Crossville's

Glass Blox

tile collection also goes to The Common Thread for the Cure.



The winning scarf design by Nicole Johnson.