Das Haus by Doshi Levien Takes Center Stage at IMM Cologne
Das Haus designers Jonathan Levien and Nipa Doshi.
IMM Cologne, Germany's preeminent furniture fair, had been famous for its trend-focused Ideal Houses designed by such stars as Patricia Urquiola , Hella Jongerius, and the Bouroullec brothers. It discontinued the program a few years ago, but now has revived it with a twist.
Its new "Das Haus – Interiors on Stage" is meant to throw light in trends but also have a more personal focus. The fair invited Doshi Levien , the husband-wife team of Englishman Jonathan Levien and Indian-born Nipa Doshi, to design a space that represented their own point of view. The result, on exhibition on the vast fairgrounds through January is a 1,937-square-foot residence—a technicolor cross-cultural and quirky canvas that turns conventional ideas about interiors on on their head."It's not meant to be a design statement," says Nipa Doshi, whose Indian roots are much in evidence in the work. "We wanted to give the sense that it evolved over time," adds Jonathan Levien. The duo conceived that the home would be in a dense urban neighborhood, teeming with life. Here, spaces are open and functions overlap.The bathroom flows into the kitchen. The bedroom is next to the living room so that the owners can use the bed for entertaining friends. There is a space for yoga and meditation, as well as a shop where the owner can produce wares to sell to the neighborhood in this communal concept.
All of the rooms open out onto a central courtyard in which their My Beautiful Backside sofa is installed. "Sofas don't have to stay in the living room," says Levien. "We wanted to escape the sense of defined rooms." The project features many of the pieces they designed for Moroso , Authentics and Cappellini along with a few favorite pieces—The Marshmallow Sofa by George Nelson and Achille Castiglioni's Arco lamp. There are also prototypes on which they've been working—a vanity desk for BD Barcelona for example.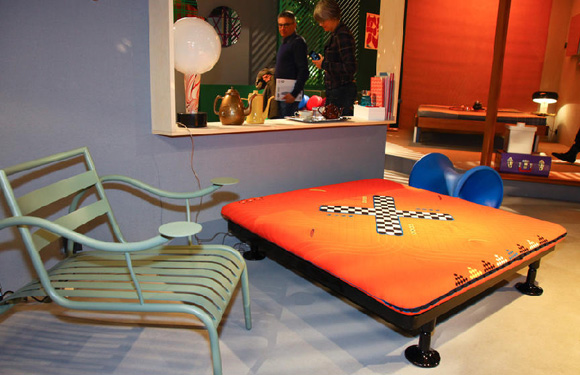 The designers envision Das Haus as a new way of living. It's their vision of the future. Images courtesy of Koelnmesse.