Designer Insights on the Future of Healthcare Design
While COVID-19 has affected virtually every sector of our lives, it's transformed no part of the built environment more than healthcare. As existing spaces are being tested, architects and designers are hard at work (from home) looking at the best kinds of structures to transform into patient care facilities. HKS Architects, for example, recently collaborated with the Army Corps of Engineers to envision conversion projects like a convention center outside Detroit accommodating 1,000 beds. Atlanta-based firm, tvsdesign, headed up the 1.2 million-square-foot expansion of New York City's Javits Center, which was temporarily transformed into an alternate-care hospital, and consults on how the same might be done in hospitality and other city spaces. And BDP transformed East London's ExCel exhibition centre into the United Kingdom's largest patient care facility in just nine days and published a manual of how others could follow their lead in building temporary NHS Nightingale Hospitals. Here, each firm talks to Interior Design—the latest in our series of dispatches from the design community—about the future of healthcare architecture, materials, and aesthetics.
Jason Schroer and Ana Pinto-Alexander, HKS Architects
Jason Schroer (at left): We've always tried to design for as much flexibility as we can, because of any building type, hospitals probably change the most over time—additions, renovations, and technology changes. Once we get on the back side of the curve and our clients have the chance to breath, we'll have a concerted effort to ask them how things went and what should be done differently. Those conversations are going to help us understand how to design better moving forward.
Ana Pinto-Alexander: Meanwhile, we are trying to have our hospitals regain that sense of safety that we as humans have lost. We have lost the psychological and emotional sense of safety. We don't want to go the grocery store. We don't want to go out. That sense of safety and refuge is something a healthcare facility should give you—you want to trust, the moment you walk into a healthcare facility, that they are there to help you throughout your journey. That's been lost at the moment. But we do know how to regain this. You need to reassure people with hygiene stations at entrances; visitors, patients, and staff will have their temperature taken and if you are running a temperature there will be an enclosed area for you, with waiting areas separated. We are looking at floorplans to advise where to locate these stations. We are advising that elevators should be limited to one or two persons per trip, but staff are not always able to wait, so we should increase ventilation in stairways. And in cafeterias and waiting areas we are advising not to install tandem or back-to-back seating, with arm pads that are solid surface. Solvents for cleaning are going to be much stronger, so we have to make sure that materials we are specifying will withstand the new protocols.  The carts should also be out all the time, because people want to see the cleaning. It provides reassurance, and so sanitation stations should not only be good, but attractive.
JS: We're looking for what we can do with our clients quickly. But long-term, it's about renovation and creating finishes that have the perception of safety and cleanliness. A lot of settings are using yellow tape on the floor, but we need to think of what's better than yellow tape.
APA (at right): Tape with handwriting for social distancing usually just shows you how dirty the floor is. We've put together a list, for floors and ceilings and walls and counter surfaces, of some materials that are antibacterial and others that are bacteriostatic. The difference is, the former has a chemical applied to it so bacteria will die; the latter is a material in which the bacteria will not live. It's also incredibly important how you detail, so that the aesthetics bring different layering which can make you feel like you are in a better space. We're okay doing that as long as the layer is not collecting dust.
JS: The joke is that the perception of shiny means clean. There really are psychological aspects that present some materials as clean. Infection prevention and control are going to be such big threads in design, regardless of building type, the familiarity of those materials is going to be important moving forward… Hotels and schools are more challenging [than concrete-floored convention centers]: most have carpet which we would recommend removing to use the exposed floors, or cover them with construction tape. It won't save the carpet, but then we would recommend, post-COVID, removing it anyway.
APA: We've been removing wood from hospitals because all of these chemicals and solvents really strip the wood of its staining. So maybe only in the lobby will we use wood or use wood plastic laminate. Right now, with the incredible printing capabilities you really have to touch them to know they're not real wood, anyway.
JS: The other point we're talking about internally is acuity-adaptable patient rooms. It's not a new idea, but the idea of making them more prevalent in a facility can be a big piece to flexibility and capacity. In the normal operation, the bed wing might just be low-acuity patients, but in a crisis they can be easily converted to ICU patients because the infrastructure is already there. The emergency departments are going to change a lot, along with the front door—how you're designing your portals and getting people in and out and triaged quickly. And the MAP piece, the idea of negative pressure and where that's appropriate, being able to clean air appropriately…the amount of fresh air and air change. This is all going to be reevaluated.  New technologies will be integrated, like infrared cameras to check body temperatures and ultraviolet light to kill off bacteria and pathogens. Even LED lighting is advancing; we're getting closer to full-spectrum lighting, and circadian lighting will be a big piece of creating a healing environment.
APA: Everything that we're trying right now is inspired by nature, whether in patterning or lighting. There are technologies that bring biophilia into the healthcare environment and are extremely cleanable as well. There is is evidence-based research that being exposed to nature brings better outcomes. Through printing beautiful images for corridors, and other graphics, we can expose patients and healthcare workers to nature without really bringing in nature per se.
JS: If you feel like you're in a quality space, the perception you're getting quality care can also follow.
Janet Simpson and Angela Holcomb, tvsdesign
Janet Simpson (at left): I have witnessed an unprecedented shift in the way tvsdesign works, builds community, and communicates. As we have adapted to our current reality of working from home while sheltering in place, I have been thinking about how this reality is just a moment in time and that the moment, however uncertain it's been, will pass. We are both profoundly aware of how we can impact and are impacted by the people around us as well as how essential it is to be "open for business" without intense fear of human interaction. We have discovered how effective we can be working entirely remotely, so now we're considering what role the office plays and what experiences it can provide that we're missing. As we will soon pivot yet again to a phased approach to resuming normal activities, I've challenged those around me to consider: what are we doing now to thrive?
Angela Holcomb (at right): It is interesting that most visitors to a hospital do not need to wash their hands to visit a loved one. As a healthcare designer, we provide a hand-washing sink within a patient room for the healthcare provider to use. But what about visitors? They touch all sorts of surfaces as they walk through a facility to get to their loved one. Hand sanitizers are typically located in high-touch areas, but not everyone uses them. I think as designers, we need to make it apparent for people to "lather up" before they enter a facility to protect everyone. It will be interesting to see what different solutions evolve out of this pandemic…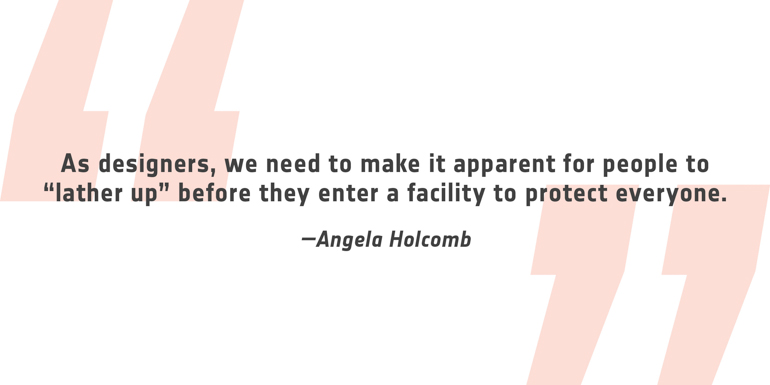 I think social distancing is an interesting phenomenon… Moving forward, will spaces like pre-op bays be designed with just cubicle curtains? I think hospitals will desire spaces to be flexible to accommodate pandemic patients, so the bay with just a curtain may be replaced with hard walls between patients. The square footage increase and cost for building a wall will need to be reconciled with future budgets.
It seems that patient room design would need to change based on what is known from COVID-19 patients being isolated and dying by themselves. The aesthetics within a patient room could be enhanced with technology. There is a study that links patient's access to natural light and view of artwork to reduced medication cost (The Center for Health Design). This technology could be developed to help alter footwalls to allow for patients to immerse themselves in natural landscapes and mentally "leave" the hospital. This immersion would allow for a completely transformative experience within a room that is unique for each patient and their path to recovery.
James Hepburn and Ged Couser, BDP
James Hepburn (at left): The urgent demand for emergency hospital facilities has been about delivering beds quickly.   The briefs for each venue and its clinical requirements have been a long way from a conventional hospital, with each providing different design challenges.  When we design healthcare facilities the mental and emotional wellbeing of patients and staff are paramount to the creative process, but these emergency hospitals meant we had to focus on the functional elements that would ensure we could achieve the number of fully equipped beds in a clinically safe environment within a short timeframe.  When you see the result it really brings home how important wellbeing is to the design of a conventional hospital.
Ged Couser (at right): All the Nightingale Hospital locations needed solutions that were simple, repeatable, and modular. Material selection and construction techniques need to consider program and deliver ability and parallel construction activities that were essential due to the short program. For example the bedhead units for the Northwest project went into manufacture once the bed bay was approved, even before the layout was complete. Also the unistrut framing supporting the oxygen ring main assembly were all manufactured off site, using a kit-of-parts approach, creating a beautifully engineered solution, to solve a very practical problem. This is very much in line with the principles of Design for Manufacture and Assembly (DfMA), a technique already used in BDP's hospital designs.   For example, on the Grange University Hospital, a new specialist and critical care centre in the UK, the design concept was to divide the hospital into three distinct zones, which could be progressed with a degree of autonomy from one another.  This combined with the extensive off-site fabrication and the contractors' exemplary construction management and delivery has enabled the hospital to open a part of the facility a year early to help fight the COVID-19 crisis.
JH: A major difference in the design process of the emergency hospitals was the collaborative approach to design and decision making. The Army's influence was significant in that at their insistence, throughout the briefing and design journey, all the stakeholders were tasked to concentrate on the big issues and the strategic decisions quickly and in the right order. This approach stripped the consultation process down to its bare essentials to get things done quickly. The army had a great catch phrase and insisted that we all concentrated on 'pulling the big levers,' which is something which we should all consider taking forward in our future healthcare work.
GC: The Nightingales are very functional and solutions are practical and effective. They have an iconic scale and an honesty through necessity rather than design. As each of the surge hospitals come into use and more is understood about the treatment of COVID-19 there will be tweaks and changes to the designs. However while these facilities have been constructed to meet a relatively short-term objective, of increasing COVID-19 bed numbers, we designed everything in as much detail as was possible, right down to the signage and graphics. In that context we considered it to be vitally important that while these hospitals are temporary, they are designed to look reassuringly permanent—thought about and as familiar as possible to patients and staff.
JH: In terms of the wide community, this is a huge question, will we ever go back to where we were pre-pandemic, what will be the "new normal"? Lots of things will change—the way we work, travel, and enjoy ourselves—necessity has forced everyone to embrace remote-working and technology to another level. Moving forward, this enforced technological leap may see a greater adoption by companies for flexible home-working practices leading to estate rationalization as well as increased focus on employee health and wellbeing.  The climate emergency was gaining significant traction and the impact of the global shut down on air quality and at a global scale, carbon emissions, may influence design and development moving forward.
> See our full coverage of COVID-19 and its impact on the A&D industry
ThinkLab, the research division of SANDOW, is gathering information about our industry's response to COVID-19. Click here if you'd like to participate.