Designtex Distributes 3M's DI-NOC Architectural Finishes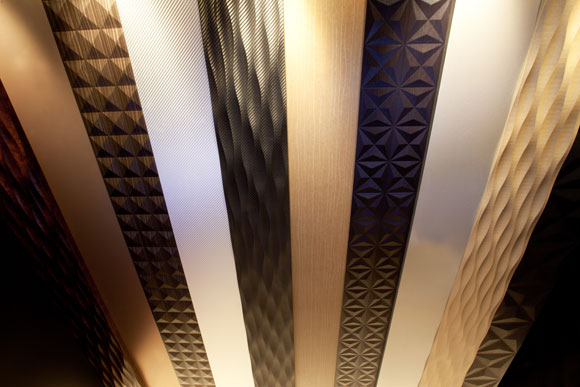 From left: PA-320, Metallic series; FA-1159, Abstract series; CA-418, Carbon series; CA-420, Carbon series; FA-1155, Abstract series; MW-1177, Metallic Wood series; ME-432, Metallic series; FW-342 Fine Wood series.




Designtex

, a leading company in applied materials for the built environment headquartered in New York, is now the U.S. distributor of DI-NOC, an architectural finish by

3M Architectural Markets

previously only available in Japan.
The collection launched stateside as of December 1, and it's already available in over 500 patterns with finishes ranging from wood grain to high gloss, metallic to natural weaves. Styles come in a 48-inch-wide by 164-inch-long roll format. The line will continue to be regularly updated: look for a concrete-look finish in 2014.
An ever-growing network of trained installers ensure the wrap looks its best. A double-sided squeegee, heat gun, and blade are the basic tools needed for smooth application, and the scored adhesive back allows for fuss-free repositioning during installation.
A flexible, light-weight, and affordable material choice when designing new, DI-NOC is also a sustainable option when renovating an outdated space since it can transform the look in situ of walls, columns, and furnishings whether flat or curved at a fraction of the cost of tearing out and replacing. It's also available in the E-Series, composed of polyolefin, an environmentally preferable alternative to vinyl.
The product's name is shorthand for the Latin words for day and night, certainly apropos given the way it transforms any surface. At the launch preview, a walnut 3-drawer office cabinet went from off-the-shelf dark walnut laminate to a modern and bright white Carbon finish in no time.



3M's WG-1071, Wood Grain series on ceiling and walls