Droog Returns to Maison & Objet With Irma Boom Wallpaper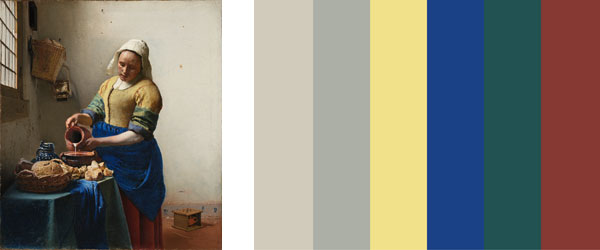 Droog's Rijksmuseum DNA 20, wallpaper by Irma Boom, colors based on The Milkmaid, c. 1658–60 Johannes Vermeer (1632–1675). Photo by Rijksstudio/Droog.




Droog

is back. One of the happiest surprises right now at the fall

Maison & Objet

—up through September 9—is the return to the Paris fair of the Amsterdam design company after an absence of several years, with a stunning new wallpaper collection by award-winning Dutch graphic designer

Irma Boom

. Known for its freewheeling and delightfully off-the-wall furnishings (

droog

means dry in Dutch, as in dry humor), the Amsterdam design company has added an ingenious touch of classicism with Boom's Rijksmuseum DNA wallpaper project.

Over a period of 10 years Boom has deconstructed 18 famous paintings in the Rijksmuseum to distill their six basic colors, and has now used those colors to create 36 bold wallpaper patterns, two for each painting, in both broad and variegated narrow stripes which can be mixed and matched. Almost all of the paintings represented are by 17th- and 18th-century masters, including Rembrandt, Vermeer, Dirck Hals and Gabriel Metsu; the one modern work is Dutch artist Karel Appel's 1951

Square Man

.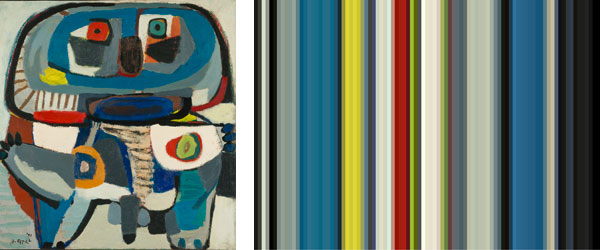 Droog's Rijksmuseum DNA 17, wallpaper by Irma Boom, with colors based on Square Man, 1951 Karel Appel (1921-2006). Photo by

Rijksstudio and

Droog.



Boom, famed for book design and typography, has already ventured into wallpaper and pure color with a 2012 striped collection for the Thomas Eyck design company based on UNESCO World Heritage nature sites including the Great Barrier Reef and Hawaii's Volcanoes National Park.