Edith Mansfield Hills: 1988 Hall of Fame Inductee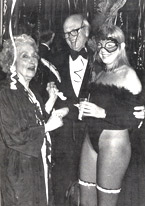 Edith Hills (L) and Ed Kilby

at 1987 ADAC gala.


Photo courtesy of www.buckhead.net.



Edith Hills, when encountered at a small gathering of friends at the Atlanta house of Henri V. Jova, Board Chairman of Jova, Daniels & Busby Architects/Interior Designers, left an instant impression: What an extraordinarily lovely lady. She had recently passed her 90th birthday. From the below-quoted biography compiled by Jova, one can gather that her charm remained ever infectious.
Henri Jova – who knew her for more than 50 years – referred to her striking beauty and her talents as a hostess. In his updated curriculum-vitae report, he wrote:
Edith Hills was born Edith Mansfield before the beginning of the 20th century in Savannah, Georgia. Divorced from Douglas Hills, she came to Atlanta in the 1930s to work with the firm Porter & Porter, which, at that time, was one of the most prestigious firms of interior decorators in the South. Hills became its leading designer and developed an impressive stable of devoted clients of her own. By the time the widowed Mrs. Porter sold the firm in the early 1960s, Hills was in a position to launch her own successful practice. Her commissions included residences for what amounted to an entire social register of Atlanta, Savannah and Sea Island: the Alfred Kennedys and the Julian Carrs. Specializing in the romantic cosmopolitan tradition, Hills provided several generations of Atlanta families with rooms that age beautifully and never go out of style.