Egg Collective Launches Third "Designing Women" Exhibition
In 2011, Stephanie Beamer, Crystal Ellis, and Hillary Petrie founded the New York–based design studio Egg Collective as a space to investigate the responsible potential of materials and blur boundaries between applied and fine art objects. Eight years later, after fashioning an airy showroom in the corner storefront of a historic 1893 TriBeCa building, Egg Collective has become a crucial resource in the movement to rethink the roles of female-identified artists and designers and remove gender barriers in their fields. The studio launched its "Designing Women" showcase in 2016, just as the #MeToo movement gathered force. For "Designing Women III: Mother," which ran in the showroom this spring and is viewable online through Labor Day, the three partners worked with curator Tealia Ellis Ritter to take a hard look at the "motherhood penalty," a term coined by sociologists for the disadvantages in pay, perceived competence, and benefits that mothers encounter in the workplace, particularly felt in the midst of the COVID-19 pandemic. With brilliant archival work by the likes of Gae Aulenti and Lucia DeRespinis juxtaposing new classics from Loretta Pettway Bennett, Carmen Winant, and others, the exhibition—like Egg Collective itself—is ample evidence of the extraordinary past, dazzling present, and auspicious future of those both creative and female. Beamer and Petrie tell us more about the show.
Behind "Designing Women III: Mother" by the Egg Collective
ID: How did "Designing Women" begin?
Stephanie Beamer:
The first iteration gathered mostly local, female designers and business owners with singular voices to highlight the work women were doing. We didn't fully grasp how few of us were connecting with each other, not as fans but as a community that could support each other. We didn't realize it would become a series. But the power of figuring that out led to the second iteration in 2018, which cast a wider net geographically and historically.
ID: Why focus on mother­hood for 2021?
Hillary Petrie: When women become mothers, their careers can fade out, and it's an incredible loss of creative capital and contribution to the world. We wanted to dig into finding those historical designers and artists who are mothers, because it's not something that is in any way promoted. And the women we work with today have found that discovery process really interesting.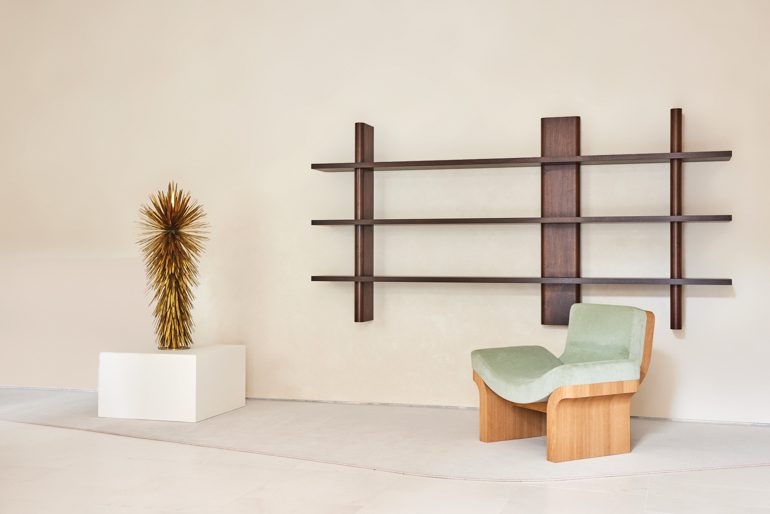 ID: What are some of your favorite pieces that turned up in this discovery process?
SB: The Maria Pergay Drape cabinets—to think of a door in that way just blows my mind. Her ability to create otherworldly, maximalist objects and her attention to material really presses the boundaries of what they can do. HP: We'd only seen Lella Vignelli's Metaphora table in photographs before. It was very satisfying to place the base elements in different configurations and move them around. The table has inspired so many contemporary works today, so to see what I consider the original is very fun.
ID: Are you showing a few of your own pieces?
SB: We have a new version of our Isla coffee table, which is composed of a stainless-steel base and a top in Madre Parola quartzite. When we saw that stone, we were like, 'Yep.' We also developed the Landry bookshelf for this show. Our clients asked us for a larger version of the 2019 unit, which the walnut couldn't do, so we iterated an adaptable wall-mounted model.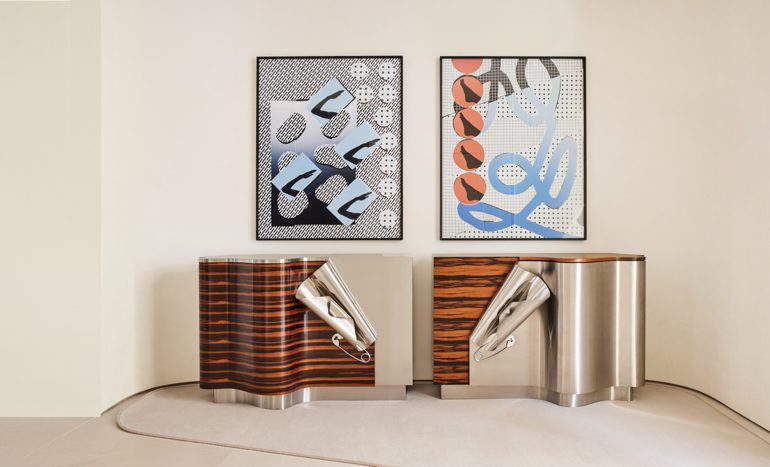 ID: Are there any mother-daughter teams in the exhibition?
HP: Rachel Cope of Calico Wallpaper brought her 6-year-old daughter, Willow, to do a site-specific installation of oil sticks across her linen wallpaper. They did it in a weekend. And Konekt, a furniture and lighting studio in Philadelphia, is led by mother and daughter Helena and Natasha Sultan. Their Armor chain mail floor lamp is inspired by a pot scrubber. Helena's mother was also an artist, and so in Konekt the creative practice is picked up. You hope it continues on.