Elevating the Workspace with BDI's Sequel Lift Desk
Today's office needs are more sophisticated than ever; therefore, the modern office must be sophisticated as well. Not only should office furniture be functional and feature-rich, it should also be beautifully designed and able to work in many environments. From full-scale collaborations to rolling-up-the-sleeves hard work, your furniture should be designed to help you get the job done.
Enter the BDI Sequel Lift Desk.

Designed by Matthew Weatherly, this standing desk is thoughtfully engineered for today's premier workspaces. Equipped with a digital keypad and a motorized leg system, the desk can be raised and lowered with the touch of a button to the user's preferred height, whether they choose to sit, stand, or anything in between.
Gone are the days of enduring endless hours in the same position. Now workers can easily adjust their desk height at any time, allowing for greater mental focus and productivity, as well as overall healthier workplace practices.

Its impressive design doesn't stop there. With a micro-etched, black glass top, the Sequel Lift Desk offers a smooth, durable, fingerprint resistant surface that is also optical-mouse friendly. Users long burdened by cords from their computers, printers, and other electronics will appreciate a cable management system, allowing for wires to be easily tucked away, keeping the desk free of clutter.

Available in two different desktop sizes (60"x 24" and 66" x 30") and four beautiful finishes (Natural Stained Cherry, Espresso Stained Oak, Chocolate Stained Walnut, and Natural Walnut), this standing desk also pairs perfectly with other Sequel Office components. Need extra storage or surface area? Various mobile files and storage credenzas allow users to create their ideal workspace.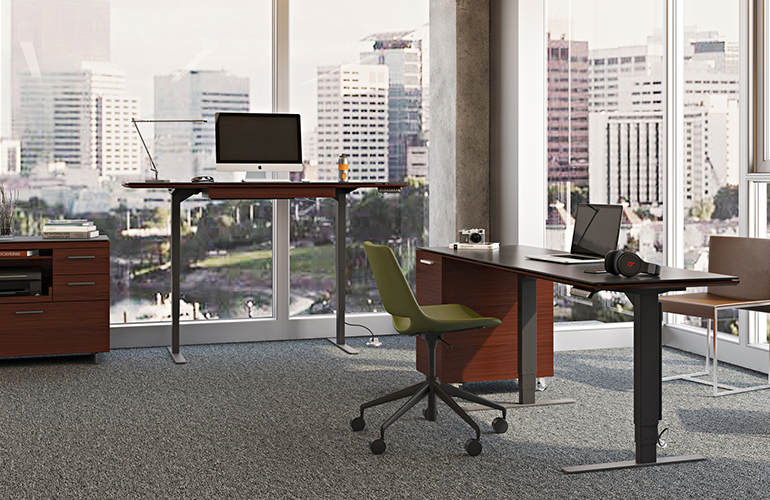 Functional. Stylish. Sophisticated. The BDI Sequel Lift Desk is the ideal solution for workers looking to add flexibility to their workday without sacrificing beautiful design.
Visit www.bdiusa.com/lift for more information.