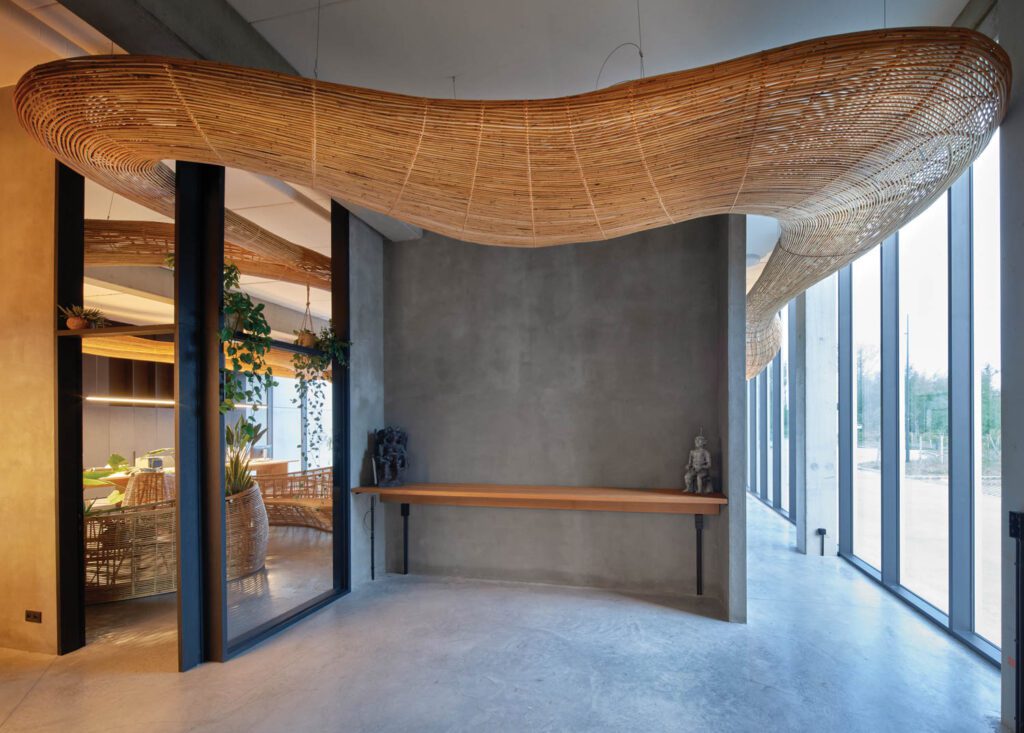 Traditional Thai Weaving Techniques Meet 3-D Technology in This Striking Installation
Thailand-based firm Enter Projects Asia has pioneered the use of natural rattan in contemporary architecture. By fusing 3-D digital design tech­nology with traditional Thai methods of weaving the sustainable material, the studio creates free-flowing sculptural forms that transform con­ventional building interiors into places of wonder. For its first European commission, EPA was asked to bring "balance and calm" to the offices and public spaces of a small ice-making factory in Waregem, Belgium.
The firm installed what appears to be a continuous biomorphic element that begins as an internally lit, 25-foot-tall serpentine column in the glass-enclosed double-height lobby. The rattan tube then twists down to follow the ground-floor ceiling into the building's interior, where it provides lighting, wayfinding, and aesthetic functions, "inviting nature and creativity into an industrial setting," as EPA director Patrick Keane puts it.
Initiated, developed, and completed during the pandemic, the project was something of a logistical miracle. All interactions between the client in Belgium, the project manager in Japan, the designers in Phuket and Sydney, and the fabricators in Northern Thailand were virtual, courtesy of Zoom. It wasn't until April 2022, with the project finished, that Keane and the client finally met in person at the site.